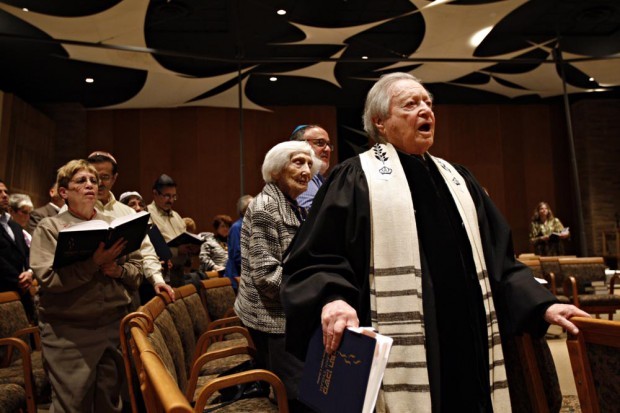 CHICAGO - One day not long ago, shortly before his 95th birthday last month, Rabbi Herman Schaalman had an epiphany.
God was nothing like he had imagined all these years. He was much more.
It wasn't the first time Chicago's most famous rabbi had changed his view of his creator.
As a boy growing up in a traditional Jewish family in Munich, he had learned that God was the all-powerful king of the universe who provided life and answered prayers.
Then came the Holocaust - the slaughter of six million Jews in his homeland.
Schaalman came to see God as a deity "suffering a most painful disappointment over how we handled the world."
But just this past year, the learned rabbi, who has devoured countless books, read one that changed his life. Suddenly, he sees the many faces of God.
"It's just really astounding this all happened when I was 94," said Schaalman, rabbi emeritus at Congregation Emanuel in Chicago's Edgewater neighborhood. "In a very strange way, I've become a far more believing, religiously confirmed person than I had been before."
During a series of conversations with the Tribune in his Edgewater study, surrounded by the volumes that have built the foundation of his career, Schaalman shared how he has spent a lifetime searching for God both as a rabbi and a pioneer of interfaith cooperation.
This spring, amid the milestones of his 95th birthday in April and his 70th wedding anniversary on Wednesday, Schaalman also has experienced a spiritual awakening.
"I sometimes really do think this was a gift from an unknown, unknowable hand to me that I was just so fortunate to receive," Schaalman said. "To this day, every day, I know it and feel it."
Schaalman still remembers the beating he got from his buddies when he was 7 on the day they learned "he killed Christ." Sitting on his father's knee, he got his first lesson in anti-Jewish sentiment.
When it came time for Schaalman to prepare for his bar mitzvah, he memorized the Torah portion from Leviticus 19, the passage including the commandment to love the stranger.
"What the stranger is, how do you react to the stranger and what claim does a stranger have on you, particularly when you live a consciously Jewish life, became a real issue for me," Schaalman said.
He wanted to devote his life to serving God. He and four other students came to the U.S. on scholarships in 1935 to attend Hebrew Union College, prepare to teach others about God and learn English. The rest of his family later emigrated to Brazil after his father was released from the Dachau concentration camp in Germany.
He married his wife, Lotte, the day after he was ordained in May 1941. They had two children.
By the end of World War II, Schaalman heard horrific reports of the Holocaust out of his homeland. He could no longer offer encouragement about living in a world under a God that would allow that to happen. He wanted to quit.
"I simply couldn't face the congregation and do what I needed to do for them with a kind of integrity," Schaalman said. "The Shoah was an impenetrable wall that simply excluded me from what I thought I needed to teach."
He eventually justified his career by determining his role was to help God, rather than petition him.
"My job now is to make somehow the world capable of giving God some joy, some confidence that the existence of humans is not a fatal mistake," he told himself.
In 1949, Schaalman moved to Chicago and eventually became the rabbi at Congregation Emanuel. He also became the leader of the nation's Reform rabbis and a pioneer of interfaith conversations in the city and nation.
Though he retired in 1986, he often helps lead services at Emanuel and holds a weekly Torah study in his office every Saturday morning.
"He's still youthful in his critical thinking," said Emanuel's current leader, Rabbi Michael Zedek. "There's nobody more cutting-edge in the world of theology than Herman Schaalman - no one more willing to wrestle with the questions of our daily lives."
When a longtime member of the Torah study group brought him a book about Menachem Mendel Schneerson, the prominent rabbi of a mystical movement of Judaism, Schaalman cracked open the volume with caution and skepticism. He always had rejected mysticism as "a perversion of what the true religious path should be."
But the book, which focused on the concept of paradox, unlocked a new way of thinking about God. Suddenly contradictions about God seemed to complement each other and open the possibilities of more dimensions. The new notion even altered the way he appreciated modern paintings and music.
Schaalman's friendship with other religious leaders also helped shape his evolving view of God. Shortly after Cardinal Joseph Bernardin arrived in 1982 as Chicago's archbishop, he invited a group of rabbis to his residence, introducing himself as "Joseph, your brother."
"He immediately won my heart," Schaalman said. "And then we became such good friends. I wouldn't have as close a friend as him while he was alive."
The two worked to bridge gaps between the faiths. When Bernardin resurrected the Council of Religious Leaders of Metropolitan Chicago, he became the group's first president. Schaalman became its second.
Shortly before Bernardin died in 1996, he called Schaalman to his home to share some parting thoughts. Schaalman asked him he was afraid to die. Bernardin told him not at all. "I'm going to see my Lord,"' he said.
"All I could say is I sat there with him and so deeply respected what he had said," Schaalman said.
"Even when I think about those words I could weep. This is one of the great questions that I have never raised and don't expect an answer for," he said. Choking back tears, he finished the thought: "Did he?"
Schaalman credits his wife for helping him keep the faith. The two celebrate their wedding anniversary Wednesday.
Both share a German Jewish background, with Schaalman being much more traditional. But they both compromise to make their marriage work.
"We are definitely religious people in the sense that God plays a role in our lives and not just occasionally but on a regular basis," Schaalman said.
He always has been impressed by his wife's unwavering faith. That has buoyed him at times when his views were quite dark and he struggled with whether to continue as a rabbi.
"Every day is a special gift that allows me to deepen my own understandings," he said. Continuing to teach has given his life meaning and purpose, he said.
"I tell you, at almost 95, to feel that is enormous."
Be the first to know
Get local news delivered to your inbox!