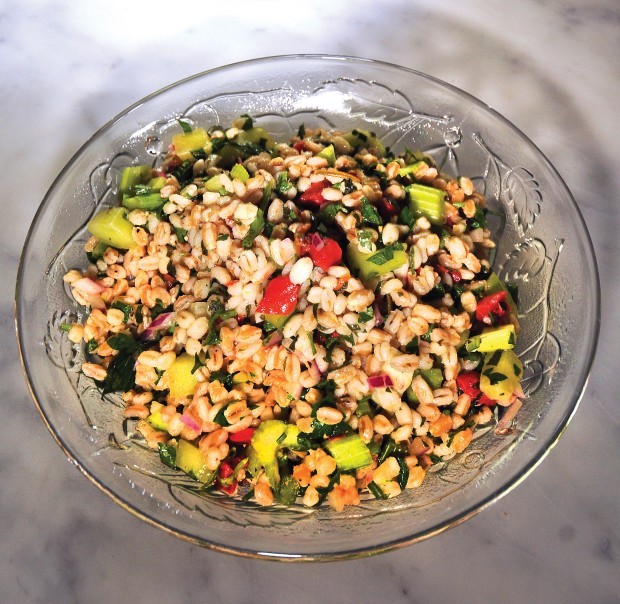 Cooked grains make nutritious and tasty additions to salads, and in some cases they make up most of the salad. Maria Speck, in her new book, "Ancient Grains for Modern Meals" (Ten Speed Press, 2011), showcases a multitude of grains in Mediterranean-inspired recipes for just about every course for any meal.
The book also describes each type of grain in detail - its history, cultivation, and nutritional information-and provides clear instructions for cooking the grains to ensure maximum taste and texture.
I have known Maria since she conceived the idea for this book years ago. We became email and phone pals, and she included me in the entire process of creating her book, finding a publisher, and working through the process of editing. The book's ultimate birth came in April of this year and it is a dandy.
I had not seen any of the recipes until I opened my own copy, and I was immediately drawn to two salads: A tabouli using farro instead of bulgur, and one featuring quinoa and zucchini. I modified the tabouli to include barley and a host of other ingredients but didn't fiddle with the quinoa and zucchini.
Farro, an ancient form of wheat, is not just one kind. The term is commonly used when referring to three varieties still cultivated in Italy: farro piccolo (also known by the German term einkorn), farro medio (also known as emmer) and farro grande (also known as spelt). I can find farro medio in bulk at the Good Food Store and at Rosauer's in the store's "Huckleberry" section. I like farro for its nutty, sweet taste. In America, emmer is often semi-pearled, retaining some but not all of the bran and nutrients. For whole grain farro, seek out the piccolo variety. I order mine from Anson Mills. Go to www.ansonmills.com or call (803) 467-4122.
Barley, which has one of the highest fiber contents of any grain, is most commonly available in its pearled form, where the germ and much of the bran have been removed. But barley's fiber is found throughout the grain, so even in its pearled form, it's a good nutritional bet.
In the United States, quinoa is treated to remove some of its bran and germ. But the seeds contain all the essential amino acids making it highly nutritious. It is also gluten-free.
Here are two exceptionally fine recipes featuring these three outstanding grains.
Summer Farro and Barley Salad
In her book, "Ancient Grains for Modern Meals," Maria Speck has a recipe for Summer Tabouli with Farro. I have modified it considerably by adding barley, celery, cucumber, and mint, and substituting roasted red peppers for fresh tomatoes. You can certainly restore the tomatoes to the salad if you wish. The salad pairs well with roast chicken, fish, or grilled meats.
Make it a day or two ahead, if you wish, and refrigerate. The flavors get better on standing.
1 cup diced celery plus any attached leaves, chopped
1 cup peeled and diced English cucumber
1/2 cup finely chopped red onion
1/2 cup diced roasted red pepper from a jar, rinsed and patted dry or 1 pound coarsely chopped fresh tomatoes
1 cup loosely packed chopped flat-leaf parsley
2 to 4 tablespoons chopped fresh mint
1/2 cup extra-virgin olive oil
2 tablespoons fresh lemon juice
2 tablespoons fresh lime juice
2 tablespoons red wine vinegar
1/2 teaspoon freshly ground black pepper
To prepare the farro, bring the farro, water and salt to a boil in a medium heavy saucepan. Give the farro a stir, cover the pan, reduce the heat to low, and cook at a simmer until the farro is tender but still slightly chewy, 20 to 25 minutes. If any liquid remains, drain off in a sieve and cool.
To make the barley, bring the barley, water and salt to a boil in a small heavy saucepan. Stir, cover the pan, reduce the heat to low, and cook at a simmer until the barley is tender and the water is completely absorbed, about 30 minutes. Cool.
In a large bowl, combined the cooled farro and barley with the celery, cucumber, red onion, roasted red pepper or tomatoes, parsley, and mint.
To make the dressing, whisk together the olive oil, lemon juice, lime juice, red wine vinegar, salt and pepper, in a small bowl until creamy. Pour the dressing over the salad and toss to combine. Taste and adjust seasoning if necessary with salt, pepper, and lemon juice. Cover and refrigerate for 1 hour or longer.
Lemon Quinoa with Currants, Dill and Zucchini
This tangy dish, studded with plump currants, is a mixture of soothing rice pilaf and a refreshing salad. Pair it with grilled or pan-seared salmon or shrimp, or with sautéed chicken breast. For a light summer dish, simply top it with crumbled feta, or just spoon some creamy yogurt over it. You can use regular yellow quinoa or red or black quinoa. Quinoa naturally has a bitter-tasting saponin layer around each kernel that protects the grain against insects. Be sure to rinse the grain thoroughly in a sieve under cool running tap water, shaking the quinoa vigorously from time to time. Drain well before cooking.
1 tablespoon extra-virgin olive oil
1 cup chopped green onions (about 6)
3/4 teaspoon fine sea salt
1 cup regular yellow quinoa or red or black quinoa, well rinsed and drained
2 cups shredded zucchini (about 2 small)
4 tablespoons sesame seeds, toasted in a skillet to a deep golden brown
4 tablespoons chopped fresh dill
1/4 teaspoon freshly ground black pepper
To make the quinoa, heat the olive oil in a medium saucepan over medium heat. Add the green onions (the oil might splatter) and 1/4 teaspoon of the salt and cook, stirring frequently, until the dark green parts wilt but do not turn brown, about 2 minutes. Add the quinoa and cook, stirring occasionally, until the grains start to crackle and turn dry, about 3 minutes. Add the water, currants, and the remaining 1/2 teaspoon salt; bring to a boil. Decrease the heat to maintain a simmer, cover, and cook until the water is absorbed, 15 to 20 minutes.
Meanwhile, finely grate the zest of the lemon until you have 1 teaspoonful, and then squeeze the lemon until you have 2 tablespoons juice.
To finish, remove the pan from the heat. Stir the zucchini, lemon juice and zest, 2 tablespoons of the sesame seeds, 2 tablespoons of the dill, and the pepper into the quinoa. Taste and adjust for salt and pepper. Cover and let sit for 3 minutes.
Transfer the quinoa to a serving bowl, sprinkle with the remaining sesame seeds and dill, and serve.