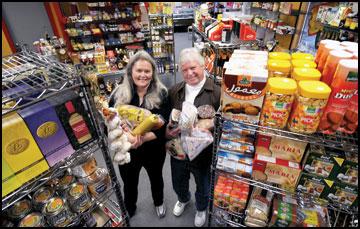 Entering Dede's World Foods Market is entering a happy place.
Area residents are thrilled to find long-missed foods from their homelands, and adventurous foodies reach for items they may have read about and longed to try but were unable to find. Looking for pomegranate molasses, Lyle's Golden Syrup, crumbly cheddar from the British Isles, German sausages? You'll find them at Dede's along with literally hundreds of other foods ranging from spices to liqueur-filled chocolates and authentic Italian cannoli shells and sheep's milk ricotta flown in from Milan and filled to order.
This ambitious enterprise is owned by Paul Boaz, a retired carpenter from Laguna Beach, Calif., and managed by his fiancee, Missoula-born Victoria Harris. Dede's, named in honor of Paul's late mother, herself a terrific cook and lover of fine foods, originally opened in 2003 on Brooks Street. The store became so popular that it moved to its current location at 1540 W. Broadway a year ago. Dede's picture graces one of the store's walls.
Undoubtedly, one of the reasons for Dede's success, is Victoria's outgoing friendliness; she makes anyone entering the store feel right at home. She knows each product she sells, where it came from, and, if it's a cooking ingredient, how best to use it.
Some of Dede's most faithful customers are students from abroad, and to bring Dede's offerings closer to them, the store has some of its products for sale in the international section of The Market in the University of Montana's University Center.
What amazed Victoria when Dede's first opened were the sheer variety of immigrants who came to the store. "I have people from Great Britain, Greece, Germany, Italy, India, the Middle East, Spain, France, you name it, who come in here and are practically in tears when they find a familiar food from home," Victoria says. "This is one of the main reasons I love this business, seeing their faces light up."
On my visits to Dede's, I always find something I hadn't seen before. That's partly because it's not possible to check out everything the store has to offer and also because Victoria is constantly adding new items to the inventory. Right now, Dede's is gearing up for the holidays, so during the next couple of months lots of new items will be arriving, including Valrhona chocolate, many more imported cheeses, and a huge array of German sausages.
The retail gourmet foods world is a tricky and finicky animal. It can't survive soley on trends. Dede's succeeds because it's providing customers with what they want and the occasional new surprise. You might come into the store looking for anchovies packed in salt and also walk out sipping some Calpico, a fermented milk soda.
Running Dede's requires a great knowledge of food, and both Victoria and Paul grew up surrounded by good food. In Paul's case, his family owned a ranch in Santa Barbara's Goleta Valley. "Everything grew there," he says, "And that's where I learned how to tend a garden."
When the ranch was sold and he moved to Dana Point in Laguna Beach, he grew a big garden with melons, asparagus, berries, herbs and all kinds of vegetables. When his mom began working as a domestic, Paul became the family cook. By then his parents had divorced. During his years as a carpenter, Paul cooked for his surfing buddies, and in his off-time cooked in various restaurants his friends owned. It was a good life.
Victoria always ate well because her mom was a terrific cook, cake decorator and pastry chef. For many years, her mom owned the House of Sweets in downtown Great Falls. Although Victoria was born in Missoula, she moved to Great Falls in the fifth grade. She got married there to a contractor, had two kids and moved back to Missoula in 1979.
While in the Missoula area over the following 19 years she held several jobs, including acting as the dean's assistant at the UM law school, serving as general manager of Montana Naturals and opening two stores of her own: Ovilla's, an antique and gift emporium, and Laurel Creek, a gourmet foods shop. After divorcing in 1998, Victoria moved to Seattle and began working for Japanese retailer Sanrio, whose best-known character is Hello Kitty, a white cat with a red bow and no mouth. Two years later, she was promoted to district manager and relocated to Laguna Beach.
Ah, you may be thinking, isn't that where Paul Boaz lived? And you'd be right. But before Victoria arrived, Paul decided he needed a change of scene and, loving the mountains, came up to Montana to "find myself a woman," as he put it. Unsuccessful in his quest, Paul returned to Laguna Beach. Victoria had rented a beach house right across the street from Paul. It didn't take long for the two to meet and to hit it off. Four years later, when Victoria's dad's health was failing, she and Paul moved to Missoula to stay.
Given Victoria's time-tested experience in retail sales and both her and Paul's knowledge and love of good food, they opened Dede's the following year.
For the holidays, Dede's will be taking special orders for frozen lobster pot pies from Maine, American hackleback sturgeon caviar and many other foods for a festive season. She also will have some Austrian and German desserts made by a local baker.
Make yourself happy and pay Dede's a visit. Hours are 10 a.m. to 5:30 p.m. Tuesday through Friday and 11 a.m. to 4 p.m. Saturday. Dede's is closed Sunday and Monday. Hours will be extended as the holidays approach, and Victoria is happy to make special appointments for other hours if necessary.
Greg Patent is a food writer and columnist for the Missoulian and missoula.com magazine. He also co-hosts a weekly show about food with Jon Jackson on KUFM Sundays at 11:50 a.m. His cookbook, "A Baker's Odyssey," was been nominated for a 2008 James Beard Award. His brand new cookbook, "Montana Cooking," celebrates the foods of our state. Visit Greg's website at www.gregpatent.com. You can write him at chefguymt@gregpatent.com.