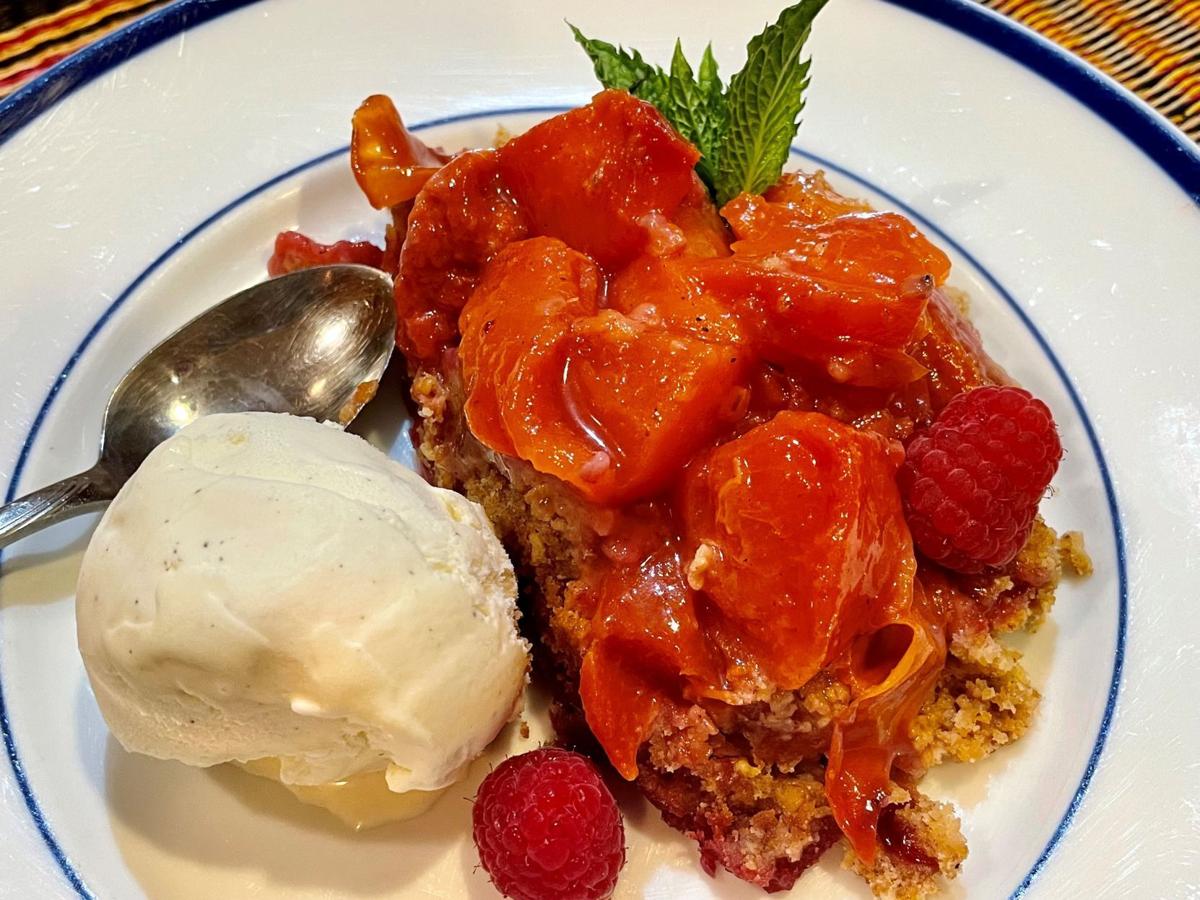 Ah, late summer. I love it for lots of reasons, and the gift of nectarines and raspberries are two of them. Nectarines are essentially hairless peaches. And they're the same species botanically, Prunus persica.
But don't let this fact fool you. Nectarines are tangier than peaches. I find they sometimes have a buttery texture. Because they lack the fuzz of peaches, nectarines are easier to prep for cooking. Even though these two fruits are genetically related, each has developed dozens, if not hundreds of varieties, since their origin in China thousands of years ago.
Raspberries and nectarines are both members of the rose family, so they get along very nicely with each other. I especially like them together in a crisp, where the crunchy topping blends so well with the tender fruit.
Nutmeg is my spice of choice because its muskiness works so well with these fruits. A little lemon zest and juice balance the sweetness of the nectarines. The red raspberries give the filling a beautiful scarlet/burgundy color. Please do not use white nectarines in this dessert. They are too sweet and a bit too watery.
In my experience nectarines and their pits want to stick together. Here's a tip to help them separate from one another: cut the nectarine in half vertically, then in quarters. Cut each quarter in two vertically and you'll have eight nectarine sections, still on the pit. Now cut the fruit horizontally going all the way around. You'll have 16 sections. Dislodge them from the pit with your fingers or the tip of a sharp knife and they're ready to add to your recipe.
Nectarine and raspberry crisp
Yellow nectarines reach their peak in the market just as our raspberries ripen. The two are wonderful together, either raw or cooked. Cooking transforms their sweetness into a marvelous tartness. The topping for this crisp is extra crunchy and buttery. Serve this warm or at room temperature, all by itself or with some vanilla ice cream, or frozen vanilla yogurt, or lightly sweetened whipped cream with a dusting of freshly grated nutmeg.
1 cup (4 1/2 ounces) unbleached all-purpose flour (spoon flour into cup and level with a metal spatula)
1/2 cup firmly packed light brown sugar
1 teaspoon freshly grated nutmeg
1/2 cup (1 stick) cold unsalted butter
1/2 cup oatmeal (old-fashioned or quick-cooking, not instant)
2 tablespoons granulated sugar
1/2 teaspoon freshly grated nutmeg
Finely grated zest of 1 lemon
2 1/2 pounds (7 or 8) firm, ripe yellow nectarines
2 cups raspberries, red or yellow
2 tablespoons fresh lemon juice
1. Adjust an oven rack to the lower third position and preheat the oven to 400 degrees. Lightly butter a 2 1/2-quart ovenproof baking dish about 2 inches deep. I use a round one made of heatproof glass that is 10 inches across and 2 inches deep. A 12 x 8-inch dish will also work. Set the dish aside.
2. For the topping, place the flour, brown sugar, nutmeg and salt in the work bowl of a food processor fitted with the metal blade. Pulse a few times to combine the dry ingredients. Cut the butter into eight pieces and add them to the work bowl. Pulse a few times until the butter is cut into small pieces. Add the oatmeal and process 1 to 2 seconds, just to combine. Set aside.
3. For the filling, combine the granulated sugar, nutmeg, salt and lemon zest in a large bowl. Halve and pit the nectarines, and slice each half into 1/2-inch wedges. Add the nectarines to the bowl along with the raspberries and lemon juice. Fold everything together gently with a large flexible spatula and spread the filling in the prepared baking dish. Pour the crumb mixture on top of the fruit, and spread it evenly with your hands to completely cover the fruit. The dish will be full. Pat the filling gently in place without packing it down.
4. Bake for 1 hour, until the crisp topping is lightly browned and the fruit juices are thickened and very bubbly. Cool the crisp on a wire rack. Serve warm or at room temperature. Refrigerate leftovers.
Greg Patent is a James Beard Award-winning cookbook author for "Baking in America," a food journalist, blogger, and radio co-host for "The Food Guys" on Montana Public Radio. Please visit his blog, www.thebakingwizard.com, and follow him on Twitter, Instagram, and Facebook.