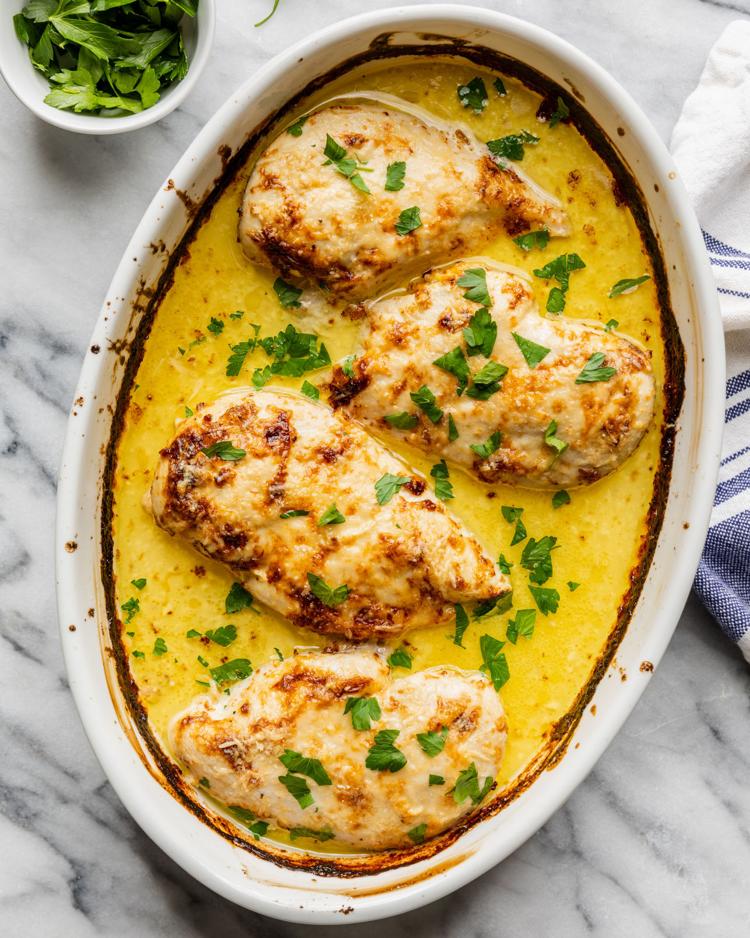 If you're stuck in a dinner rut, here's the no-muss, no-fuss, flavor-packed chicken dish that's going to snap you out of it. Boneless, skinless chicken breasts are smothered in your favorite creamy Caesar dressing and baked until golden, then showered with snowy Parmesan before heading under the broiler to get nice and bubbly. Pair it with a simple salad or a side of broccoli or roasted potatoes, and you've got a weeknight-friendly dinner the whole family will love.
If you, too, grew up eating chicken breast marinated in Italian dressing, you're no stranger to using store-bought salad dressing as a quick-and-easy flavor booster. Umami-rich Caesar dressing, packed with garlicky, lemony, cheesy flavor, is the perfect match for mild-mannered chicken breast; and you can even skip the step of marinating. Simply coat the chicken with a cup of dressing, send it to the oven, and the flavors will infuse into the meat and season it as it bakes. Since there's plenty of salt and pepper in the dressing, you don't need to season the chicken with any extra.
3-Ingredient Baked Caesar Chicken
4 boneless, skinless chicken breasts (about 2 pounds total)
1 cup creamy Caesar dressing
2 ounces Parmesan cheese, finely grated (about 1/2 cup)
2 tablespoons coarsely chopped fresh parsley leaves (optional)
1. Arrange a rack in the middle of the oven and heat the oven to 400 F.
2. Pound four boneless, skinless chicken breasts one at a time: Place one chicken breast in a gallon-sized zip-top bag and pound with a rolling pin or the flat side of a meat mallet to an even 1/2-inch thickness. Set aside and repeat with the remaining breasts.
3. Pour 1 cup creamy Caesar dressing in a baking dish large enough to fit the chicken in a single layer. Place the chicken breasts in the baking dish, then flip them so that they are evenly coated with dressing.
4. Bake until the chicken is golden-brown, cooked through, and registers 165 F on an instant-read thermometer, 20 to 25 minutes. Meanwhile, finely grate 2 ounces Parmesan cheese (about 1/2 cup) and coarsely chop enough parsley leaves to get 2 tablespoons, if using.
5. Heat the broiler to high. Remove the baking dish from the oven. Sprinkle the Parmesan over the chicken in an even layer. Broil until the cheese is melted and lightly browned, 3 to 4 minutes. Serve the chicken garnished with the parsley if using.
Recipe notes: Leftovers can be stored in an airtight container in the refrigerator for up to four days.
(Kelli Foster is associate food editor for TheKitchn.com, a nationally known blog for people who love food and home cooking. Submit any comments or questions to editorial@thekitchn.com.)
Satisfy your cravings
With our weekly newsletter packed with the latest in everything food.