Football season has arrived, and along with the games comes tailgating.
Though at one time tailgating was an impromptu picnic set up before the big game, it has progressed to a tradition. Modern tailgate parties display a much more deluxe way of setting up and serving the food. Some participants even bring special grills for preparing the food.
The key to a great tailgate is a well-executed game plan. The choice of food served may be anywhere from simple, such as hot dogs and hamburgers, to some more gourmet choices that can be prepared ahead of time. Consider adding the these recipes to your repertoire of tailgating options.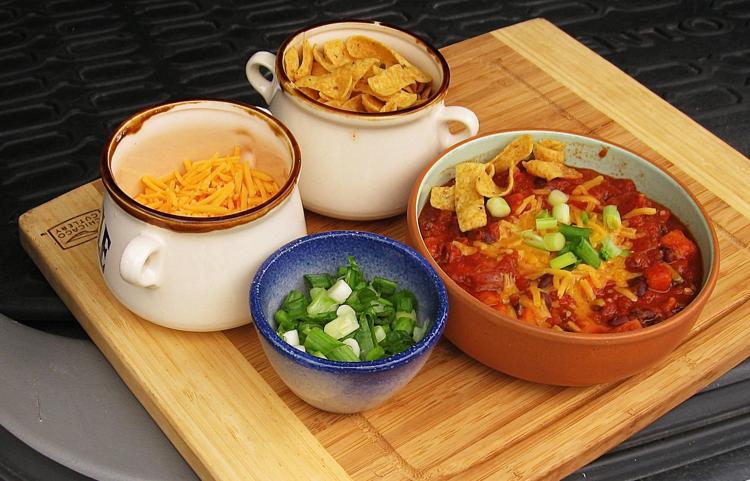 Sweet potato and black bean chipotle chili
This chili will be considered a "touchdown" with your guests for its wonderful flavor. Prepare it in your slow cooker a day or two before the big game and reheat when ready to serve. If you like your chili extra spicy, add a little extra chili powder. Chipotle chili powder packs more heat than regular chili powder. White wine thins the chili down a little — on its own it's very thick. You can use water in its place if you prefer. This chili makes a healthy vegetarian option as well if you do not add the sausage. 
1 tablespoon vegetable oil
2 large onions, diced
1 tablespoon minced garlic
2 tablespoons tomato paste
2 tablespoons chili powder
1/2 tablespoon chipotle chili powder
1 teaspoon ground cumin
2 teaspoons salt
1 cup water
2 large sweet potatoes, peeled and cut into ½-inch pieces (about 2 pounds)
2 cans (15 oz. each) black beans, rinsed and drained
2 cans (28 oz. each) crushed tomatoes
1 cup white wine (opt.)
1 (13 oz.) turkey Kielbasa sausage, sliced in ¼-inch slices (optional)
Optional toppings: sliced green onions, shredded cheddar cheese and tortilla chips
Heat oil in large skillet over medium-high heat. Add onions; cook 8 minutes or until lightly browned and softened. Add garlic, tomato paste, chili powder, chipotle chili powder, cumin and salt; cook and stir 1 minute. Add water, stirring to scrape up any brown bits from bottom of skillet. Remove to slow cooker. Add sliced sausage, if using, to skillet and cook until lightly browned. Add to slow cooker. Add sweet potatoes, black beans, tomatoes and wine, if using. Cover; cook on low for 8 hours or on high for 4 hours. Ladle into individual bowls and top with desired toppings.
Adapted from: Crock-Pot "The Original Slow Cooker," Slow Cooker Recipes, Publications International Ltd.
Beer-braised brats with mustard-beer sauce
Brats are a popular choice for any tailgating event, but this recipe takes bratwurst to a new level. Simmering them first in a mixture of beer, bell peppers and onions plumps them and fills them with additional flavor. Complete this step in the preparation — along with finishing the mustard-beer sauce — the day before the game, then grill the brats and complete the preparation of the sandwiches at the game.
3½ cups chopped onion
2 cups chopped red bell pepper
2 (12 oz.) cans beer
8 bratwurst sausages
1 cup stone-ground mustard
8 hot dog buns
½ cup chopped green onion
In a large deep skillet, bring onion, bell pepper and beer to a low boil over medium heat; add sausages. Reduce heat, partially cover and simmer (do not let fully boil), turning once, until sausages are cooked through, about 25 minutes. Remove sausages from skillet. Increase heat to medium-high, and cook onion mixture, uncovered, until most of the liquid has evaporated, 12 to 15 minutes. Remove from heat and stir in mustard. Serve at room temperature or cover and refrigerate for up to 3 days. When ready to serve, spray grill rack with nonflammable cooking spray. Preheat grill to medium-high heat (350 to 400 degrees). Grill sausages, turning occasionally, until browned, 6 to 8 minutes. Serve on buns with mustard sauce and green onion.
Source: Cooking with Paula Deen Magazine, July/August 2018.
Buffalo-style beef tacos
If you are looking for something that is simple to fix but still appealing, try this winning recipe from the 2017 Beef Cook-Off. Buffalo hot sauce and blue cheese dressing make these tacos a stand-out. John Hanrahan & Morgan from Washington submitted this beef entry.
1 pound ground beef
¼ cup cayenne pepper sauce for Buffalo wings
8 taco shells
1 cup thinly sliced lettuce
¼ cup reduced-fat or regular prepared blue cheese dressing
½ cup shredded carrot
1/3 cup chopped celery
2 tablespoons chopped fresh cilantro
Carrot and celery sticks or cilantro sprigs (optional)
Brown ground beef in a large, nonstick skillet over medium heat for 8 to 10 minutes or until beef is not pink, breaking up into small crumbles. Pour off drippings, if necessary. Stir in Buffalo pepper sauce. Cook and stir 1 minute or until heated through. Meanwhile, heat taco shells according to package directions. Evenly spoon beef mixture into taco shells. Add lettuce; drizzle with dressing. Top evenly with carrot, celery, and cilantro. Garnish with carrot and celery sticks or cilantro sprigs, if desired. If desired, ¼ cup prepared ranch dressing combined with 2 tablespoons crumbled blue cheese may be substituted for the prepared blue cheese dressing.
Source: 2007 National Beef Cook-off Winning Recipes Pamphlet, National Beef Cook-off.
Barbecued chicken and bacon skewers
Whether you are tailgating in a parking lot or simulating it in a living room, these Kentucky bourbon barbecue skewers will be a game-changer, and they couldn't be simpler to put together. Remember to soak the wood skewers in water before assembling the kebab.
Servings: 6, 2 skewers each
¾ cup Heinz BBQ Sauce Kentucky Bourbon Style Rich & Savory, divided
1½ pounds boneless, skinless chicken thighs, cut into 24 pieces
6 slices center-cut bacon, cut in half
Heat grill to medium heat. Add 6 tablespoons barbecue sauce to chicken in medium bowl; mix lightly. Thread 1 bacon slice, accordion style, alternately with 2 chicken pieces onto each of 12 skewers. Grill 12 to 15 minutes or until chicken and bacon are done, turning and brushing occasionally with remaining barbecue sauce.
Source: Kraft Food & Family Magazine, Fall 2017.