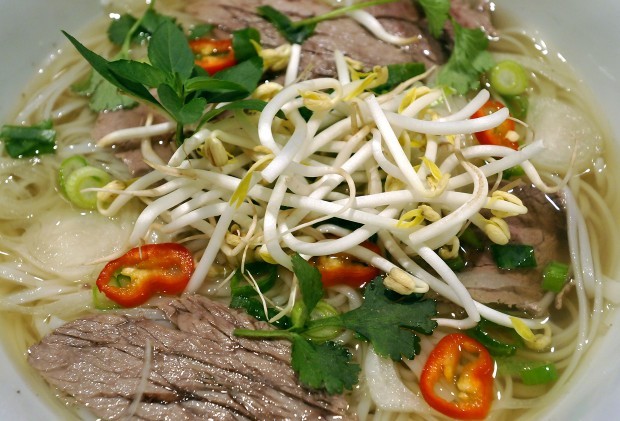 Noodle soups exist in uncountable varieties, and one of the best is Vietnamese Pho (pronounced "fuh"). It originated in Hanoi after the French began occupying the country in the late 1800s. Before then, the Vietnamese didn't eat beef, preferring pork, chicken and seafood instead. They valued and revered cows and buffaloes as working animals. Over time tastes changed, and many Vietnamese came to share the French love of beef and it's now a normal part of the Vietnamese diet.
The Vietnamese gradually integrated their own native flavors with beef. In pho, beef's major role is to flavor the broth, and to that end cooks use bones and the lesser cuts of meat. Pieces of the cooked meat are sliced and set aside to add to the soup at serving time. Fresh meat - only a few paper thin slices from a more expensive cut - is added at the last minute to impart a layer of freshness. In pho, beef is a condiment.
The flavor of the beef broth is enhanced with fresh ginger, onion, star anise, cloves, Vietnamese fish sauce, and sugar. Star anise is an eight-pointed spice pod that lends a delightful sweet mild licorice flavor to soups and stews. All these ingredients are sold in area markets.
Rice stick noodles are the main solid food in pho. You can buy several kinds in area markets. Make sure you get the narrow translucent ones that are 1/16- to 1/8-inch wide. Packages may be labeled Banh Pho and come from Thailand.
Condiments including scallions, cilantro, yellow onion, bean sprouts, chilies, basil and lime, play important supporting roles in pho. It's thrilling to add bits of this and that to different spoonfuls so that each mouthful is a different taste experience. Eat pho with chopsticks and soup spoons.
The recipe here (adapted) is from one of my favorite cookbooks, "Pleasures of the Vietnamese Table" by Mai Pham (HarperCollins, 2001).
Vietnamese Pho Rice Noodle Soup with Beef
This beef noodle soup, a meal in itself, has two starring roles: Rice noodles and homemade beef broth. The noodles, known as rice sticks or Banh Pho, come in 1-pound bags and in various widths. Choose narrow rather than wide noodles. The broth, made with hunks of beef chuck and marrow or knuckle bones, is flavored with star anise, ginger, sugar and Vietnamese fish sauce. It needs about three hours of simmering to extract the beefy taste, so if you're pressed for time, I advise preparing it a day or so ahead and refrigerating it. It'll keep a good three days.
The broth must be clear, not muddy. To achieve that, make sure you cook the meat and bones as described. When ready to serve, bring the broth to a rolling boil and have the hot cooked noodles awaiting their beefy bath in preheated soup bowls. The garnishes should all be on the table when the soup arrives.
Mai Pham says that the secret to great pho is to serve it in very large bowls - one quart capacity or larger - with lots of broth. Allow 1 part noodles to 3 parts broth. I sometimes add a handful of fresh baby spinach leaves to the soup bowl just before ladling in the steaming broth.
5 pounds beef marrow or knuckle bones or a combination
2 to 3 pounds beef chuck roast, trimmed of visible fat, and cut into 2 pieces
2 pieces fresh ginger, each about 3 inches long, unpeeled, cut in half lengthwise
2 medium yellow onions, peeled and halved
1/4 cup fish sauce (nuoc mam)
3 ounces palm sugar or 5 tablespoons granulated sugar
1 pound dried rice sticks
1/2 pound beef sirloin, partially frozen, then sliced paper thin across the grain
1 yellow onion, halved and sliced paper thin
1 bunch fresh cilantro, chopped
1 pound fresh bean sprouts
3 fresh red chilies, seeded and sliced thin
Fresh basil leaves, if available
2 or 3 limes, cut into wedges
To make the broth, put the bones and beef into a very large stockpot (about 10 quarts) and add cold water to cover the beef. Bring to a boil over high heat and boil vigorously for 5 full minutes. You'll see a huge amount of scum rise to the surface. Set a large colander in the sink and dump the contents of the pot into it. Rinse the bones and beef well with hot water to wash off any clinging scum.
Wash the stockpot and add back the beef and bones. Add 6 quarts of cold water and set the pot over medium heat. Slowly bring the water to a simmer, adjusting the heat as necessary. If any scum forms, remove it with a skimmer.
Meanwhile, put the ginger and onions into a large heavy skillet over medium high heat and cook, turning the pieces occasionally, until the ginger and onions are charred but not cooked through, about 2 to 3 minutes per side. Don't burn them. Add to the stockpot along with the star anise, cloves, fish sauce, sugar and salt. Continue simmering until the meat is tender, about 1 1/2 hours (or more if meat pieces are large).
Remove one piece of tender chuck from the pot and set it aside to cool. Then cut into thin slices to serve with the pho. Leave the remaining chuck in the pot and keep cooking the broth at a slow simmer for another hour or two. It should be crystal clear and have a lovely light brown color. Taste the broth. It should be faintly anisey and only slightly sweet with a background gingeriness. If it seems salty, don't be alarmed; once added to the noodles and garnishes the seasoning will be balanced. If not salty enough, add more to taste.
At this point, strain the broth and return it to the stockpot. If you want to make the pho in a day or two, cool the broth completely uncovered, then cover and refrigerate.
For the noodles, put them into a large bowl and cover them with lots of cool water. They can remain in the water for a couple of hours.
When ready to serve, pour off the water and cover the noodles with abundant boiling water. The noodles will cook very quickly, in less than 1 minute.
To serve: Have all garnishes in bowls at the table. Bring the beef broth to a rolling boil. Drain the cooked noodles and divide them into large soup bowls. Add slices of cooked and raw beef. Ladle 2 to 3 cups of broth into each bowl. The broth will cook the raw beef instantly. Bring to the table and have guests add garnishes as desired. Squeeze on the lime juice. Don't be shy. You want the lime flavor to come through.
• Makes 6 main dish servings.