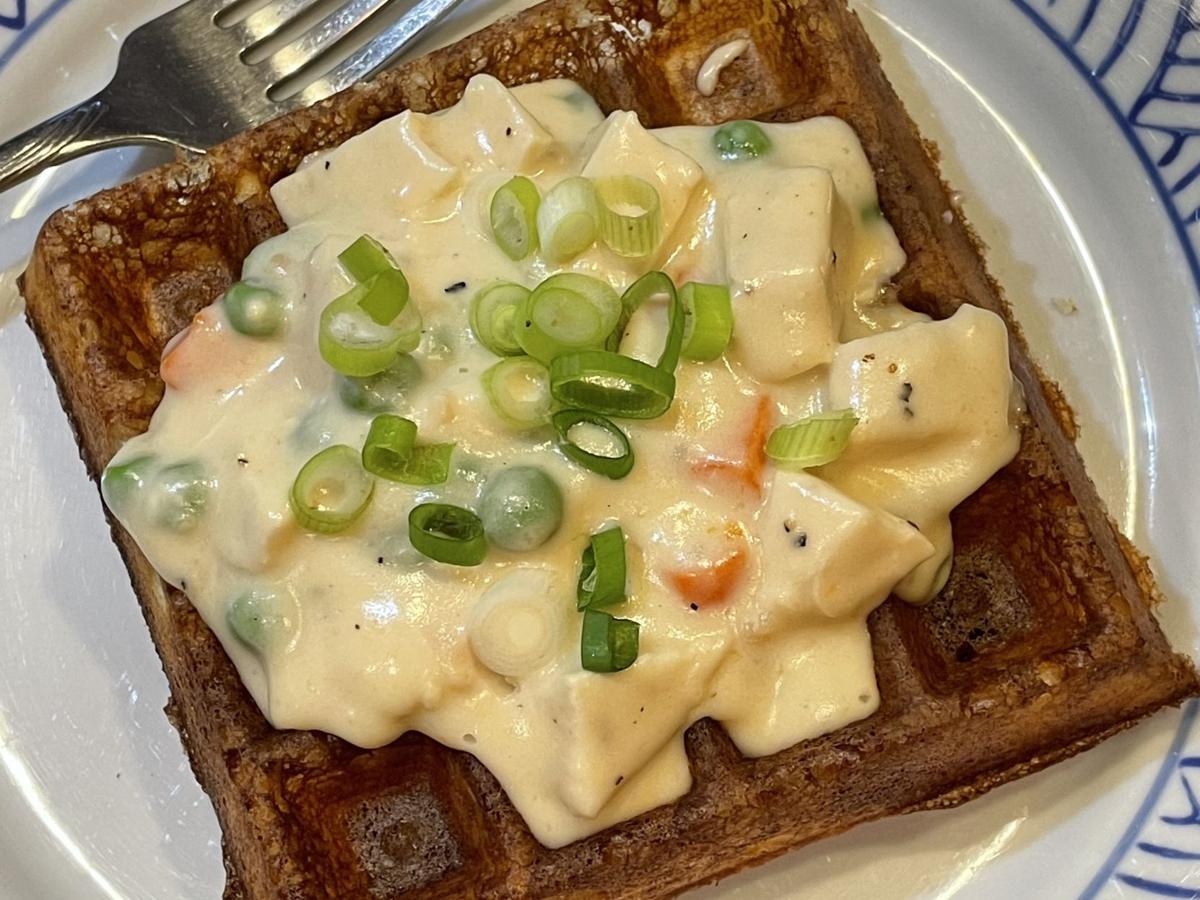 I blame Mildred Pierce for starting me on my chicken and waffle quest. Remember the film? Based on James M. Cain's novel and starring Joan Crawford, chicken and waffles shone as the signature dish at her celebrated Glendale, California, restaurant.
For me, the pairing of fried chicken and waffles just seemed strange and didn't make any sense. Why mix a breakfast classic with something you'd be happy to eat for lunch or dinner? How did this combo come to be?
I took a dive online and learned this dish has quite a murky history. Some historians say it originated with soul food. And over time, as its popularity grew, other cultures adopted it. By the mid-1800s, waffles with chicken and gravy were a beloved Sunday supper in many Pennsylvania Dutch homes.
I can see why diners flocked to restaurants for fried chicken and waffles. The crunchiness of both is irresistible. But what home cook wanted to mess with frying chicken and making waffles at the same time?
The good news is I've come up with a recipe that solves the time and effort dilemma. You don't even have to cook a chicken! You can buy a rotisserie chicken, cut up some of it, and add it to your homemade cream sauce to serve on top of a homemade crispy waffle.
Not only that, you make Marion Cunningham's yeasted waffle batter the night before. And it keeps for days in the refrigerator, ready when you are, to bake up into the most delicious crispy waffles.
Many years ago, Marion Cunningham made these waffles for me in her home kitchen. For lunch. With chicken. As she says, waffles are not only for breakfast.
Marion Cunningham's Raised Waffles
Makes 8 to 10 double waffles (16 to 20 4-inch squares)
This special waffle recipe is Marion Cunningham's adaptation of "Raised Waffles" from the 1896 Fannie Farmer Cookbook. It's sensational! You make the batter the night before, and in the morning you beat in a couple of eggs and a little baking soda. The waffles bake up crispy on the outside and nice and tender on the inside. The batter keeps for several days in the refrigerator.
Waffles are not just for breakfast. These particular waffles are terrific for supper, paired with creamed chicken and vegetables.
1 package (2 1/4 teaspoons) active dry yeast
2 cups whole milk, heated to just warm
8 tablespoons (1 stick) butter, melted
2 cups (10 ounces) unbleached all-purpose flour (measure by dipping 1-cup dry measure into flour, fill to overflowing, and level off with a straight edge)
1. Put the water into a large mixing bowl (at least 3-quarts) and add the yeast and sugar. Let stand 5 to 10 minutes until the yeast is dissolved and foamy.
2. Add the milk, melted butter, salt, and flour, and whisk well until smooth. The batter will be thin. Cover tightly and leave at room temperature overnight.
3. Preheat your waffle iron. Whisk the eggs and baking soda into the batter well. You'll have about 5 cups. Bake waffles until golden brown and crisp.
Creamed Chicken with Waffles
You can either roast a chicken for this dish or buy a rotisserie chicken. You'll need 3 cups of cooked diced chicken for this recipe. Creamed chicken is nothing more than chicken enveloped in a white sauce. Carrots and peas are delicious with it. I also like to add a bit of mustard, but you could substitute curry powder or just season the sauce with the salt and pepper.
1 cup diced peeled carrots (1/4-inch dice)
1/3 cup unbleached all-purpose flour
1/2 teaspoon black pepper
1 tablespoon Dijon mustard or 1 teaspoon curry powder
3 cups cooked diced chicken
4 tablespoons thinly sliced green onions
Cooked waffles (8 squares) kept hot in a 200-degree oven
1. Cook the vegetables first. Bring a quart of water to the boil in a medium saucepan. Add the carrots and cook 5 minutes, until just tender. Turn off the heat and add the frozen peas. After 1 minute, drain the vegetables and set them aside.
2. Set a large wire cooling rack onto a large rimmed baking sheet. Put your set-up in the oven and turn the oven on to 200 degrees. Bake the waffles. You'll need 8 squares for four servings. Place them on the wire rack as soon as you take them out of the waffle iron. They'll stay hot and crisp in the oven while you make the creamed chicken.
3. For the cream sauce, heat the milk, cream and chicken broth in a medium saucepan over medium heat until very hot but not quite boiling. While the liquid is heating, melt the butter in a large saucepan over medium heat. When bubbly, add the flour and cook, stirring constantly with a wire whisk, for 2 minutes. It's okay if the roux turns a light brown.
4. Take the pan off the heat and pour in the hot liquid all at once. Still off heat, whisk the liquid and cooked flour vigorously to combine them well.
5. Return the pan to medium heat and cook, stirring with the whisk at a leisurely pace, until the sauce boils and thickens into a cream sauce, about 5 minutes. Whisk in the salt and pepper and the mustard or curry powder, if using, and cook a half-minute more. Reduce the heat to low, stir in the cooked chicken, carrots, and peas, and heat until piping hot.
6. Spoon about 1/2 cup of the creamed chicken over each hot waffle — 2 square waffles per diner — and sprinkle the scallions on top. Serve right away.
Greg Patent is a James Beard Award-winning cookbook author for "Baking in America," a food journalist, blogger, and radio co-host for "The Food Guys" on Montana Public Radio. Please visit his blog, www.thebakingwizard.com, and follow him on Twitter, Instagram, and Facebook.