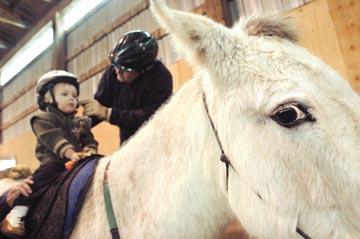 CORVALLIS - Linda Olson knows what it's like to witness something miraculous.
It's happened time after time almost right in her backyard.
She's seen speechless children begin to babble. She's watched wheelchair users learn what it's like to walk. And Olson has witnessed the magic of an unspoken bond unfold between animal and humankind.
On almost any day when temperatures aren't too brisk, Olson's Bitterroot Therapeutic Riding arena outside of Corvallis comes alive as a host of volunteers and some very gentle horses open up a whole new world to young and old alike.
The 75 riders enrolled in Olson's program come from as far away as Philipsburg to spend an hour or so being escorted around the arena on the back of a horse. Their ages run from 3 to 82.
Each one faces individual daily challenges.
Multiple sclerosis, cerebral palsy and other diseases have robbed some of their ability to walk. Autism has taken others' voices. Some are developmentally delayed or have severe learning disabilities.
All of that disappears - at least for a time - when they ease into the saddle, pick up the reins and shout that simple phrase:
As soon as the horse begins to move, their faces light up. Following commands to turn left or right or whoa, their confidence begins to grow.
"It's almost like magic," Olson said. "You can see it in their eyes. They develop a great sense of independence sitting up there on that 1,200-pound animal and being in control."
For those who spend their lives in a wheelchair, the view from a top a horse can be almost overwhelming.
"It's an added bonus for those in a wheelchair," she said. "For once in their lives, they are actually above people and looking down on them. It's not something they experience that often.
"Sitting up there and feeling the horse walk underneath them is just a great confidence builder," Olson said. "Horses aren't judgmental. They're always willing to give 150 percent."
In the arena, the horses quickly become the therapists.
"There's a real bond between a rider and horse," Olson said. "A horse feeds off the energy of its rider. It's an interaction that every horse rider knows. Horses seem to know when they're carrying a challenged person.
"It seems almost as if there's an unspoken bond between the two," she said. "It's like they know they have to be especially careful and patient."
Most of the horses at Bitterroot Therapeutic Riding have retired from other jobs. There are cutting horses, mountain horses, backyard pleasure horses and one who starred in movies once. There's even a token mule.
"We had no idea that when we started this that it would have such far-reaching consequences," she said. "We've not only helped out our riders and those people who volunteer to help. We've also kept quite a few horses out of the slaughter house.
"This takes a real special horse and we've been lucky to find so many," Olson said.
Over the last seven years, Olson has seen Bitterroot Therapeutic Riding grow from an idea into an operation that touches hundreds of lives of both riders and the 80 or so who take time from their busy lives to volunteer to help.
"People come from every walk of life to help out," she said. "We're always looking for more. We love having young people come out and volunteer. People find great joy in being part of someone else's well being."
Last winter, 640 people turned out to celebrate at the organization's annual winter picnic that brings volunteers, sponsors and riders with their families together each year.
"It's the one time in the year when every one of us has a chance to come together," Olson said. "Everyone has a wonderful time."
The organization also hosts a Special Olympics equestrian team, which competed last week in Missoula.
None of it could happen without the support of the nonprofit facility's many sponsors and its volunteer corps, Olson said.
This year, the organization began a fundraising effort to build a new arena. Olson hopes that project could begin within the next year.
"Without the support of our wonderful sponsors, we wouldn't be able to do all of this," she said.
Many of the riders depend on scholarships to pay for their therapy.
"This isn't about money," Olson said. "If someone has a need, we'll try to find a way to be of service. We want people to call us and we'll find a way to help. We never turn anyone away."