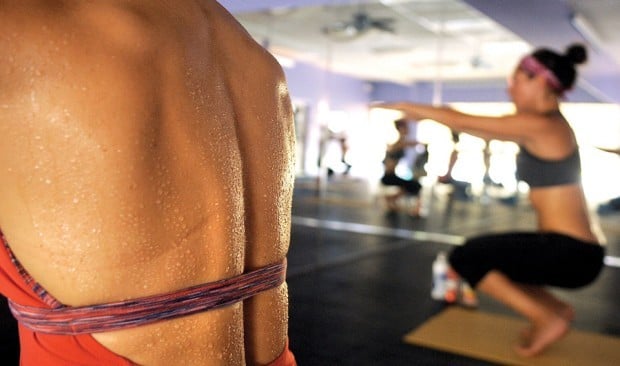 The last thing many Americans crave in August is a heated room.
But in pursuit of a yoga trend that promises mental and physical benefits, many are packing into scorching, humid studios, where the temperature is elevated to 95 degrees or higher.
Some traditional yoga teachers believe heated rooms can hurt the practitioner more than help. But hot-yoga enthusiasts say they have never felt so good: their backs have stopped hurting, they lose weight, digestion improves and they have energy and vigor they had lacked for years.
"Once you go hot, you don't want to go back," said Lauryn Moret-Glass, 29, a social worker who takes classes at least three times a week at Hot Yoga of Delray, a two-year-old studio in Delray Beach, Fla. "You become addicted, but it's a healthy addiction."
Moret-Glass said she had crippling pain from herniated disks due to a car accident in 1999. She went to chiropractors and massage therapists for 10 years, to no avail. After a few hot-yoga classes, she said, her back spasms dissipated.
A 2008 study by Yoga Journal found that 15.8 million Americans, or about 7 percent of the population, say they practice yoga. But few researchers have studied the physical and mental effects of hot yoga, leaving the anecdotes of practitioners as the main guide to its benefits or harms.
The hot classes take many forms. In Bikram Yoga, perhaps the most famous form of hot yoga, the room is heated to 105 degrees with at least 40 percent humidity, and students perform a set series of 26 copyrighted poses over 90 minutes.
Jimmy Barkan of Pompano Beach, Fla., created a more flexible series of postures with the Barkan Method of Hot Yoga in 2002; studios in 12 states and five countries now use his technique.
Teachers at some new South Florida hot studios say they found the Bikram style too rigid and decided to develop their own sweaty yoga formats.
At Anuttara Yoga Shala in Deerfield Beach, Fla., owner Philip Christodoulou was trained in Bikram but now advocates "warm" yoga, or a 95-degree room, and a slow vinyasa, or flowing series of poses, that he said makes the body loose and pliable.
"The connective tissue is difficult to access, and to stretch it, you need gravity, time and heat," said Christodoulou, who opened his studio a year ago. "Sweat cools the body, and when there's too much cooling, you start shivering. We are just augmenting the body's heat loss with external heat."
You have free articles remaining.
Some yoga teachers, however, say this additional heat is unnecessary and potentially harmful.
Colleen Gallagher, an Iyengar yoga teacher in Delray Beach, said a myth persists that hot yoga helps the body detoxify.
"The fact is that hot yoga does not make you more flexible or help you sweat out toxins or lose weight. It is just dehydrating," Gallagher said. "In India, when it is hot outside, they do poses to cool the body. In fact, the Indians would be amazed at the waste of energy using all that heat."
Heat increases the heart rate and may not be appropriate for pregnant women or people with cardiac problems, high blood pressure or autoimmune disorders, Gallagher said.
Leslie Glickman, a certified instructor from Boca Raton, Fla., with 15 years of teaching experience, said a yoga room should be warm, with temperatures in the 80s, not 90s or higher.
"If the heat is extreme, it creates too much stress on the body," said Glickman. "You expend a lot of energy trying to cool down. The best yoga practice is where the body can feel the effects without overdoing it."
Still, hot yoga continues to attract. Mark Gendal, of Coral Springs, Fla., said he has exercised almost every day for the past 35 years but remained stiff until he discovered hot yoga two years ago.
Gendal, 54, an optometrist, credits the practice with improving his posture and flexibility, and calming his mind so he speaks more clearly, listens better and generally slows down in life.
Joanne Dee also is addicted to the heat. One recent day, she attended two hot classes - one in the morning and one in the late afternoon.
"It's a great stress reliever," said Dee, 46, a banker from Coconut Creek, Fla. "I can deal with Florida heat so much better now."