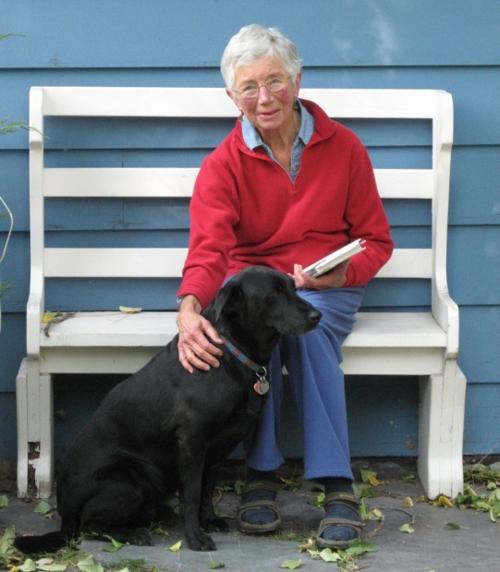 She was a tiny woman who could easily have been dwarfed by all the bigness around her. The commanding literary reputations of her mother and her husband. The immensity of her grief after the deaths, in quick succession, of her husband and son. The very land itself.
Margaret Ripley Schemm Hugo more than held her own.
Hugo, who died last week at the age of 83 at her home in the Rattlesnake after a long period of failing health, "was pretty tough," said essayist and novelist William Kittredge.
"She could be very acerbic and she had her opinions and she wasn't about to sacrifice them for anybody," he said. " … I think she lived and died kind of as she wanted to."
Hugo, a poet herself, was the child of a novelist, the wife of a poet, and the mother of yet another poet.
Works by all four are featured in "The Last Best Place," the weighty anthology of Montana writing edited by Kittredge and Annick Smith.
Her mother, Mildred Walker Schemm wrote widely acclaimed novels under her family name of Walker. Her husband, the poet Richard Hugo, headed the University of Montana's creative writing program when it became a master's program in the 1960s. And her son, Matthew Hansen, was just coming into his own as a poet when he died of cancer in his early 20s.
"It's the only clan that was in 'The Last Best Place.' So it's kind of sad to see that era end," said Lois Welch, who directed the writing program in the late '80s and early '90s and who with her husband, novelist and poet James Welch, was both friend and neighbor to the Hugos.
Hugo's toughness was part nature, part nurture — or maybe in the case of the latter, lack thereof. Her memoir of her mother, "Writing for Her Life: The Novelist Mildred Walker," describes a demanding, critical parent who was "was not easy to live up to," and who derided poetry as inferior to novels.
Hugo pursued it undeterred.
"She just heard poetry everywhere," said her friend, the photographer and artist Kristi Hager, who likened Hugo's natural affinity for turns of phrase to Fred Astaire's inability to simply walk across a room without seeming to dance. "Being attuned to the music of language and spoken words was just second nature to her," Hager said.
Hugo was, after all, surrounded not just by writers but by the natural beauty of the land around her, especially in her family cabin along the Rocky Mountain Front. There, she hiked, broke and rode horses, and packed into the Bob Marshall Wilderness.
When Hugo was a teenager, she told Hager later, "she had some experience sitting contemplatively behind the cabin watching the sunlight and the grass. … She said there was this image, and she knew the only way she could express it was in poetry."
She often described herself as "inhabiting" the cabin in a way that went far beyond simply living there, a feeling that encompassed things and people precious to her.
"When she thinks of the people in her life who have been dear to her, she thinks of them at the cabin," Hager said.
Novelist Deirdre McNamer came to know the cabin when Hugo urged her and her sisters to stay there after their brother's death.
"There was something so lasting about it – the feel of the wind, the big high bright hard stars, the white animal bones scattered about," she said. McNamer returned yearly with her husband, the writer Bryan DiSalvatore.
"I just remember how much joy she took in that place and being up there," McNamer said. "She had a huge capacity to delight in simple things, like taking the galvanized tin bucket to the creek and getting the water; the ritualistic way of being in a simple day doing simple things. She kept that all her life."
For years at the home in the Rattlesnake, Hugo kept a bit of the same rural feel, pasturing horses behind the house until the area was incorporated into the city, said longtime friend Ginny Merriam. And even after the horses moved, there was always a dog.
"She said, 'I cannot live without a dog,'" Merriam said. "It was a terrible blow" when her dog Louie died earlier this year. An elderly replacement, Maisie, became ill and was put down just days before Hugo's own death, Merriam said. But a little black cat, Maggie, "stayed right by her on all these last days," said Merriam.
"What I'm left with these last couple of days is the Ripley movie playing in my head. …," Merriam said. "It makes me cry. I see Ripley standing in the kitchen, refusing to let anyone else help her. Ripley sitting in the white bench in front of her house. Ripley in the back yard, haing people over. Ripley in the white chair in her living room. Ripley standing in the window, waving goodbye."
Hugo's poem, "Walking Into Silence," is published under her family name, Schemm, in "The Last Best Place.
We each have our own pain, and we
carry it with us — charred heart, reads the final verse.
Abandoned at the last camp, lone
coyote howling on a mudflat
in the noonday sun. I come to sere brown
meadows that I know, and watch
gray jays quiet in the great fir.
I want to escape delusion. I want
to keep my voice strong, my boots
greased, and my knife sharp.
Missoulian reporter Gwen Florio can be reached at 523-5268, gwen.florio @missoulian.com.
Be the first to know
Get local news delivered to your inbox!