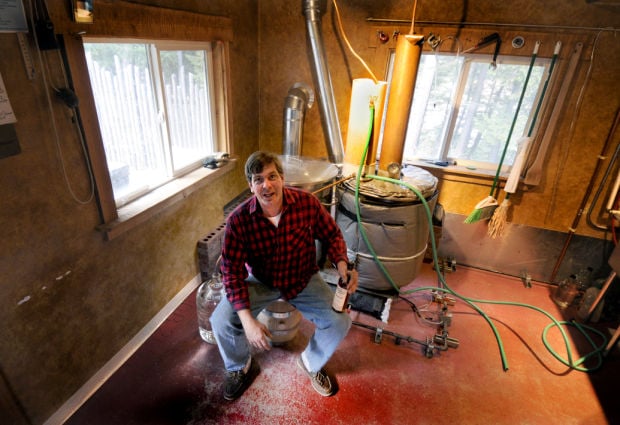 POTOMAC – He's not saying he has the first whiskey-making operation in the greater Blackfoot Valley. Not at all.
Carl Bock knows those old and not-so-old moonshining stories up here, and the reason the remote ravine just up the river is called Whisky Gulch.
But Bock's new Steel Toe Distillery is the first in these parts to have its own website, not to mention a license from all the appropriate government entities. And surely his 50-gallon still and matching mash tun are the first to gurgle in the retrofitted gift shop of a wolf ranch.
Bock closed Wolfkeep Wildlife Sanctuary to the public several years ago. He cites insurance costs and futility.
"I didn't feel like I was really helping any more," Bock said last week. "It's become this political issue now where there is no right or wrong answer with wolves. Everyone's got an opinion and no one will listen to facts."
Once a haven to as many as 13 wolves and 10 wolf hybrids, Bock and his wife Christina keep three aging lobos out back. But he's moved on to other things.
Steel Toe opened for business on Nov. 8, the day the Bocks got the bottle labels delivered for their first offering, Uncle Carl's Prohibition Style Whiskey – "by far the smoothest 120 proof whiskey you will ever find," according to steeltoedistillery.com.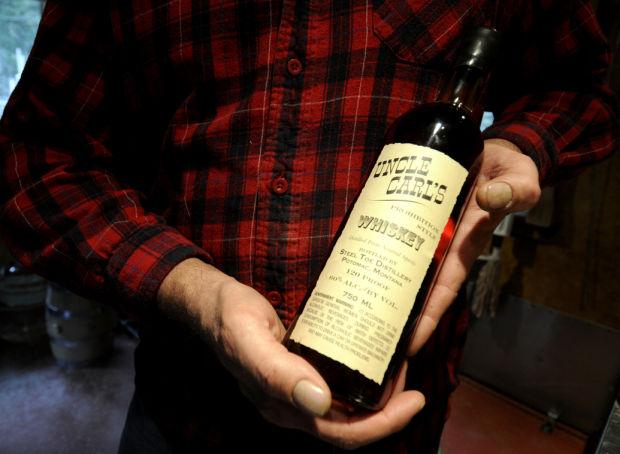 It wasn't the grandest of openings.
"Basically I called all my friends and said, 'I can sell you a bottle now.' And we sent out a few emails," Carl said. "It's mostly word of mouth. Most of the people out here in the valley know me and have known me for a long time. That's my client base right now."
He sold 14 bottles in the first week. While there are plans to build a tasting room and add gin, rum and wheat and corn whiskey to the selection, "Uncle Carl" knows he'll not compete with the new, bigger distilleries that are already into other hard liquors. The closest example is Montgomery Distillery, which opened last year to rave reviews in downtown Missoula.
"I'm not trying to be super top shelf. I'm not trying to be the best thing out there," Bock said. "What I'm trying to be is good hooch for good people at a good price. And that's where Steel Toe comes in. It's more of a working man's whiskey."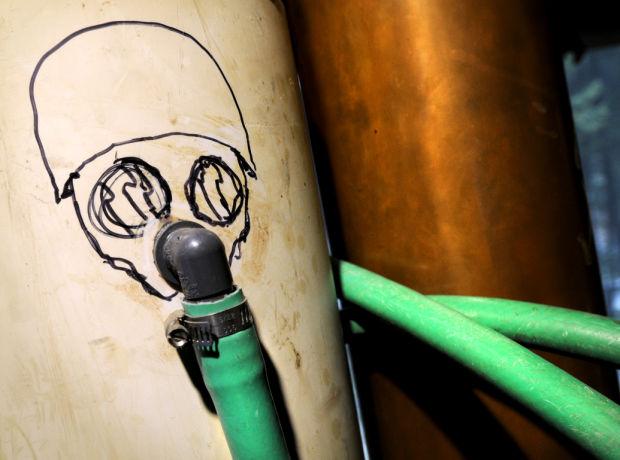 Probably the most micro of licensed micro-distilleries in the state, Steel Toe becomes Montana's 15th to pop up in the last few years, according to a website that keeps track of such things. Washington and California lead the West with 67 and 62, respectively. Among states adjacent to Montana, Idaho has five, South Dakota three, Wyoming one and North Dakota none.
"Micro-distilleries are kind of becoming the hot new thing, and there's only so many in the state of Montana, let alone the Missoula area," Christina Bock said. "People I think are leaning toward buying locally as much as possible, so I think the community cares" about a business like Steel Toe.
Christina leaves the art of distillery to her husband. She's the book keeper and mother of the Bocks' 2 1/2-year-old son, Senator, all the while finishing up her masters degree in microbiology at the University of Montana.
"She's the smarty-pants," Carl quipped. "She's pretty much making this possible. I couldn't do it without her, I really couldn't."
Christina came to Montana from Pennsylvania to go to school. Her parents followed and now live just up the road in Potomac, where they can be close to her family.
Carl moved to Montana in the 1990s. He grew up in Wisconsin where, he said, "my father did some ethanol studies back in the day" and he gained his first exposure to homemade brews.
"I knew the process and understood the process and I knew some moonshiners back then," he said. "I just started reading some books and doing some experimenting."
One thing he learned is all those illicit whiskey makers in the 1920s and early '30s knew their stuff. The craft improved tangentially during Prohibition.
"I'm the first one to use that particular moniker 'Prohibition style' on my whiskey," Bock said. "I guess every industry has got spin and people like to tell you what's good and what's not good. If you look up the moonshiners' recipes, everything that's done with sugar they call 'good whiskey.' "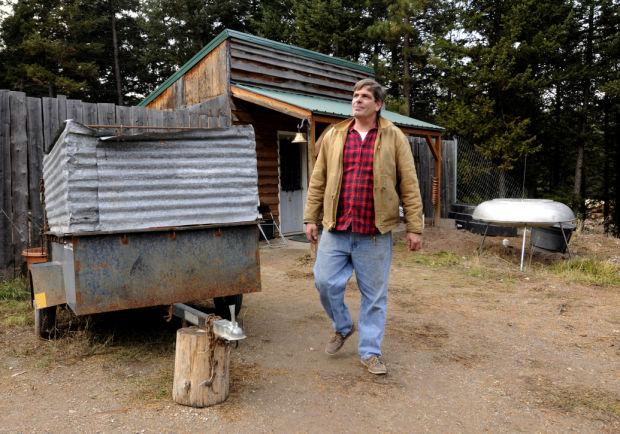 For centuries, those who distilled their whiskey with the traditional grains had looked down their noses at such things, he said. "During Prohibition they kind of went, well, that's just plain crazy. And so people started making sugar-based whiskeys and things like that."
Bock said that "in this topsy-turvy world" he can buy a 50-pound bag of sugar from Hawaii for less than he can buy a 50-pound bag of wheat from the Potomac Valley. He's proud of his 120-proof "Uncle Carl's," flavored and colored in five-gallon charred oak casks from the Gibbs Brothers Cooperedge in Arkansas. He keeps them shelved in a corner of the distillery.
In another is a collection of blue 50-gallon fermenters, which he hopes some day to replace with stainless steel drums. He's adding restroom facilities to the still room now, a requirement in a highly regulated industry if he's ever going to hire employees.
The Bocks have been working their way through the permitting process for over a year in order to open this month.
"We had to go through the state and the feds and the county, so there were a whole lot of people to keep happy," Carl said.
While he has the usual stories of frustration over bureaucratic red tape, he also had some praise for Missoula County regulators.
"The health department fellas, they were really nice to us," Bock said. "They really helped us out through a lot of the process. They could have totally rained on my parade, but they were actually really nice to work with. It's like arguing with your wife. It's hard to argue when you know they're right."
A temporary banner to advertise Steel Toe Distillery was ready to hang last week on the footbridge over Union Creek. Carl Bock had his skid steer in action to improve the muddy driveway up to the new business.
Some day his hooch will be distributed in state liquor stores, he said, but for now you have to drop in between noon and 7 p.m. Tuesdays through Sundays to get some. He can sell you two bottles of "Uncle Carl's" per day, and he hopes you'll stay a spell to visit.
Bock has lived across Highway 200 from Johnsud Park for years and knows as well as anyone it's a dangerous stretch of road.
"I don't really serve alcohol," he said. "You can buy a bottle here and take it home, but if you break it open going down the highway, you're illegal and you're doing something wrong."
Besides, he said, he prefers and expects a more mature clientele.
"I don't want 20-year-old kids drinking this stuff, No. 1 because it's 120 proof whiskey. You can't explain sipping whiskey to a 20-year-old," Bock said. "What makes me different from a lot of people is that I drink this stuff. I sell this to my friends, people who I like."
"I throw away about two gallons for every five gallons I make," he added. "It's good. It's clean. There's very little hangover to it."