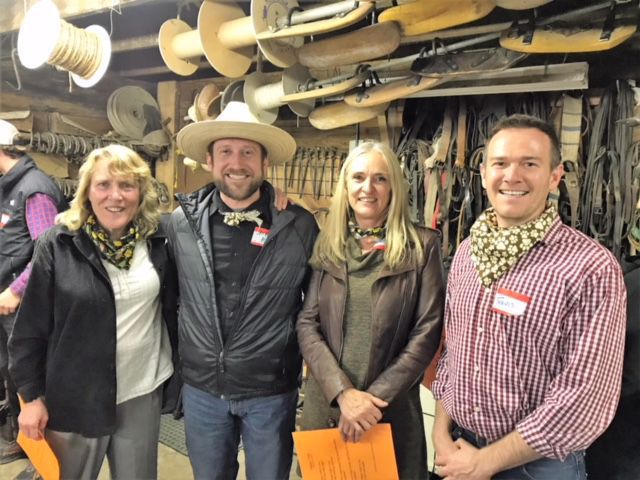 A rancher, a forestry educator, a wilderness ranger, and a raptor conservationist and educator were honored on Oct. 17 at the annual awards dinner of the Missoula Conservation Roundtable.
In addition, Travis Ross, an environmental health specialist in Missoula, became the first recipient of the emerging conservationist award.
The Roundtable is a gathering of Missoula area conservationists who are past recipients of awards for their outstanding efforts to nurture and protect natural resources. The oldest award, created by late Montana conservationist Don Aldrich and now named after him, has been presented each year since 1972 to an individual for her or his service in the area of natural resource conservation or environmental protection over a long period.
Jim Stone of Ovando was this year's Aldrich award winner. Owner of the Rolling Stone Ranch, Stone was recognized for his outstanding achievements in promoting cooperative conservation in the Blackfoot Valley and throughout Montana, the Intermountain West and the nation. He is well known as a tireless volunteer in community organizations and is among the leaders of the Blackfoot Challenge.
Dr. Diana Six of the University of Montana received the Arnold Bolle award, presented since 1995 in the name of the late UM forestry professor and leading figure in the Montana conservation movement before his death in 1994. It's presented to a professional who makes his or her living in the fields of natural resource management or environmental protection. Six is professor of forest entomology/pathology at UM and chairs the Department of Ecosystems and Conservation Sciences. She developed mentoring programs to increase roles for women in science and has worked to increase the number of Native American students entering graduate school for careers in environmental science. Her research focusing on forest insects and diseases is the subject of articles in publications such as National Geographic.
Jack Ader, a wilderness ranger on the Bitterroot National Forest, West Fork Ranger District, received the Burk/Brandborg Award, named after conservation writer Dale Burk of Stevensville and the late forest conservationists Ruth and G.M. (Guy) Brandborg, whose efforts over several decades inspired individual activism on behalf of natural resources and the environment. The award was first presented in 1998. Ader "has outstanding skills in working with people of all ages to encourage their understanding and interaction with wilderness," a press release said. "Particularly notable is his mentoring of young people inspiring them to learn and appreciate the concept of wilderness as a national heritage."
Kate Davis of Florence is the 2017 recipient of the Lifetime Conservation Award, given on a periodic basis since 2001. Davis was recognized for "almost three decades of passionate and energetic work focused on conservation and education about raptors," the press release said. "She has been a 'force of nature' for raptor conservation and education, presenting more than 1,640 educational programs on raptors in 130 schools." Davis has also been an important contributor to basic science and international programs focused on raptor conservation, and has published a number of books featuring her exceptional photographs.
The first Emerging Conservationist Award went to Ross, who in his work for the Missoula Valley Water Quality District has played a lead role in local projects aimed at protecting or improving Missoula's aquatic resources. Ross was feted for his ability to handle diverse topics ranging from hazardous wastes and industrial solvents to homeless camps and riparian areas, and for his solid technical and science background and passion for public education. "Most importantly he has the communication and persuasion skills necessary to establish productive long-term relationships and partnerships in the community," according to the release. "Travis is the kind of leader that people want to work with."
Be the first to know
Get local news delivered to your inbox!