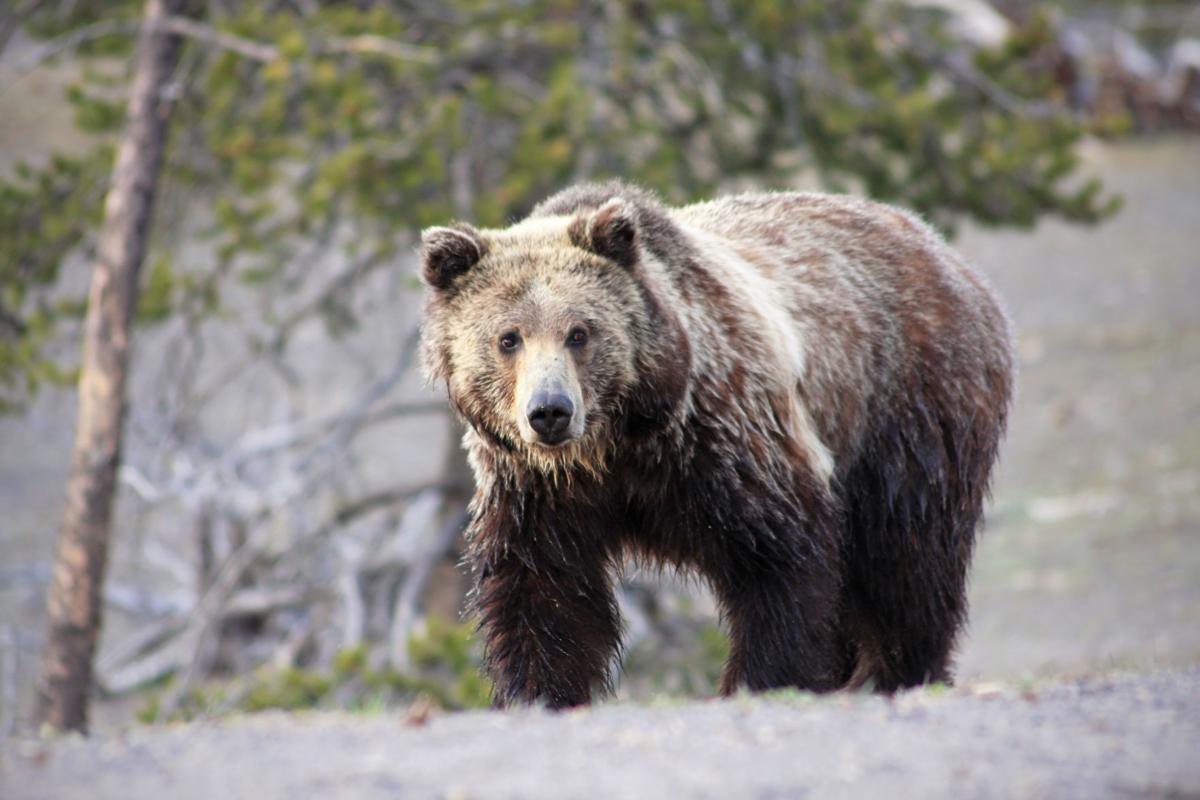 A federal judge returned Yellowstone-area grizzly bears to Endangered Species Act protection and effectively blocked grizzly hunting seasons in Wyoming and Idaho on Monday.
"Although this order may have impacts throughout grizzly country and beyond, this case is not about the ethics of hunting and it is not about solving human- or livestock-grizzly conflicts as a practical or philosophical matter," U.S. District Judge Dana Christensen wrote at the start of his 48-page ruling. "This court's review, constrained by the Constitution and the laws enacted by Congress, is limited to answering a yes-or-no question: Did the United States Fish and Wildlife Service exceed its legal authority when it delisted the Greater Yellowstone grizzly bear?"
Christensen ruled the agency did err by failing to consider how delisting the estimated 750 grizzlies in and around Yellowstone National Park might affect survival of another roughly 1,200 bears in five other recovery areas. He wrote Fish and Wildlife Service (FWS) also acted arbitrarily and capriciously in analyzing threats to the Yellowstone bears.
"The grizzly is a big part of why the Yellowstone region remains among our nation's last great wild places," said Earthjustice attorney Tim Preso, who argued for continued ESA protection of grizzlies. "This is a victory for the bears and for people from all walks of life who come to this region to see the grizzly in its natural place in the world."
Wildlife agencies in Wyoming and Idaho planned to let hunters with special permits kill up to 23 grizzlies in the first big-game seasons for the bears in three decades. On Aug. 30, Christensen temporarily suspended the states' Sept. 1 season just hours after he recessed a four-hour hearing on the federal government's case for turning the bears over to state management. The Endangered Species Act protects threatened species from hunting, but does allow government officials to kill bears for management reasons like livestock predation. Individuals may also kill grizzles in self-defense or protection of property.
Coincidentally, a grizzly bear killed a Wyoming hunting guide near Jackson Hole the day before a second phase of Wyoming's grizzly hunt was to begin on Sept. 15. Both state and federal attorneys had claimed grizzly delisting and hunting seasons were necessary to reassure residents living around bears that they would be kept safe.
Advocates for continued Endangered Species Act protection countered the states were pandering to the wishes of trophy hunters who exaggerated the threat grizzlies posed to people and domestic livestock. They maintained the Fish and Wildlife Service unlawfully discounted the risk of people killing too many grizzlies for the species' slow reproductive rate to recover.
At least 50,000 grizzly bears roamed the Great Plains and Rocky Mountains when Lewis and Clark made their Voyage of Discovery across Montana in 1805. By the start of the 20th century, the bears' habitat in the lower 48 states had shrunk to less than 2 percent of its former range between California and North Dakota. Although British Columbia and Alaska still had tens of thousands of grizzlies, fewer than 500 were assumed to survive south of Canada when the bears were listed as a federally threatened species in 1975. The Yellowstone area had between 136 to 312 grizzlies left when they came under the Endangered Species Act.
The Fish and Wildlife Service attempted to delist grizzlies in the 9,209-square-mile Greater Yellowstone Ecosystem in 2007, but lost a court challenge over inadequate research on how loss of major food sources like whitebark pine nuts and cutthroat trout would affect their survival. The agency presented a new delisting rule in 2017, arguing the bears had found alternative food supplies and had reached the natural carrying capacity of the landscape in and around the national park.
A coalition of more than 20 conservation groups, Indian tribes and environmentalists challenged the 2017 delisting. They raised a wide range of arguments about the Fish and Wildlife Service's failure to consult with Indian sovereign governments and inadequate scientific proof of grizzly recovery in the three-state area around Yellowstone. But Christensen said he limited his review to whether the agency met its requirements under the Endangered Species Act and Administrative Procedures Act.
"(T)he service entirely failed to consider an important aspect of the problem," Christensen wrote. FWS also "illegally negotiated away its obligation to apply the best available science in order to reach an accommodation with the states of Wyoming, Idaho and Montana." And it relied on two studies supporting the Yellowstone bears' genetic independence when both studies concluded the bears actually needed more genetic interchange from other populations.
"Imagine an isolated town of 700 people that does not mix with the outside world," Alliance for the Wild Rockies Director Michael Garrity emailed about the decision on Monday. "After a few generations every (one) would be cousins. They would all be inbred. The same thing is happening to Yellowstone grizzlies. They can't be recovered until their population is reconnected to the grizzly bear population around Glacier Park and the Bob Marshall Wilderness area."
The U.S. Fish and Wildlife Service still intends to delist grizzlies in the Northern Continental Divide Ecosystem by the end of 2018. Current estimates show just over 1,000 grizzlies live in the 16,439-square-mile demographic monitoring area. That includes Glacier and the Bob Marshall Wilderness Complex, the Mission Mountain Wilderness, and parts of the Whitefish Range, Blackfeet and Flathead Indian reservations.
Christensen found that an important factor in his decision. He said while FWS can carve out and delist distinct population segments of a threatened species, it must show how that affects the remaining bears. That includes struggling populations in the Cabinet-Yaak, Selkirk, North Cascades and Bitterroot recovery areas.
"If the Northern Continental Divide and Greater Yellowstone populations are both successfully delisted, the lower-48 grizzly listing will cover only two areas with fewer than 100 grizzlies, one area where grizzlies have not been affirmatively located in over 20 years and a fourth area where grizzlies have not been seen since at least 1975," Christensen wrote. He called the agency's efforts to analyze that "simplistic at best and disingenuous at worst."
Christensen also criticized FWS' method of counting grizzly populations and mortalities. Its conservation strategy allows the states too much leeway in deciding how many bears live in the area, which also determines how many might be hunted, he wrote.
"In response to political pressure from the states, the service dropped the provision despite its recognition of its importance," Christensen wrote. And it showed no scientific reason why it made that deal.
That could have local impact when the Montana Department of Fish, Wildlife and Parks holds a public hearing in Missoula on Wednesday to review its proposed methods of counting Northern Continental Divide Ecosystem grizzlies. If those bears get delisted, Montana wildlife officials would have lead authority to decide how many bears might be available for future hunting seasons.