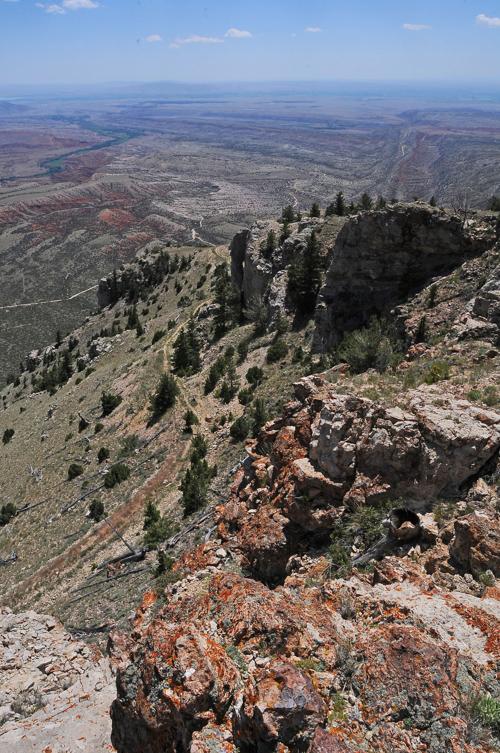 Note: This story was corrected from its original version which misstated the size of the disturbance area. It will be less than four acres of disturbance. The original story said it was less than seven acres.
A Mexican-based cement company is proposing exploratory drilling in the foothills of the Pryor Mountains near the Montana-Wyoming border.
Grupo Cementos de Chihuahua, a multinational corporation that also has plants in South Dakota and Colorado, is seeking permission from the Bureau of Land Management to drill 10 holes up to 70 feet deep to search for gypsum. Gypsum is a soft rock used to make wallboard, plaster of Paris and as a cement additive. In a 2013 stock offering, the company claimed it was "one of the leading producers of ready-mix concrete in the United States."
The drilling would be conducted just south of Gyp Springs Road and to the west of its intersection with Crooked Creek Road.
Portions of the high desert environment have produced Jurassic-age fossils, the period known for large reptiles. "Vertebrate fossils and scientifically significant invertebrate or plant fossils (are) known to occur intermittently" in the drilling area. However, the rock above where the gypsum would be mined "has produced fossils of scientific interest in the past and is likely to in the future," the BLM wrote.
To mitigate potential damage to fossil resources the BLM is requiring that a paleontology consultant be present during any ground disturbing activities, other than the actual drilling.
The region is also home to rare plants. Because of the unusual plant community, the BLM has designated part of the region an area of critical environmental concern and a research natural area.
"GCC has included a mitigation measure to have a botanist on site during construction to identify and avoid Thick-Leaf Bladderpod (one of the unusual plants in the area) and to record and report any impacts to individual plants," the BLM noted in its Finding of No Significant Impact (FONSI).
Sage grouse, a threatened species, are also known to use the region. To reduce any potential impacts to the birds the drilling plan incorporates limiting the disturbance area and not drilling during the grouse's spring mating and nesting season.
The BLM's draft environmental assessment's chosen alternative would approve the drilling. The agency's FONSI has concluded that a more detailed environmental impact statement is not required. The decision was based on the fact that the disturbance area will be small, less than four acres total, and the landscape will be reclaimed once the drilling is completed.
Public comments on the EA are being taken until Nov. 5.
Be the first to know
Get local news delivered to your inbox!