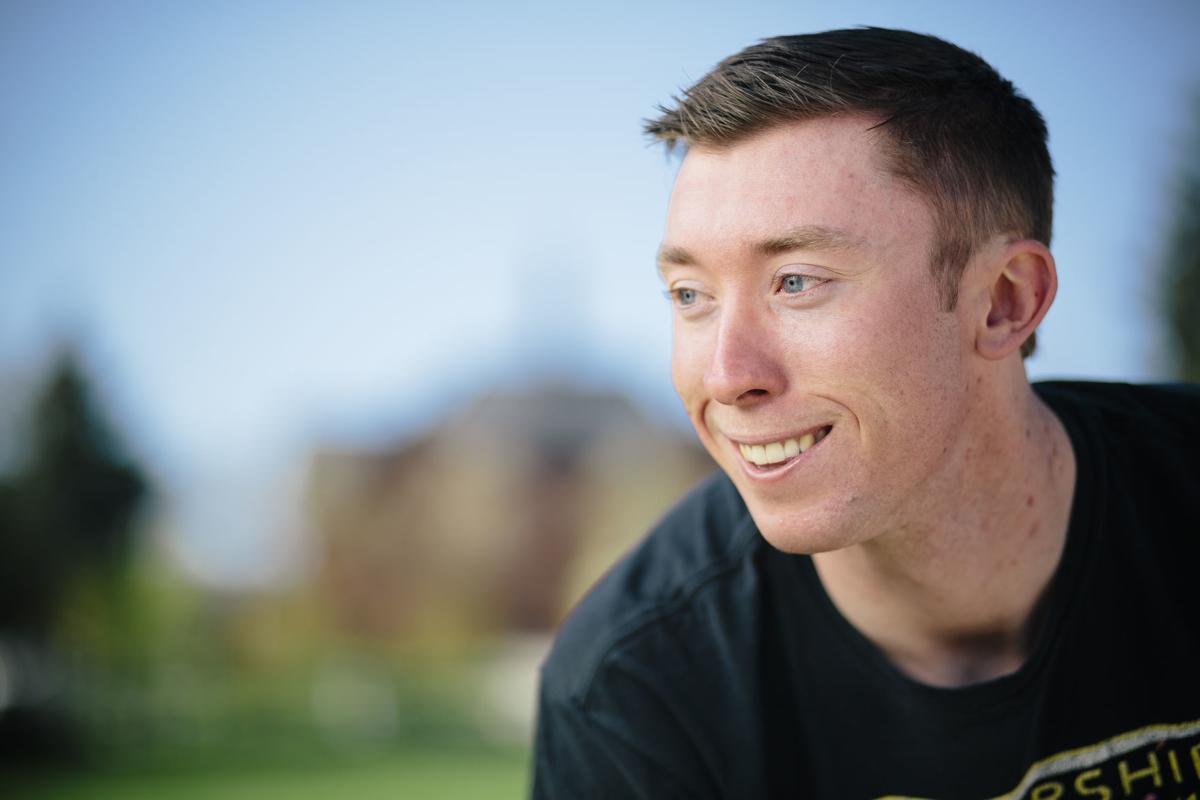 BOZEMAN — Fly fishing was foremost on Will Griffiths' mind when he first came to Montana State University, but he was hooked by a course in environmental history that helped him transform his passions into academic excellence and a national award.
Griffiths' research on threats to cold water fisheries from climate change was recently selected as the Montana entry in the Council on Undergraduate Research's Posters on the Hill display at the U.S. Capitol rotunda. While in Washington, D.C., Griffiths shared his work with Montana's congressional delegation as well as large audiences in the Capitol. Earlier in the year, Griffiths presented his work at the 2018 National Conference on Undergraduate Research in Oklahoma.
Griffiths, who graduated from MSU this spring with a degree in liberal studies, said "he flipped a switch" from unengaged angler to scholar when he took a class in environmental history his junior year from Mark Fiege, an MSU history professor who holds the Wallace Stegner Endowed Chair in Western Studies at MSU.
"When I look back on it, it was obvious that I would be doing something like this because I care about these (rivers)," said Griffiths, who is continuing his research while taking a year off to be a fishing guide in Stanley, Idaho. Afterward, he'll be applying to graduate schools.
Griffiths, who said he is a proud sixth-generation Oregonian from Bend, has been fly fishing since he was 15. He said he came to MSU because nearly all of his fishing mentors had spent some time on the blue-ribbon rivers near Bozeman. When he arrived at MSU, Griffiths admits he did a lot more fishing than studying — until he took Fiege's class and learned about the history of the West's great rivers and how they could be affected by climate change.
Griffiths said he was so moved by Fiege's lectures that he called his grandmother to share with her what he was learning. "She told me that I should go talk to (Fiege) because professors are just people," he said.
So after the next class, Griffiths asked Fiege what he could do to about the global issues the class was discussing. Fiege ignited Griffiths' interest, and the student began looking at his favorite places from an environmental viewpoint. He proceeded to interview climate scientists, fisheries biologists and other resource professionals to better understand the science behind climate change and its impacts on cold water species like trout.
"That was the first spark, the first thought that I should do something to ensure these fisheries would be here in the future," Griffiths said.
Fiege said Griffiths cannot only understand and interact with rivers and fish, but also has gifts that are "intellectual, intuitive and spiritual as well, in his ability to comprehend and appreciate rivers and fish from multiple perspectives."
Fiege said that he is deeply gratified that MSU is the kind of institution "that can recognize and cultivate, in so many unique and wonderful ways, unconventional as well as more conventional gifts and talents" as demonstrated by Griffiths.
"Will is an example of the kind of student that differentiates MSU from so many other institutions," Fiege said.
Griffiths sought and received funding from MSU's Undergraduate Scholars Program to begin writing a book communicating the impacts of climate change on cold water fisheries in the American West. He is focusing on four western rivers: the Deschutes in Oregon, the Salmon in Idaho, and the Yellowstone and Madison rivers in Montana. He has cited research by the Forest Service that a changing climate means that famous rivers like the Yellowstone and Madison will no longer provide habitat for cold water fish species, vastly changing the region — as well as the sport he loves.
"Will's research is a great example of how scholarly inquiry can cut across disciplinary boundaries, in this case combining the science of climate change with a humanistic approach to understanding the impacts of change on the people who care about the West," said Colin Shaw, director of MSU's Undergraduate Scholars Program.
Griffiths presented his work to an MSU audience this spring as a Presidential Emerging Scholar and has spoken to Trout Unlimited groups. The highlight of his work was the poster presentation in Washington, D.C.
"I've learned you have to be involved if you want things to change," he said.
Griffiths hopes to complete the book in the next three years and continue guiding in the summers. He also plans to attend graduate school, most likely in environmental studies or environmental journalism.