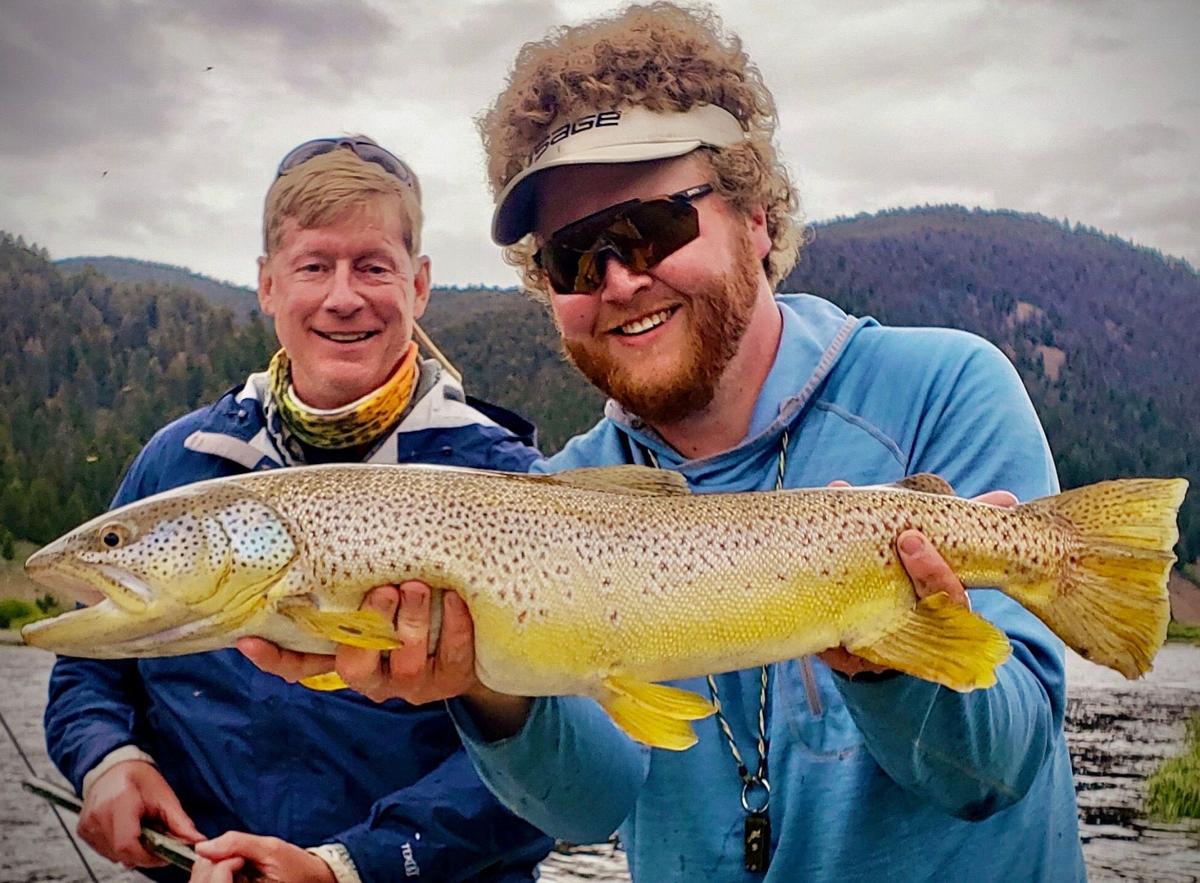 Dry fly action has picked up on the Mighty Mo despite the spike in flows. Head there while the action lasts.
The recent rains brought water levels up but they are beginning to drop. Fishing hot spots should be ready by the end of the week if the storms calm down and the forecast settles.
Look to the Bighorn River as a place to catch a hefty rainbow, as most of the trout have finished spawning.
Anglers are hooking decent walleye in the late evening at Hauser Reservoir near the Causeway. Holter Reservoir is producing walleye and perch for boaters near the Gate of the Mountains.
Here are this week's top picks:
Top picks
Bighorn River — The water is running at 2,000 cfs. Fishing has been picking up as most of the rainbows are done spawning. Rainbows are being caught on Scud, Sowbugs and Midge nymphs. Nymphing is the name of the game right now, most hatches have tapered off but with warming weather in the forecast be prepared to see PMDs popping soon. Stay within six or seven miles of the Afterbay as floating algae can be a pain in the lower sections. Streamer fishing can be productive. Keep your flies small and work them around the main channels of the river. Nymphs: Green Weenie (16-18), Root Beer Midge (16-18), Flashback Green Pheasant Tail (18-20), Poxyback Sowbug (16), Scud orange, tan or pink (14-18). Dries: The Student (16-22), Black Smoke Jumper (18-22), Cannon's Bunny Dun Baetis (18), Bucky's Klinkhammer Baetis (18), Adams Midge Cluster (20). Streamers: Li'L Kim (4), Dolly Llama (2), Coffey's Sparkle Minnow light olive or brownie. — East Rosebud Fly Shop, Billings.
Gallatin River — The river is beginning to turn green, but don't get in to wade just yet. It is still a large enough flow that you should stay along the bank. Caddis have been the big hatch going but not the only bug. Yellow Sallie's are out and we are expecting the "BIG BUG" in probably a week's time. Water temps are also switching from BWOs to PMD hatching temps. If the water still isn't clean enough for your liking go above Taylor Fork or in the reach inside Yellowstone Park. — Montana Troutfitters, Bozeman.
Hauser Reservoir — Rainbows are being caught near White Sandy by boat anglers trolling cowbells and Wedding Rings. Shore anglers are catching a few rainbows around Black Sandy and below Canyon Ferry Dam using PowerBait or night crawlers. Walleye anglers are catching a few in the late evening hours from shore at the Causeway with slip bobbers and leeches or a floating jig. — FWP, Helena.
Holter Reservoir — Walleyes and perch are being picked up by boat anglers in the canyon near the Gates of the Mountains. Most are having luck using slip bobbers and leeches or jigs, bottom bouncers and crawlers. A few are also being picked up from the docks at the boat ramps while pitching jigs tipped with crawlers or leeches. Anglers fly fishing for trout are doing well with nymphs and an indicator around Gates of the Mountains, as well. Boat anglers trolling cowbells or Ford Fenders and Wedding Rings on the lower end of the reservoir are picking up some nice rainbows — FWP, Helena.
Missouri River — The Mighty Mo has seen a spike in flows for the past few days, but that hasn't stopped the fishing, as the fish have swung into full dry-fly mode. PMDs, yellow Sallies, and caddis are the name of the game right now. Nymphing has been great as well with Worms, Scuds, Sowbugs, and Soft Hackles. Caddis (12-14) have been effective. For PMDs a parachute (14) or extended body will work. The PMD emergers have also been hot such as Rainbow Warriors, Hunchybacks, Short-Wing Emergers, and Loop Wings. — Montana Troutfitters, Bozeman.
Montana
Ackley Lake — PowerBait and night crawlers have been snagging decent trout. The muskie action has been consistent using herring and Rapalas. — Sport Center, Lewistown.
Beaverhead River — We have been seeing the start of the PMD hatch on the upper Beaverhead. Subsurface nymphing has been fantastic with PMD nymphs and yellow Sallie nymphs. The dry fly fishing should pick up after the weather clears later this week. Flows are stable coming out of Clark Canyon Reservoir. — Sunrise Fly Shop.
Big Hole River — The water is currently on the rise due to rain in the valley and snow in the high country. It will be a week of throwing large streamers and subsurface with Worms. The river should stabilize later this week. We have been seeing hatches of golden stone's, PMDs, caddis and drakes. — Sunrise Fly Shop.
Bighorn Lake, Ok-A-Beh — Anglers are catching a lot of smallmouth bass at all depths. The fish are hungry and are biting on a variety of bait. Anglers are using plastics and poppers for smallmouth. Big trout (brown and rainbow) are being caught using crankbaits. A few walleye have also been caught, but not a lot. — Scheels, Billings.
Bitterroot River­­ — The water has gone up quite a bit from the rain. It's supposed to rain all day and night. You could still catch fish, but you'll be nymphing Worms and big stoneflies in the soft water. Throwing big flashy streamers is another good option. Fish will still be in the side channels out of the main current. — Grizzly Hackle Fly Shop, Missoula.
Blackfoot River — The water is starting to go up, but the rain hasn't affected it as bad as other rivers. Soon you'll want to switch to mainly subsurface with San Juans, Jig PT's, Jig Prince, Rubberlegs and Double Bead Stones.  Fishing with white, olive or black streamers. Dungeons, Boogieman's, Smoke N Mirrors, Complex Buggers, Sparkle Minnows and Zonkers. In the rain and clouds we could have some green drakes and PMDs hatch, if the fish are eating them be ready with Tilt Wing Duns, Comparaduns and Emergers. — Grizzly Hackle Fly Shop, Missoula.
Boulder River — The recent warm weather followed by multiple rain days has kept the flows high. We should see a large drop this week, which will help the fishing. Fish are eating stonefly nymphs along with aquatic annelids. Spotttings of yellow Sallys and PMDs are occurring. A few golden stoneflies have emerged and the fish are eating golden stone nymphs better than last week. Try a tan Rubberlegs and a Red Silkworm for best results. — Sweetcast Angler, Big Timber.
Canyon Ferry Reservoir — Walleye fishing is starting to provide a lot of action, especially along Ponds 1, 2 and 3 in 10-15 feet of water.  Try using bottom bouncers with yellow, green or chartreuse spinners.  Floating jig heads are working well.  Shore anglers are catching walleye in Beaver Creek Bay near White Earth and around the Silos.  Some perch are being picked up on the south end while using jigs and leeches.  A few rainbows are being caught while trolling cowbells at least 20 feet deep around the north end of the reservoir.  An occasional rainbow is being caught from shore at White Earth. — FWP, Helena.
Clark Fork River, Deer Lodge — Fishing is best with Scuds, Pheasant Tails and Midges. Good nymphs to use are Ray Charles (16), Sowbugs, Superflash Pheasant Tails (14-18). Streamers to use are Lemon Drop, Sculpzilla and Miller's Brew Time. Dries to use are Missing Link Caddis (16-18), Purple Haze (16-18), and Rocky Mountain Mint (16-18). — The StoneFly Fly Shop, Butte.
Clark Fork River, Missoula — The river was getting fishable, but with the rain we are having it's muddied back up. Tributaries are still fishable. — Grizzly Hackle Fly Shop, Missoula.
Clark Fork River, St. Regis — The water is on the way up. The fish are on top. The water clarity is clearing. Anglers are pulling in a good number of trout. — Joe Cantrell Outfitting, St. Regis.
Deadman's Basin — PowerBait, night crawlers and worms are the bait of choice right now. — Cozy Corner Bar, Lavina.
Firehole and Madison in YNP — The fishing on these waters in the park is coming to an end with water temperatures in the lower Firehole reaching the upper 70s and the Madison reaching the mid-70s over the last few days. You may still find a few PMDs hatching early in the morning around Biscuit Basin or Madison Junction. — Blue Ribbon Flies, West Yellowstone.
Flathead Lake (North) — The lake trout hot spot has been at the delta. Anglers should do well there. — Snappys Sport Senter, Kalispell.
Flathead Lake (South) — Lake trout have been caught at the city docks using whole bait setups in about 70 feet of water. — Zimmer Tackle, Pablo.
Flathead River — Bass and pike have been caught using silver Vibrax spinners below Kerr Dam to Buffalo Rapids. Backwater fishing with night crawlers has also been effective. Crappie, bull trout (released), and perch have also been caught above the lake near Sportsman's Landing. — Zimmer Tackle, Pablo.
Fort Peck Reservoir, Big Dry Arm — Plastics and bottom bouncing have been used successfully to catch walleye and northerns south of the marina. Anglers be advised, the fish are starting to swim north. — Rock Creek Marina.
Fort Peck Reservoir, Crooked Creek — Bank fishing has been a little slow and boat anglers have been doing fairly well. Shoreline anglers are catching crappie and a few northerns and catfish using crawlers and smelt. Boaters are doing well pulling crankbaits or bottom bouncing with leeches and crawlers. — Crooked Creek Marina.
Fort Peck Reservoir, dam area — The lake trout action has been slow. Anglers are jigging or pulling spoons in 80 to 100 feet of water. Hefty walleye and pike are pulling bottom bouncers with crawlers or leeches. Pulling cranks has been a good producer for walleye and pike. — Lakeridge Lodging & Bait Shop.
Georgetown Lake — Try stripping leech patterns and dead-drifting chironomids. The southeast shoreline is closed (check regulations). The wind has been picking up midday but calms down in the evenings. — Flint Creek Outdoors, Philipsburg.
Glacier National Park — The west entrance to the park is open to Avalanche Creek. Expect temporary closures at either Lake McDonald Lodge or the foot of Lake McDonald due to full parking lots and congestion. Nonmotorized boats only. Areas of the North Fork of the Flathead River, including the roads to Kintla and Bowman lakes are open. — GNP.
Hebgen Lake — There is still some early season callibaetis on the Madison Arm and on the main body of the lake. Chironomid fishing is still the most productive method. If you're going to fish the lake make sure to have a few Sparkle Dun Callibaetis (16), Callibaetis Tilt-Wing Duns (16) and Adams Parawulffs (14). If you're fishing subsurface, Traffic Light Diawl Bachs (12), Driskill's Midge (12) and Ice Cream Cones (12) are a few flies that you'll want to have along. — Blue Ribbon Flies, West Yellowstone.
Kootenai River — The water is high. The river can be fished in the afternoons or try fishing the soft backwater eddies. — Kootenai River Outfitters, Troy.
Lake Frances — Anglers will find a variety of fish including perch, rainbow trout, walleye and northern pike here. Whether you are baitcasting, spinning or fly fishing your chances of getting a bite are good. Best times to fish are early mornings (5-8 a.m.). — Hook and Bullet.
Lake Koocanusa — The rain has been producing more rainbows. Wedding Rings and Kokanee Killers have been used successfully. Reds and pinks are the hot colors right now. The rainbows are biting on darker colors at about 20-40 feet down. — Koocanusa Resort and Marina, Libby.
Lake Mary — Perch have been reported off the ramp of the dock. Salmon have been biting on shrimp, corn and worm combinations. — Zimmer Tackle, Pablo.
Madison River, Lower — The lower river flows have been all over the place, but that hasn't stopped the fishing. For dries, golden stones, yellow Sallies, PMDs and caddis are the main game with a great brown drake hatch in the evenings. Crayfish, Worms, Soft Hackles, Caddis Pupa, and attractor mayfly patterns are effective when nymphing the lower. If you're not having any luck fishing the banks, try casting your bugs over the weed beds. Streamer fishing has been decent with not too many numbers but some very quality brown trout hitting the net. Black, white and yellow are the hot colors. — Montana Troutfitters, Bozeman.
Madison River, Upper — The upper river is in great condition. Fish have lots of food options right now, this is the time of year when it pays to switch up flies often until you find what they are keying in on. Salmonflies and golden stones are out. If your not in the thick of the hatch a black Pat's Rubberlegs or a Golden Stone Nymph have been on fire. Also, Worms, Caddis Larvae, Baetis, Soft Hackles and larger mayfly attractors are all working subsurface. Don't be afraid to experiment with more weight if you aren't getting into fish. An extra split shot can be the difference between fishing and catching fish.  Streamer fishing seems to be getting better daily and some big fish are looking for a big meal. White still seems to be the hot color. — Montana Troutfitters, Bozeman.
Pablo Reservoir — Pike have been caught on the west end of the dam near the gate using red and black Dardevles with smelt setups. — Zimmer Tackle, Pablo.
Polson Bay — Smallmouth bass (15 limit) have been caught at the shoreline using night crawlers on a Wacky setup or a worm and hook (Smile setup) setup. — Zimmer Tackle, Pablo.
Rock Creek (East) — The water is running below 400 cfs making it an exceptional time of year to fish the creek. The best water is going to be between Roberts and Red Lodge. Yellow Sallies and PMDs are still in the air as well as caddis and a few stoneflies. Dry fly action has been great along with a good streamer bite. Streamers: Tungsten Thin Mint, Complex Twist Bugger, Bond's Mini Dragon. Nymphs: Robinson Hare's Ear Special (14), Beadhead Rubberleg Prince Nymph (14), Silverman's BH Epoxy Back Red Tag Sally (14). Dries: Galloup's Butch Caddis olive (14), Headlight Sally (14), Chubby Chernobyl (14), Parachute PMD (16), Keller's Rocky Mountain Mint Purple (14).  — East Rosebud Fly Shop, Billings.
­Rock Creek (West) — The water is going way up. For now you can throw San Juans, Rubberlegs, Doublebead Stones and Jig Princes under a bobber in water that slows down like inside bends and drop-offs. Flashy streamers like Sparkle Minnows, Bling Minnows and Smoke N Mirrors is another option. — Grizzly Hackle Fly Shop, Missoula.
Spring Creek —  Trout (rainbow and browns) have been caught using Panther Martin spinners or a variety of caddis patterns. — Sport Center, Lewistown.
Stillwater River — The water flows are still a little high for wade fishing at 3,000 cfs. Float fishing is optimal right now, just don't think you are going to stop and fish. Covering water is the name of the game. Look to fish Chubby Cheronybls and Stimulators on top. While fishing nymphs try a Beadhead Rubberleg Prince Nymph and Brillions Lucent Prince Jig. Streamers have been the best. Try a Galloup's Mini Sex Dungeon in gray and olive. Nymphs: Brillions Lucent Prince Jig, BH Rubberleg Prince Nymph, BH Epoxyback Copper John. Dries: Parachute Klinkhammer in olive (16), Chubby Chernobyl (8), Stimulator (10). Streamers: Kory's Grinch (4), Galloup's Mini Sex Dungeon gray or olive, Coffey's Sparkle Minnow peacock, brownie, royal oil (4). — East Rosebud Fly Shop, Billings.
Swan Lake — The pike bite has been improving. — Zimmer Tackle, Pablo.
Tiber Reservoir — Despite the rain, anglers have been caching 16- to 20-inch walleye. Crankbaits, night crawlers, leeches and spinners have been used successfully as well as bottom bouncing. — Ru's Tiber Marina.
Tongue River Reservoir — The walleye bite has been on and off. Anglers that did find success were pitching or dragging jigs tipped with half a crawler or a minnow in anywhere from 5-20 feet of water. The bass bite is still going strong using spinners, jigs or jerk baits. The crappie bite has been disappointing so far this year. The northerns are always a surprise catch when fishing for other species. — Tongue River Marina.
Yellowstone River, Columbus — The water is improving, but still running high and a bit off-color through Columbus. It's getting there. Once it turns blue green in color, it's time to jump on it. The fish will be in a feeding mode for rubberleg nymphs and streamers. — Stillwater Anglers, Columbus.
Yellowstone River, Huntley — The water is still big and dirty. The catfish are biting very well with minnows, cut bait and shrimp. — Huntley Bait and Tackle.
Yellowstone River, Livingston — The water is dirty. The cold storm temps up high in the park put the runoff on hold for a few days, but with this warmer weather the Lamar let loose and the Stone has dirtied up again. If we're lucky, the Stone will be ready to fish by the end of this week. Proceed with caution when floating out there the next couple weeks. Wave trains and hydraulics will be big and nasty in some sections. Also be sure to check out your boat ramp options. Some tend to change quite a bit after the runoff. — Montana Troutfitters, Bozeman.
Yellowstone River, Miles City — The sturgeon have started to bite on worms. The catfish bite has been decent but the water conditions are still very high and fast. — Red Rock Sporting Goods, Miles City.
Wyoming
Bighorn Lake, Horseshoe Bend —  Water levels are up due to all the rain. Some reports of walleye have come in. — Horseshoe Bend Marina.
Bighorn River, Thermopolis — Nymph and streamer fishing is the name of the game with some dries later in the day on caddis and midges. There are still some rainbows spawning. The water flows are 1,384 cfs. Flies: Nymphs: Zebra Midges, San Juan Worms, Yum Yum Scud, pink Soft Hackle Sowbug, Yuk Bugs, Pat's Rubberlegs, Jig-head nymphs. Midge Pupa, Wire Worm, and small North Fork Specials in black or tan. Streamer patterns: Leeches, Woolly Buggers and Cone-Head Zonkers, Double Bunnies, Sex Dungeons and Muddler Minnows. The hatches popping right now are caddis and midges. Cicadas and hoppers are getting attention in the Wind River Canyon and on the float into Thermopolis. Dries: Griffith's Gnats, Rojo Midge, Parachute Adams, Hemingway Caddis, Elk Hair Caddis, Dave's Hopper, and Wade's Horror. — North Fork Anglers, Cody.
Buffalo Bill Reservoir — The southern part of the reservoir is fishing well. Access this site using the South Fork Road. Dardevles have been working well. Water conditions are still pretty clear. — Rocky Mountain Discount Sports, Cody.
Clarks Fork — The water flows came back up due to the torrential rains in the Beartooth and Absaroka mountains. The flows are very high and swift. The water quality is gone. Golden stones and caddis are active. Dry/dropper or going deep with weighted nymphs is recommended. The water flows are at 4,770 cfs at the Clarks Fork Hatchery. —North Fork Anglers, Cody.
Lower Shoshone — The water flows leaving Buffalo Bill Dam doubled to 4,491 cfs. Caddis, midges and stoneflies are hatching. Wet flies: Purple and Peacock Prince, San Juan Worms, Pat's Rubberlegs, black Girdle Bugs and black North Fork Specials. Dries: Caddis or midges. There may be a few fish rising in the slack water. Don't expect this, but be prepared anyway. Streamers: Orange Blossom, black, brown or dark olive Zonkers, darker-colored Sculpinators, JJ Special Conehead, Black Peanut Envy, black or brown Crystal Buggers and other dark streamers that have a lot of hackle or movement. — North Fork Anglers, Cody.
North Fork of the Shoshone — The entire North Fork drainage is high and off-color. We expect to see high but fishable water by the Fourth of July weekend. Keep your fingers crossed. The river was fishing great above the closure until the rain began. The annual closure from Buffalo Bill Reservoir upstream to Newton Creek inside the Shoshone National Forest is April 1-July 1. Fishing is allowed west of Newton Creek (very high and muddy now) while the rest of the river is closed to protect spawning native Yellowstone cutthroat, rainbows and cuttbows. The water flows are at 5,940 cfs. The flows have substantially increased since the rain began late Sunday afternoon. By Wednesday large Stonefly Nymphs fished under an indicator are recommended. Epoxy Stone, Double Beaded Stones, Pat's Rubberlegs, Girdle Bugs all in sizes 2-8. — North Fork Anglers, Cody.
Upper and Lower Sunshine Reservoirs — Leech patterns have been very effective. Beadhead nymphs stripped or slow trolled behind a kick boat or float tube also works well. Midges will be out, but the cutthroat have their minds on spawning. Do not expect much from dry fly or emerger action. Damselflies are out right now. Anglers should fish Damsel Nymphs, Soft Hackled Bloody Mary's and Midge Pupa for the best results. On the lower, larger streamers are effective for splake and tiger trout. In shallower water, Leeches, Scuds, beadhead nymphs, Zebra Midges and Wire Worms are working well. — North Fork Anglers, Cody.
Yellowstone National Park — Yellowstone River in the Fishing Bridge to Mud Volcano area is closed until July 15. The water discharge from Yellowstone Lake to Fishing Bridge is 5,330 cfs. The lake is open for angling. The lake and river is managed for native Yellowstone cutthroat which must be caught and released. Lake trout caught must be killed to protect native Yellowstone cutthroat trout. Surface water temps are at 52 degrees. Streamers: Woolly Buggers, Zonkers, Muddlers and typical baitfish or leech imitations along the shore line. Beadhead nymphs (8-12) are working well cast out and stripped back. Prince, black North Fork Specials, Bloody Marys, Gold-Ribbed Hare's Ear soft hackles and soft-hackled or standard Pheasant Tail Nymphs also work this week. — North Fork Anglers, Cody.
Be the first to know
Get local news delivered to your inbox!