It was a surprise when the bowhunter strolled behind us. We had been gawking through binoculars at the large herd of elk gathered on a nearby ranch, bulls bugling their heads off. Maybe all of that jealousy at such a wealth of elk so close, yet so far away, hampered our hearing.
He moved quietly for such a big guy, and we must have passed him along our morning stalk without seeing him. His camouflage was working well. I hollered good morning, but he never turned or acknowledged us, just kept on walking.
We were close to the fence when we stopped to scope out the elk. So we could see the hunter open the gate and then close it behind him without looking up to see if we would soon be following, which we did.
After stepping through the gate and closing it, I stopped and apologized for possibly frustrating his setup. I don't like being crowded by other hunters, and try to give others plenty of space. He paused, looking at me somewhat blankly, then said, "It's public land."
Sensing that maybe I had offended him, I commented on his vehicle — a Massey Ferguson lawn tractor, not the usual vehicle you see parked at a pullout when hunting. "That's my tractor," he said.
"I hope you don't have to drive too far," I said. "That can't be a very comfortable ride."
"If it's parked here, I'm here," he replied.
Starting up the rig, which to me looked like a lawn mower without the blade and mowing deck, the bowhunter puttered off down the road, his bow held upright in one hand.
Just another unusual hunting story. So far this season there have been a couple of other oddities, as well.
Flocked up
On the opening day of pheasant season a heavy snowstorm days earlier had coated the country in snow. Where the wind had piled it up there were foot-deep drifts. Trees and branches were snapped off everywhere.
As a result, the pheasant were bunched up like elk on a haystack. Trying to put the sneak on that many pheasants was impossible. There were too many eyes on the lookout for guys with shotguns. So we took another tactic.
Spotting a group of pheasants in an open field my buddy circled widely around to come at them from the back side. In the meantime I ran through the ice cold creek to position myself across from him in some brush, thinking if he busted the pheasant into flight they might rocket toward the nearest cover.
As he topped an old irrigation ditch the pheasant did just that, a few roosters flying right toward me which, thankfully, my partner did not shoot at as I was directly in his line of fire. For the most part, though, they seemed to sense my presence and flew farther down the creek. It may have been the first time I've seen pheasant hunted by the spot and stalk method. That's usually something reserved for deer or elk, or maybe a big surface-feeding trout or carp.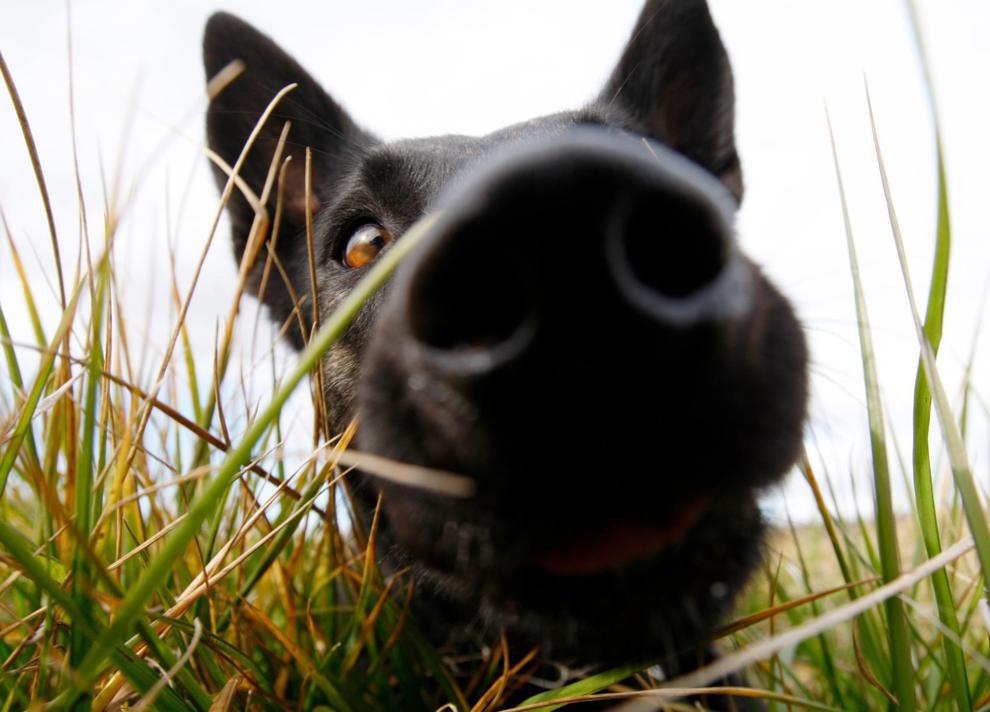 Odd pair
What may have been more unusual about that hunt, though, was that my buddy had brought along his German shepherd. The dog is a great animal, bred for things like moving livestock or sniffing out drugs for law enforcement. But it looked pretty odd to be tagging along on a pheasant hunt.
The pup seemed pretty uninterested in pheasant, too, and was no help in sniffing out a winged bird that went down in thick cattails. Maybe I was expecting too much.
On the final walk of the day I spotted a young rooster in a field. My buddy and I were separated by a fence as I walked toward a draw. I signaled that I would try to flush the rooster his way and began approaching the bird. As I got closer I broke into a run, hoping the bird would take flight.
Unfortunately, it must have been a bird that had been winged earlier in the day because it took off running rather than flying. My buddy shot, the bird went down, and I walked over to retrieve it. Just as I closed within about 6 feet, the bird got up and made another run for it. I was stunned. I couldn't believe it was up and sprinting across the field again. Two long shots later it was finally in hand. What a tough, sneaky bird.
That's the thing about hunting. No matter what form it takes, odd stuff usually happens. Those wild incidents always make for the best stories.