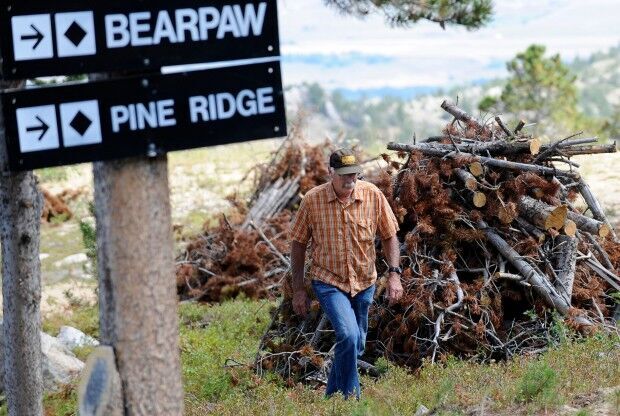 A cross-boundary forestry project on Red Lodge Mountain has been awarded a state grant. It's one of 14 projects given a portion of $4.5 million under the Montana Forest Action Plan.
The work at the Carbon County ski area will begin this summer and overlap to adjacent Gallatin Custer National Forest land as well as the nearby Palisades Ranch — all told about 1,000 acres, according to Jeff Schmidt, Red Lodge Mountain manager.
"The bulk of it will be on our property, the upper Palisades and from mid-mountain down," he said.
In addition to the state funding of almost $485,000, Schmidt said the ski area will sell any marketable timber removed to help pay for the work. Slash that's left over will be utilized for the ski area's biomass wood heater for the main lodge. The heater project still needs funding to be completed by the end of 2022 to qualify for a U.S. Department of Agriculture grant, he added.
In addition to logging, a prescribed fire will also be part of the project as well as a biochar demonstration project. Biochar is charcoal produced through decomposition at high temperatures. The end product is rich in carbon and can be used as a soil additive to improve fertility.
The work on Red Lodge Mountain will be completed over the next two years. In addition to opening up some of the ski area's terrain for skiers and snowboarders, the work will also employ some of Schmidt's seasonal staff through the summer.
The announcement of funding for work on the mountain comes on the heels of the Custer Gallatin National Forest supervisor's approval last month of a logging project spread across almost 22,000 acres near Red Lodge. Work could begin this spring in the Red Lodge Creek and Willow-Nichols creeks.
Red Lodge Mountain was threatened by the Cascade fire in 2008. In March 2014 a controlled burn reignited and threatened the mountain and nearby homes.
Across the state, 47 projects sought $14 million in funding through the Montana Forest Action Plan, signifying strong interest in the program. The $4.5 million awarded comes from leftover state firefighting funds not spent last year, according to Wyatt Frampton, project manager for the Montana Department of Natural Resources and Conservation.
Frampton said the top three criteria for choosing projects was: improving forest health, reducing wildfire risk to communities and infrastructure and making sure the projects were collaborative.
He said DNRC's goal was to "accomplish work at a landscape scale as opposed to small one-off projects scattered across the landscape."
To receive funding, the projects had to survive a three-tiered review process, starting with an interagency panel that narrowed the applications. Then the Montana Forest Action Committee further refined the project submissions before the new DNRC director and Gov. Greg Gianforte's office made the final selections.
Some projects received only partial funding, Frampton pointed out.
"I'm really excited about the projects that we have in Eastern Montana," Frampton said. "One of the important things about the Forest Action Plan is that it's an all-lands plan, so we're not looking at any specific ownership."
Work on the plan began during former-Gov. Steve Bullock's tenure in office but was carried through under the new Gianforte administration.
"It is critical to continue to work with our partners to identify opportunities to utilize all available authorities and options to actively facilitate forest management work across Montana," Gianforte said in a press release.
Other projects awarded funding in this region include:
Bozeman Municipal Watershed Cross-Boundary Forest Collaboration Project: Awarded about $350,000 for about 800 acres. The proposed work area of this project includes municipal watersheds, municipal drinking supply infrastructure, and is located entirely in the wildland-urban interface. This project will reduce the potential severity of a wildfire to existing municipal development and infrastructure, increase forest resilience, and promote healthy ecosystem functions. Treatments will include mechanical and nonmechanical thinning, commercial harvest, and prescribed fire.
Chalk Buttes Forest Fuels Mitigation, Carter County: Awarded about $375,000 for work on 786 acres. The goals of this project include reducing overstocked forest fuels, creating defendable spaces around infrastructure, and enhancing forest biodiversity and resilience. Treatments will involve reducing hazardous fuels; protecting homes, cabins, and communication towers; and creating jobs.
Fort Belknap Indian Reservation – Bear Gulch: Awarded about $32,000. Design and construction of a temporary forestry road to provide forest managers and landowners access to forested lands to conduct a BIA timber sale. The project area is owned by the Fort Belknap Tribe, and the road access and subsequent timber sale will support tribal forestry goals of improving forest health, reducing wildfire risk, and developing a forest product industry.
Pines Recreation Area Cross Boundary Project, Valley County: Awarded about $250,000 for 1,250 acres. Reduce the risk of catastrophic wildfire, expand local fire response capacity, and educate community members on the importance of building fire-adapted communities and landscapes. Treatments will include prescribed fire, Home Ignition Zone work on individual private parcels, chipping vegetation along roadways to improve the effectiveness of roads as fire control lines, and fuels reduction on individual parcels and primitive campsites.
Statewide Urban Reforestation on various municipally owned public lands across Montana: Awarded about $190,000. The project will implement a program in the urban forests of eight to 12 communities across Montana to remove unhealthy or undesirable trees and replace them with desirable species. This project will make immediate improvements to community forests to increase safety; proactively address urban forest issues; increase diversity, age class, health, and resilience; increase urban tree canopy cover; and mitigate the potential financial effects of emerald ash borer.