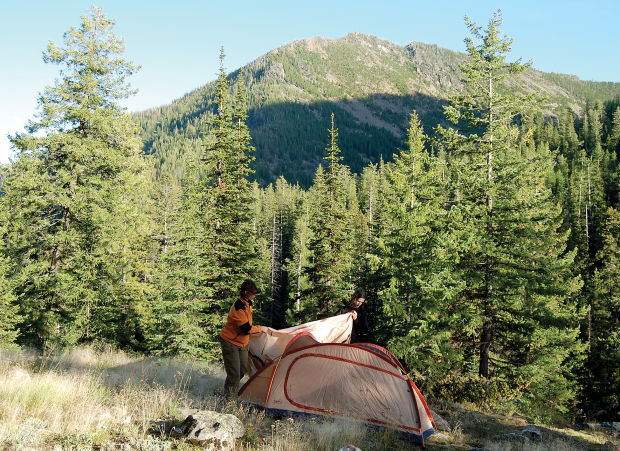 STEVENSVILLE – Kootenai Canyon has a dedicated, year-round fan club whose members rarely meet.
The long, scenic creek bottom with the soaring cliff walls attracts rock climbers near its opening on the Bitterroot Valley. Day-hikers enjoy the cascades and deep forest of Kootenai Creek's rambling descent. Elk hunters have favorite camping spots secreted in the ledges and little meadows of the midsection. And hardy anglers and backpackers make it all the way to the back where the Kootenai Lakes lurk.
The lower canyon trail climbs gently enough for small children to enjoy the wildflowers, huckleberries and other forest attractions. About 3 miles in, the grade gets steeper as hikers enter the Selway-Bitterroot Wilderness.
From here on, the grind gets intense as you climb more than 2,000 vertical
feet to the western basin, where four fishable lakes await your lure. Come prepared to ford Kootenai Creek once or twice as well.
The lakes lie about 9 miles from the trailhead, but there are lots of places to rest for those willing to practice low-impact camping in a popular wilderness area.
Kootenai Canyon gets lots of summertime use, and its upper basin attracts backcountry skiers seeking powder stashes or splendid isolation. Hunting outfitters often stockpile firewood and other material for their fall clients, so be respectful of others' activities.
Rock climbers have made the canyon's opening walls one of western Montana's most popular free-climbing sites. The smooth granite walls provide durable holds and pitches 60 feet or longer that give both beginners and experts plenty to practice on. Many of the best walls are 15 minutes from the trailhead, making the approach far easier than other climbing destinations.
---
Location: 23 miles south of Missoula at the end of Kootenai Creek Road, just north of Stevensville.
Distance/duration: Day hikes and rock climbing are best in the first 3 miles. Upper lake basin is best for backpackers, at 9 miles in.
Difficulty: Easy to strenuous, depending on distance.