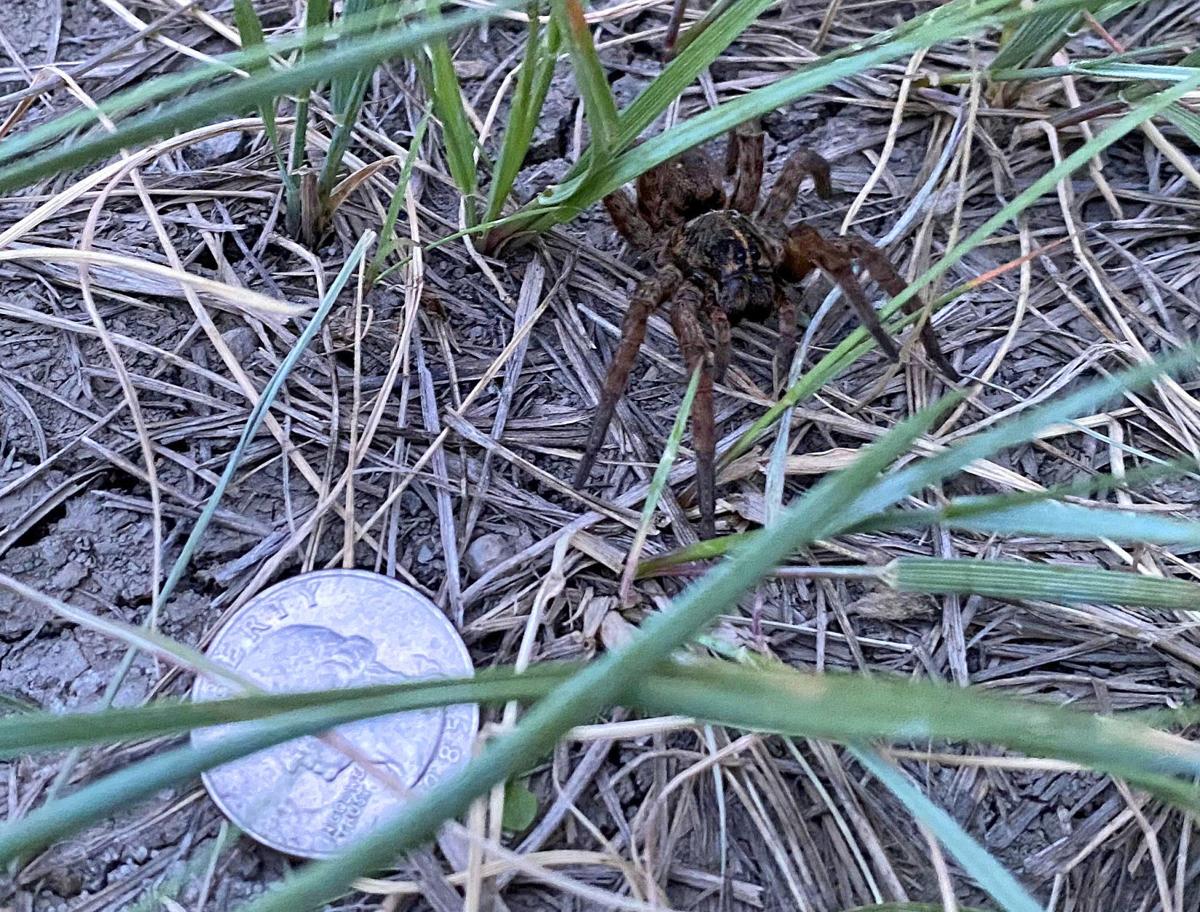 A very large spider gave my son a surprise as he bent down to enter his tent on a recent camping trip to Fort Peck Reservoir.
He placed a quarter next to the spider to demonstrate its unusually large size as we took photographs.
Lauren Kerzicnik, an insect diagnostician for Montana State University, identified the large arachnid as an immature Carolina wolf spider. (If that was an immature, how much bigger and scarier are the adults?) 
Hogna caroninensis, its Latin name, is native to North America and widespread. It is one of many wolf spiders in the Lycosidae family. Lycosa means wolf in Greek. In North America alone it's estimated there are 240 separate wolf spider species. They can range in size from a half-inch to 2-inches long.
"I have found them in many different habitats," Kerzicnik wrote in an email, including farm fields in southeastern Colorado. "My last female and male pets were from Fort Peck."
Unlike other spiders that build webs between branches or somewhere high enough to catch flying insects, wolf spiders dig burrows in the ground that may be 5 to 6 inches deep.
"They top them with a turret made of grass blades and silk," she said. "I just found a paper that recorded temperatures in their burrows in the Sonoran desert. They were exposed to temperatures from 100 to 113 degrees for six to nine hours! That is very impressive."
Although their dens are lined with silk, wolf spiders don't use webs to catch their prey. Instead, they hunt food down just like their canine namesake.
"They are very fast but harmless to humans," Kerzicnik said.
The scientists figured out which of the spider's eight eyes were important for judging distance and which ones helped them navigate back to their burrow. They did this by covering different eyes on the spider, which must have been difficult and conjures up funny images of a spider with a pirate-like eye patch. 
"The spiders keep track of the direction and distance traveled on the outbound leg of the hunt, so that they can return home along the most direct route instead of retracing their steps directly," scientist Joaquín Ortega Escobar discovered in his study, according to a University Autonoma story.
He found that the spider's two outermost eyes and the eyes in the front of the spider's head allowed it to keep track of how far it traveled. 
Although wolf spiders may look scary, they rarely bite humans. If bitten, most people will only get a small itchy bump, although someone who is allergic could have a more serious reaction. 
Be the first to know
Get local news delivered to your inbox!