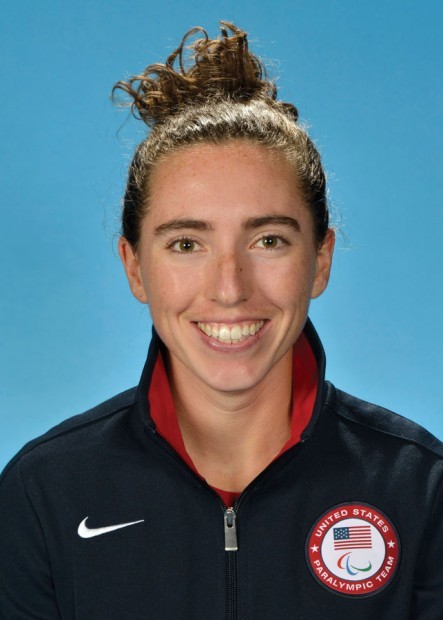 Megan Fisher still hasn't found the words to describe the moment when a gold medal was slipped over her head as she stood waiting on the podium for the U.S. national anthem to play.
"I'm still searching for words that can capture the magnitude and scope of what happened. I will cherish and remember it forever," said Fisher, a former University of Montana tennis player who claims Missoula as her hometown.
Fisher won gold on Sept. 5 in the C4 time trial at the 2012 London Paralympic Games at the Brands Hatch motor racing circuit. As Fisher gazed out onto the crowd of Team USA supporters at the ceremony, her teary-eyed mom and her girlfriend were among them.
"The Star-Spangled Banner" started to play. Fisher sang along.
"All I could think was, I'm a horrible singer," Fisher said last week during a phone interview from Seattle. "Honestly, that's what I was thinking. I wish I could have thought more profound things. This is a moment that I will treasure, but my goodness, I'm a horrible singer."
This is unpatriotic, she thought, I should stick to riding a bike.
Fisher includes a fair amount of humor in describing her journey from a college kid in Missoula who lost her leg in a terrible car wreck to becoming a Paralympic gold medalist standing on a podium in London. More than that, she talks pragmatically about the stubbornness that inspired intense hard work that got her from where she was 10 years ago.
Fisher is a below-the-knee amputee who lost her left leg in a car crash that killed her friend, Sara Jackson. The two were driving to Missoula from Chicago in 2002 when the accident occurred.
That day was on her mind, as was Jackson, while she stood on the podium in London.
Before Fisher took the podium to receive her gold, she won a second medal for Team USA, a silver in the individual pursuit track cycling event. Prince William and his wife Kate Middleton were in the audience then.
"It was cool he was there. He was doing the wave with the crowd," Fisher said of the prince.
When Fisher took off during time trial race, she was sandwiched between two riders. The Belladrum, where cyclists compete, was packed with spectators and alive with noise. Riders became blurs on the track as they started one after another.
"I caught the people ahead of me. I knew I wasn't in last place, but I didn't know how the riders behind me were faring. They could've made up time on me and I wouldn't have known. I don't have eyes in the back of my head," said Fisher, who finished her trial and quickly returned to her stall.
It took about three minutes for Fisher to figure out she'd won gold.
"I finished my race, I could see I placed well. As each (finisher) came up, I was like, 'She didn't beat me, OK, she didn't beat me, OK.' It's amazing how difficult math can become in times like that. ... Then I thought, 'Wait, so nobody beat me, so that means I won right?' It was pretty incredible," Fisher said.
Fisher finished in 26 minutes 4.39 seconds to beat Susan Powell of Australia by nearly 27 seconds.
Ten years ago, when Fisher lost her leg, she'd barely been able to sit up. A lifelong athlete, everything was called into question after the crash, Fisher said. In a way it freed Fisher to try a whole host of new things, including triatholons.
"When I was a college tennis player, I did some skiing, some mountain biking, but didn't want to get hurt," Fisher said. "After I was hurt in the accident, I realized I might have limited myself to some of the fun things out there."
Fisher's first official competition after losing her leg was the Grizzly Triathlon.
She borrowed a bike and finished.
"My goal was to not be last. There weren't any speed records set, but I crossed that finish line," she said.
Fisher then moved on to more intense, 24-hour outdoor races and kept in shape mountain biking.
A chance meeting with Paralympic cyclist Sam Kavanaugh, a Kalispell native, led her to begin competing with the Paralympic teams.
" 'I hear you can ride a mountain bike, can you ride a bike with skinny tires?' " Fisher recalled Kavanaugh asking her.
"It took me a couple years. It took me some time to earn a position on the national team," she said.
But she competed well once she earned a spot.
Fisher also has won the 2010 TRI-5 title at the ITU Paratriathlon World Championship in Budapest, Hungary, and won the 2010 USA Paratriathlon National Championship in the TRI-5 category.
Before London, Fisher spent the summer as an clinical intern in Colorado Springs, Colo., where she was staying at the Olympic Training Center.
Fisher is currently living in Seattle pursuing her doctorate in physical therapy at the University of Washington. That has meant training in between classes, internships and studying.
She'd train in the morning, work a full day, train some more and do it again, day after day – training up to 20 hours each week.
Hard work was a large factor in her success.
"I dig as hard as I can, for as long as I can – maybe I blow up, but I know put myself all-out on the ride," Fisher said. "I've put myself to tears on a bike. It's hard, but you just keep going."
Fisher can't give enough credit for her successes to her support group, which includes numerous family members, friends and coaches.
The people she's met along the way offer another kind of inspiration.
"I've had people say some pretty awesome things to me," Fisher said. "People like to tell me their stories, and I'm honored they will share those stories with me. ... I'm carrying scars of something traumatic so visibly, and hopefully I carry them well, so they feel safer talking to me. I hope I can encourage them to see that they're stronger than they give themselves credit for."
At the Paralympics, Fisher said competitors' disabilities weren't a focus. Still, the atmosphere was inspiring.
"Going around in the Games, I was impressed by other people there who were competing. They have their birth defect or injury, but it doesn't slow them down in any way. They're not defining themselves by the difference," she said. "They're pushing themselves like any athlete would. It's incredible."
Fisher doesn't want her Paralympics experience in London to be her last. She already has Rio de Janeiro, Brazil, the host city of the 2016 Paralympics, on her mind.
"If I'm fast enough, I will be there," she said. "The Games are kind of like a drug."