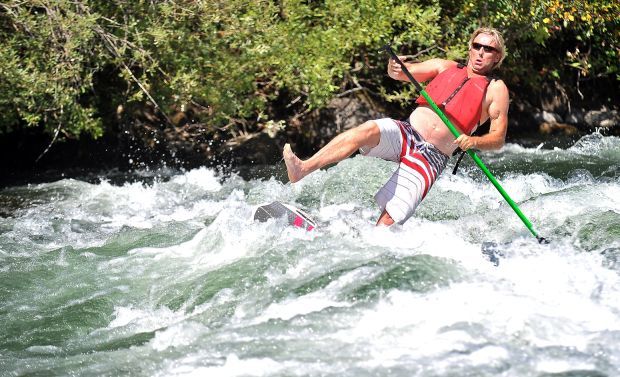 SHADY COVE, Ore. — Running the Rogue River's Rattlesnake Rapids while standing erect on a glorified surfboard with a long paddle in his hands used to elicit strange comments to stand-up paddleboarder Jake Baracker from rafters, kayakers and other traditional whitewater runners.
"There were some snickers, for sure," Baracker says. "I'd get ... 'Do you know what you're doing here?' 'Don't you understand this is a river?' 'Are you lost?' "
Now he's getting, "Where can I rent one of those?"
A year after taking off in Southern Oregon lakes and starring in extreme whitewater shows, stand-up paddleboards are becoming the watercraft du jour for a more pedestrian crowd enjoying suitable stretches of the upper Rogue on their feet instead of their behinds.
"We've seen them on the lakes, and now we're seeing them on the river, and it used to be just us," says Pete Newport, a 21-year SUP veteran and owner of Sawyer Oars and Paddles in Talent, Ore. "We're probably another season away before it really takes off. But it's here. It's exciting."
Rafting liveries and sporting-goods stores are offering SUPs for daily rentals for around $40 and steering paddlers to waters like the seven-mile stretch of the Rogue from Rogue Elk Park to Shady Cove, and the water-playing public is responding.
Some outdoor stores and programs are now offering SUP seminars, and Baracker is now a licensed SUP guide offering tutorials and guided floats on stretches of the river best suited to a paddler's individual skills.
Casual weekend rafters with a decent sense for navigating the upper Rogue can find these surprisingly stable boards easy to become accustomed to on area lakes or other flatwater confines before testing their mettle on whitewater.
"People recognize this is something they can do," Baracker says. "This doesn't have to be an extreme sport. It can be a lifestyle sport like rafting."
With one exception: whitewater stand-up paddlers have zero expectations of always standing up.
"There is a 100-percent chance you will be going swimming at some point in the trip," Baracker says.
Stand-up paddleboarding traces its genesis to Hawaii, where natives have stood on surfboards and paddled around the open surf for years.
The public took notice in the mid-2000s, and the sport has spread around the world.
It's ironic that Sawyer is one of the companies that helped fuel the sport's worldwide growth with the development of the longer-shaft paddles SUP'ers need, even though locals knew little if anything about paddleboarding.
"If you go over to Bend, you'll see 100 to 200 a day floating the Deschutes through town, but you didn't see it here forever," says Mike McMullen at Black Bird Shopping Center in Medford, Ore.
Black Bird has six boards and paddles for rent, and they were initially used by first-timers taking them to lakes, McMullen says.
"I see more and more people trying them on the river," he says. "Sometimes I have all six rented at the same time."
Devon Stephenson caught the SUP bug years ago in Hawaii, and now paddles the upper Rogue occasionally. This year he added two SUPs to his family's Shady Cove rafting business, Rapid Pleasure Rentals, and they have become popular additions.
"People rent a raft and see them and someone says, 'Hey, throw one of those in. I'm gonna give it a try," Stephenson says during a midday float on the Rogue Elk to Shady Cove stretch.
Stephenson typically tells first-timers to practice for a while in slackwater areas like the Elk Creek swimming area off Highway 62. The Rogue Elk stretch is home to some of the upper Rogue's most manageable whitewater, so that's typically where his customers take their inaugural runs.
Most whitewater SUP boards are hard-plastic inflatables because they handle the whitewater and rocks better than standard boards. While a typical raft is inflated to 2 pounds of pressure per square inch, SUPs inflate to 15 psi, Stephenson says.
"Look at that," Stephenson says as he raps his knuckles on the board. "You can't even tell they're inflated."
They cost about $1,000 apiece, and he expects to add more next year as SUP exposure grows.
"People are really liking them," Stephenson says. "I like it, but I'm not that good at it. I still pretty much always take a face-plant."
The best way to reduce face-plants is to crouch slightly with your feet apart, rowing in steady strokes like in a canoe, with the paddle also acting as a rudder.
Beginners often drop to one or both knees through rapids after generating just enough speed to steer. More seasoned paddlers like Baracker will point their boards upstream and float backward into certain rapids where they can "surf" in the whitewater like kayakers often do.
"It's not something that everybody's going to want to do," Baracker says. "But for skiers, snowboarders and people in other sports, it's a great way to be on the river."
Be the first to know
Get local news delivered to your inbox!