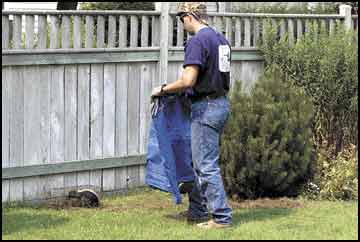 Business helps relocate nuisance wildlife - as humanely as possible
Every morning for the past six months, residents of a University-area neighborhood in Missoula awoke to discover a persistent pattern of vandalism inflicted upon their carefully manicured lawns.Business helps relocate nuisance wildlife - as humanely as possible
The nocturnal destruction left lawns pocked with random craters and erratic, connecting trenches. Fresh diggings appeared mysteriously each morning like additions to a crop circle designed by a drunk in a blindfold.
Finally, late one night, the homeowners surprised the culprit at work in his mischief. To their surprise, it was a skunk.
That revelation was no surprise to officials of Missoula Animal Control or Montana Fish, Wildlife and Parks, whom the homeowners called for assistance after their efforts to scare off the skunk failed. Both agencies are regularly deluged with calls from Missoula's urban residents complaining about nuisance skunks, raccoons, squirrels and assorted other wild creatures.
However, neither agency is able to directly aid people in solving conflicts with invading animals.
"We don't have time to deal with skunks and raccoons," said Bill Thomas, FWP information officer in Missoula. "We do get a lot of calls about them, as well as beavers, muskrats, woodpeckers, the occasional woodchuck and other critters. We do provide self-help opportunity by offering free live traps for people who wish to remove the animals themselves. And we provide a brochure that tells how to live with animals and protect property."
But outside help is available. For the past year, Missoula Animal Control and FWP have referred callers with nuisance animal complaints to a new business, Critter Getter Services, operated by Andy and Rochelle Knapp of Alberton.
The Knapps provide wildlife damage control and wildlife habitat consulting. Their specialty is professional and knowledgeable removal of nuisance wildlife.
"We were very pleased to have them come into the community," said Elaine Sehnert, interim director of Missoula Animal Control. "They fill a real need. We do get a lot of calls, mainly about skunks and raccoons, squirrels too. People are annoyed by squirrels, but they tend to be fearful of skunks and raccoons, and they're more desperate to get something done."
This week, Andy Knapp ridded the University-area neighborhood of one unwelcome skunk, much to the relief of the homeowners whose lawn it singled out for its excavations.
The damage to the lawn was typical of a skunk, according to Knapp.
"You can see the holes he's been digging, getting after grubs in the lawn," he said. "I've seen lawns that looked like a Rototiller went through. When you have healthy soil, you have a lot of grubs and worms."
Knapp quickly located a distinct trail leading from the lawn to an old garage down the alley, where the skunk had made a den.
"You could see grease marks along the doorjamb, where he'd been squeezing through," Knapp said. "I'm sure it's a male. They tend to stick by themselves this time of year. Usually a female would have its young with it, even though they'd be pretty big by now."
Knapp set a trap for the skunk on Sunday, a professional model wire-mesh, live trap, baited with marshmallows. Sardines is another effective bait for skunks.
Monday morning, the skunk was in the trap, looking surprisingly relaxed when Knapp arrived to collect him.
"Skunks are real docile," he said. "They're kind of a nice animal. It takes a lot to push 'em to spray. They don't want to do it. It stinks to them, too."
The skunk lowered its head and stamped its feet as Knapp slowly approached the trap holding a blue, plastic tarp.
"That's a warning," he said. "I'll put a tarp over him and he'll calm down. I've never had one spray me. But you're dealing with an animal that's under somewhat of stress, so you never know what to expect."
Very slowly, Knapp covered the trap with the tarp, gingerly picked it up, and set it gently in the back of his pickup.
"They're a creature of the night," he said. "They're nocturnal. So the dark makes 'em calm. We'll take him to a nice little riparian area up Pattee Canyon where he can live in his natural world and not bother anyone. It's far enough away that he won't be coming back here. They don't have that big a home area."
Knapp brings a wealth of experience to his business.
He has a degree in wildlife biology from the University of Montana. For six years, he worked seasonally for FWP at the Ninepipe Wildlife Management Area, where much of his time was spent trapping skunks.
He helped with lethal control of skunks at Ninepipe, as part of a study by the Cooperative Wildlife Research Unit at UM on the effects of predation on ground-nesting birds, primarily waterfowl and pheasants. Later, he trapped skunks to fit with radio-collars and tags as a follow-up to the earlier study, that looked at skunk populations, behavior and habitat.
Knapp figures he trapped about 100 skunks during the Ninepipe studies.
"I learned what I could get away with and what I couldn't get away with" as a trapper, he said.
Knapp gained additional experience with animals as an independent fur-trapper.
Critter Getter Services has allowed him to combine an activity he enjoys with the expertise of his academic degree, he said.
"The other half of our business," he said, "is wildlife habitat consulting. For instance, if a landowner wants to improve his habitat for upland birds, I can go in and write a management plan to tell them how to get where they want to go, up to complex habitat restorations. We can save them time and money by doing things that can work and be beneficial."
That side of the business is just getting started, Knapp said.
In the meantime, he added, "skunks and raccoons are our mainstay at the moment."
Critter Getter Services embraces the philosophy of transplanting nuisance animals when practical, rather than euthanizing them, Knapp said.
"There are environmentally friendly ways of dealing with animals other than euthanasia," he said. "We try to do things cleanly and humanely and naturally. That's what we're all about. One of the big things we're trying to do is educate people about how to live with the wildlife that's around. There are certain circumstances in which we can do some habitat modifications to attract or discourage animals from being there."
Examples of habitat modifications he recommends include closing up small holes in buildings and foundations that can allow animals to enter and make a home, putting screens on chimneys to keep out animals and birds, setting up netting or spikes to keep pigeons from roosting on homes, and changing plant selection to avoid attracting deer and other animals.
Besides skunks and raccoons, clients have come to the Knapps with a variety of animal problems, including bats, muskrats, beavers, pigeons, squirrels and deer.
"If bats are roosting in a house, we find out where they're coming in and out, and take an old sock and staple it in the hole," he said. "When they come back, they can't find the opening. Depending on the client, we try to get them to put up a bat house, because bats are so beneficial in keeping mosquitoes and insects down. They don't bother people."
Beavers and muskrats can be very destructive, gnawing down ornamental trees and shrubs, building dams that flood roads, basements and homes and pollute wells. Since the animals are regulated as furbearers by FWP, people who have damage complaints involving beavers and muskrats must receive permission from the agency to remove them, except during the legal trapping season, Knapp said.
Last winter, he said, he trapped an 80-pound beaver that had "clear cut" trees around a private pond near Petty Creek.
Raccoons can also be destructive, Knapp said.
"Raccoons can plug chimneys and nest in attics," he said. "We had a family of raccoons denning in the ceiling of a business in Missoula. So much scat and urine built up that the ceiling collapsed. They can make a mess. And raccoons can be aggressive. They will fight with dogs and cats. Skunks will run. Although we've been getting a lot of calls lately about skunks spraying dogs and cats."
Skunks are also known to carry rabies.
Nuisance animals are often attracted by food sources provided inadvertently by homeowners, Knapp said.
"There's definitely wildlife in town," he said. "They adapt well to their surroundings. They can live right in the middle of town and be very comfortable. People mean food to them. We try to educate people about leaving out pet food and garbage. A lot of it is common sense. Don't give animals a reason to bother you. But a lot of times it isn't the people's fault and it isn't the animals' fault. This skunk today was just doing his thing."
While nuisance animals can often be transplanted to their natural habitat away from human residential areas, Rochelle Knapp said, that isn't always practical or humane.
"We want to be real ethical, but still educate people that being very ethical may mean euthanizing an animal," she said.
A good example of that, her husband added, is the non-native gray fox squirrels that have proliferated in Missoula's urban area. The nuisance squirrels primarily feed on seeds of the town's maple trees. They aren't adapted to surviving in the wild outside of town or competing with native red squirrels.
However, he said, others who have done nuisance animal removal in Missoula in the past have given the business a bad name by indiscreetly killing the animals in view of children and others. If euthanasia is called for, he said, there are humane and sensitive ways of handling it.
"If we can transplant an animal, we try to put them in the natural habitat in which they have the best chance to survive, and not cause anybody else a problem," said Knapp. "We're not taking a skunk down the block and dumping it out in the neighbor's lawn. But it's always kind of a guessing game with wild animals if they'll survive."
Once Critter Getter Services receives a call for help, the first step is a visit to the client's home to assess the situation and plan a solution, Knapp said. That first service call carries a $40 charge. The cost varies for removal of the offending critters. It's $30 for a skunk.
"We charge on a per-animal basis," he said. "It's based on time and material. Skunks are a little more hairy than others."
His job is rewarding, said Knapp.
"It's a nice feeling to go to somebody's house and take care of a problem they've been having and not known what to do about," he said. "People have been very appreciative. They don't really like having skunks around."
Be the first to know
Get local news delivered to your inbox!