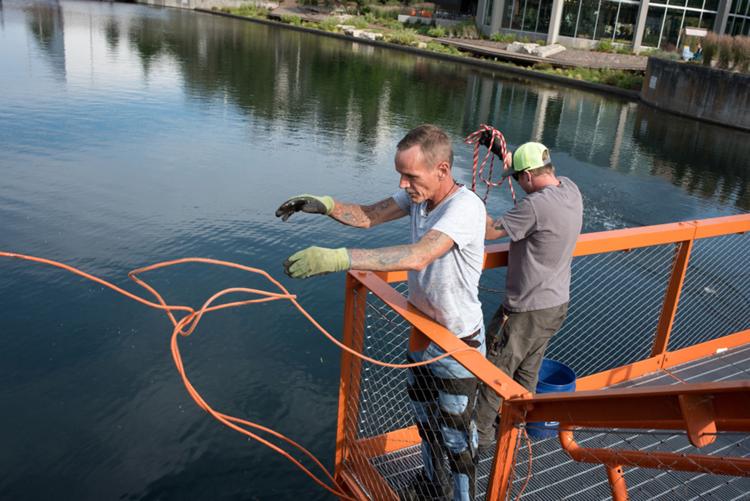 SPOKANE, Wash. — Gaunt and heavily tattooed with a cigarette dangling between his lips, Greg Pruett is about the last person you'd imagine cleaning up the Spokane River.
And yet, on July 8, Pruett was doing just that. One heave at a time.
"What do I got, what do I got, what do I got?" he asked, while pulling hand over hand on a 100-foot cord attached to a heavy-duty magnet. Reaching the end of the cord, he pulls the magnet out of the water. "Oh, a frame bar."
The chunk of metal is heavily rusted and not the most exciting find of the day. But that's all part of the allure for Pruett. A former meth addict, Pruett said the thrill and focus of magnet fishing helps him stay sober.
"This is my new addiction," he said. "Which is fine by me."
That's not an uncommon story from members of the H2O Magnet Fortunes fishing club. Like Pruett, many of the group's members are in recovery. That gives the club an undeniably edgy vibe. On July 8, about six members stood at a park heaving magnets, some of which can hold nearly 3,000 pounds, into the river in surprisingly graceful parabolas.
H20 Magnet Fortunes was started by Paul Swanson two years ago. For about a decade, Swanson has wrestled with multiple sclerosis, a disease in which the immune system eats away at the protective sheath covering nerves.
MS, which is not curable, led Swanson to magnet fishing. Prior to his diagnosis he'd been an avid fisherman, but the symptoms of MS (shaking, bad legs) stopped that.
One night while perusing YouTube, he came across magnet fishing videos. He was hooked, so to speak.
"The rush to it is a lot like fishing," he said. "That adrenaline happens repeatedly with this. Because you just don't know what you'll pull up ... And you have no clue what's on the other end. That's the adrenaline. That's the juice to the attraction."
After seeing the videos on YouTube, he went out and bought a simple magnet kit. Soon, while out fishing, curious passersby asked him what he was doing. Some of them joined, and the H20 Magnet Fortunes club was born.
Now it boasts about 200 members on Facebook, although the core group consists of 20 regular treasure seekers.
The entire spectacle draws plenty of questions from curious bystanders. As a family watched Swanson toss the magnet, he asked them, "You ever wonder what's on the bottom?"
Club members meet every Sunday from 7 a.m. to noon, sometimes a little longer, Swanson said. The group is trying to set a world record for the most metal taken from a river in a three-month period. So far, they've pulled about 3,000 pounds from the river.
While the members find plenty of trash, they've also found artifacts with historic value, including wagon wheels, tax tokens, horseshoes, bullets and even grenades. That's not to mention the dozen or so Lime scooters and bikes pulled from the river.
Lime pays Swanson for every bike he recovers.
You have free articles remaining.
"Jailhouse locks. You name it, we will find it," Swanson said.
Swanson said he's donated the money he gets from magnet fishing to charity.
While none of the magnet fishermen in Swanson's club is doing it solely for environmental reasons, the removal of trash and artifacts certainly has an impact on the cleanliness of the river, Jule Schultz of the Spokane Riverkeeper said.
"We appreciate his focus on keeping a clean river. And he is out there removing what I think a lot of people would think of as trash," Schultz said. "Although some of the historic stuff he finds may not have an environmental impact, when he's pulling Lime bikes out of the river, that's good for the river. Because those batteries are full of chemicals and heavy metals."
Magnet fishing, however, could cause unintended environmental harm, Schultz said. There are stretches of the river where heavy metals, PCBs and other toxins are buried in sediment. Disturbing that sediment, on a large scale, isn't good. The Riverkeeper has no evidence that this is happening, and Schultz doesn't believe that Swanson's group is large enough for it to be a problem.
Which isn't to say there aren't questions about the legality and ethics of magnet fishing.
Magnet fishing is having a moment, at least judging by the popularity of videos on YouTube. Videos uploaded by users with names like Tom Sawyer, The Fisher, Magnetic Mike and DutchWWIIMagnetHunters have millions of views. There are numerous Facebook clubs. The activity is particularly popular in Europe, where thousands of years of urban history and numerous wars make for great finds.
But the legality and ethics of the whole operation aren't always clear. In the United Kingdom, a long-standing law prohibits dredging or removing "coal or other material from any canal."
As for the Spokane River, it's managed by the Washington Department of Natural Resources. While there is no rule specifically governing magnet fishing, there are rules about disturbing DNR managed aquatic areas, said Mike Rechner, the assistant division manager in aquatic resources for DNR.
"Well, it brings up some interesting issues," he said. "It's kind of a double-edged sword. We certainly want garbage and debris removed, but we want it done in a way that doesn't create impacts. So, it's hard for us to say 'Don't do that.' "
Magnet fishing is so new, Rechner said, that exactly how — or if — it will be governed by state agencies like the DNR isn't clear.
'It does look great on the surface," he said. "People pulling trash out of the water, but we have to be careful how we do that."
The historic artifacts taken from the water, such as grenades, exist in a murky in-between area. Historic materials are protected on sites eligible for National Register of Historic Places listing, said Allyson Brooks, the executive director of the state historic preservation office. Native American artifacts are protected on all sites.
"We obviously prefer they didn't do it. But unless it is a submerged resource on the National Register, there is not much we can do," she said in an email. "That is for historic sites only."
All those questions aside, Swanson believes the work he's doing is good for the river — and perhaps more important, good for the people doing it.
It's hard to argue with his second point. The group has bonded around Swanson, and their shared activity.
As the evening comes to a close, Pruett, the recovering addict, shows off a tattoo on his left arm of Calvin, of Calvin and Hobbes fame, peeing on the word "Meth." Pruett got the tattoo the day after he started magnet fishing.
"Two years into my recovery, I found a reason to stay clean," he said.