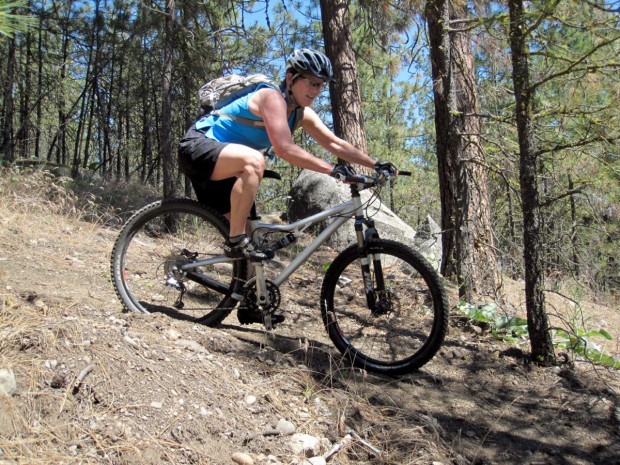 We learn to ride bicycles as kids. But we never quite finish learning to ride mountain bikes.
Fat-tire models are another breed that constantly steer their riders into terrain that leads toward something new to master.
Many riders recognize the value of practice. The Spokane Mountaineers concluded their annual two-day mountain biking skills clinic in Riverside State Park recently. The quota of 32 students had filled shortly after the clinic was announced.
"A lot of the students are repeats, because after you take the clinic once, you realize how much more there is to learn and practice," said instructor Lisa Giegel.
A series of stations designed by Rick Vance take participants on a training progression through the major skills mountain bikers use to enjoy trails formerly dominated by mules.
"Second only to safety, the main emphasis is on technique rather than speed and power," Giegel said.
"I've been instructing a beginner group for a few years. The difference in their confidence levels from Saturday morning to Sunday afternoon is incredible."
Even seasoned riders benefit from focusing on skills, said Marlene Gemar, co-director.
"All of us who've been riding for years know that most of our effort goes into getting stronger and riding faster," she said. "So much so, that we don't take time to slow down.
"I think it's really good to practice something slow and technical. Then you can break it down and get it right."
Beginners might need explanations of cadence, such as how to gain more balance and endurance by spinning faster in a low gear rather than straining on the pedals in a slower high-gear cadence.
Novices need to understand why they spin out on dirt-trail climbs or why they don't have to stop and walk around switchbacks.
"We teach riders to get off their saddles a lot, but sometimes being on the saddle is best," Giegel said. "For instance, sitting on the saddle on a steep hill will apply more weight to the rear wheel to give you more traction so you don't spin out."
Developing the ability to go slow often means the difference between staying on your bike rather than getting off at an obstacle or switchback.
Within a day, a student can learn the basics of anticipation: "It doesn't sound like a skill, but it is," Gemar said.
Anticipation leads to more effective braking, shifting and changing body position to meet trail conditions.
"Instead of learning to shift, you learn to shift when you should," Gemar said
Before long, beginners can learn how to ride over logs and nail 10-inch drops.
Single-track riding skills involve practicing the transitions of pedaling in and out of little gullies.
"When we tell beginners to get off their saddle, they tend to stand up.
But mostly they need to get back off the saddle, especially for braking, hitting variable terrain or to clear an obstacle," Gemar said.
Cornering drills start with riding in a circle that gets tighter and tighter.
Next, they ride figure 8s to shift weight for turning both directions.
After that comes a cornering slalom course set up on a downhill.
"We have a maze station with tight right and left turns to begin training for negotiating switchbacks," Giegel said.
"Where your eyes go, your shoulders go, and ultimately your bike."
This is useful info to learn before you find yourself heading down to a switchback on a cliff.
"Advanced riders take the same basic skill set, but instead of going over little bumps in the terrain, they're learning to get a front wheel up and shift weight forward so the back wheel comes over it," Gemar said.
"They learn how to load the bike's shocks and the finer points of unweighting and making moves to use terrain to their advantage.
"After the course, it still might take a week for everything to come together."
"For all of the physical effort that goes into mountain biking," Giegel said, "the sport is equally taxing as a mental exercise. A whole lot goes on up in your head.
"Sometimes the strong guys come in and want to power through everything.
We slow them down at some stations and it's a real eye-opener to see that some of these slow-speed skills are hard to do. It gives them an appreciation for the benefits of finesse versus power."
"I learn more every year I teach the class," Gemar said. "A weekend of practice on fundamentals is a way to take my riding to a new level."
Even though most of the region's mountain bikers were not in this weekend's clinic, the Mountaineers encourage riders to take time to practice basic skills.
"It seems that all ability levels come away from a practice weekend with more confidence - and a more confident rider is certainly having more fun," Giegel said.