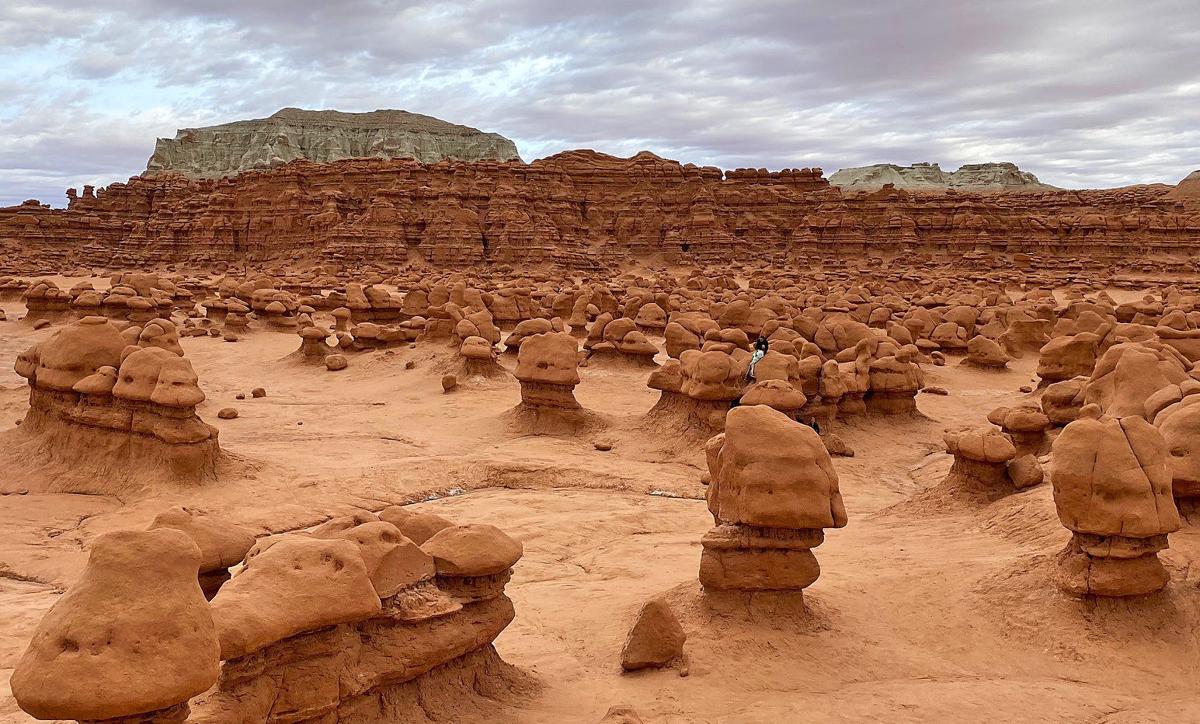 The park features a high concentration of smaller hoodoos shaped like overgrown mushrooms that are spread across a three-square-mile valley. This place is a children's delight. Climbing on the rocks is allowed. Weaving among the formations is like something out of a fantasy.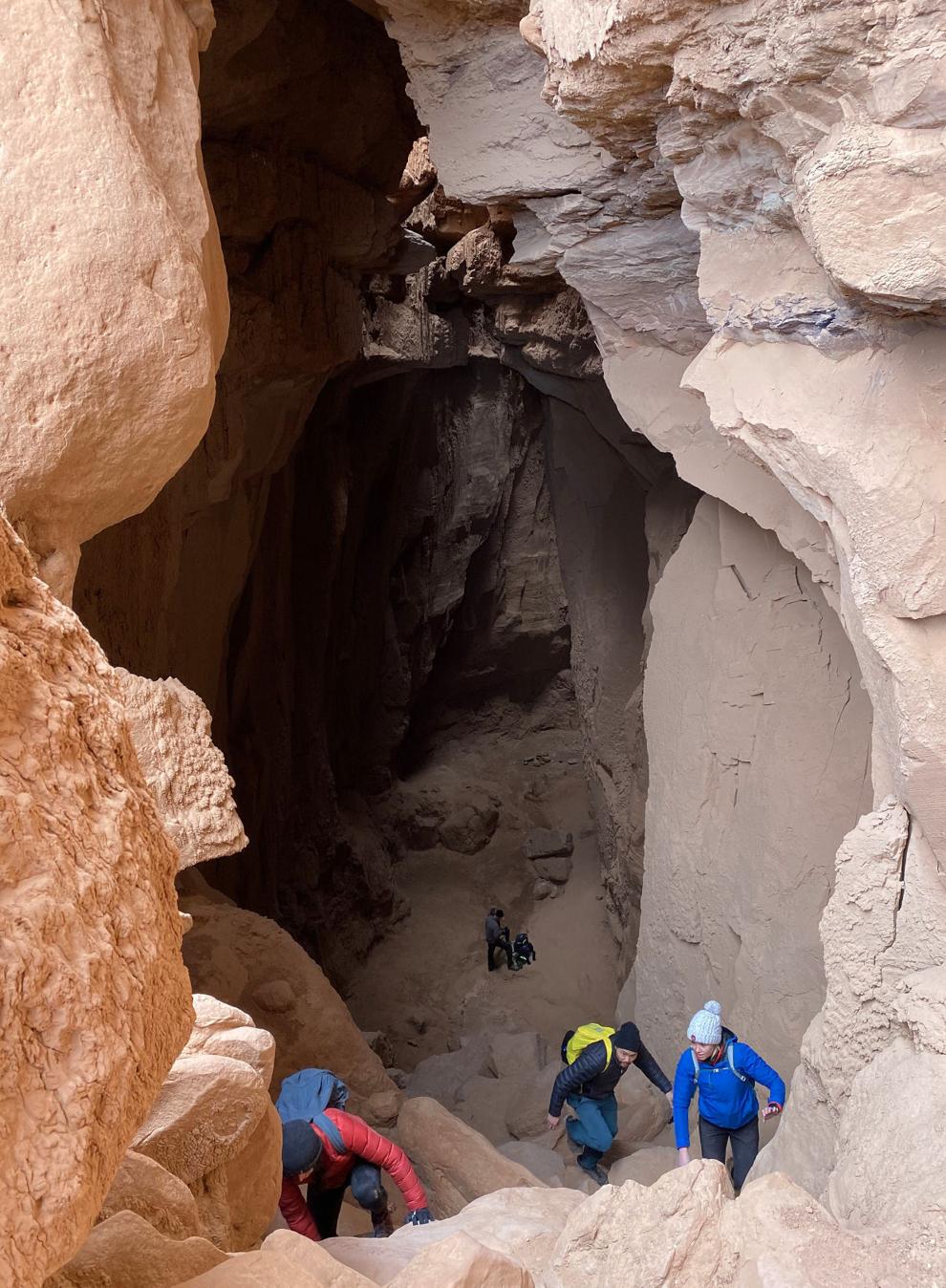 Trails fringe the mushroom park. We took the three-mile roundtrip hike out to Goblin's Lair, a former slot canyon that became a cave after rocks fell. Climbing down the large boulders into the main lair a shaft of sunlight slashes downward from an opening above. While there, some more adventurous cavers rappelled down into the cavern and then decided to roam through a claustrophobic slot under the boulders to reach the outside.
On the way back we walked up narrow Carmel Canyon for a brief introduction to slot canyons.
All of this enchantment was created when an inland sea deposited sand in the region 170 million years ago. Since then, the erosive abilities of wind and weather have sculpted a wonderland. From the park viewing platform, and by hiking, visitors are also treated to a view of the jagged peaks of the Henry Mountains to the south.
The park includes a 24-site campground with picnic shelters and restrooms with showers and drinking water. Two yurts can be rented. Mountain biking is permitted on trails that climb above the campground.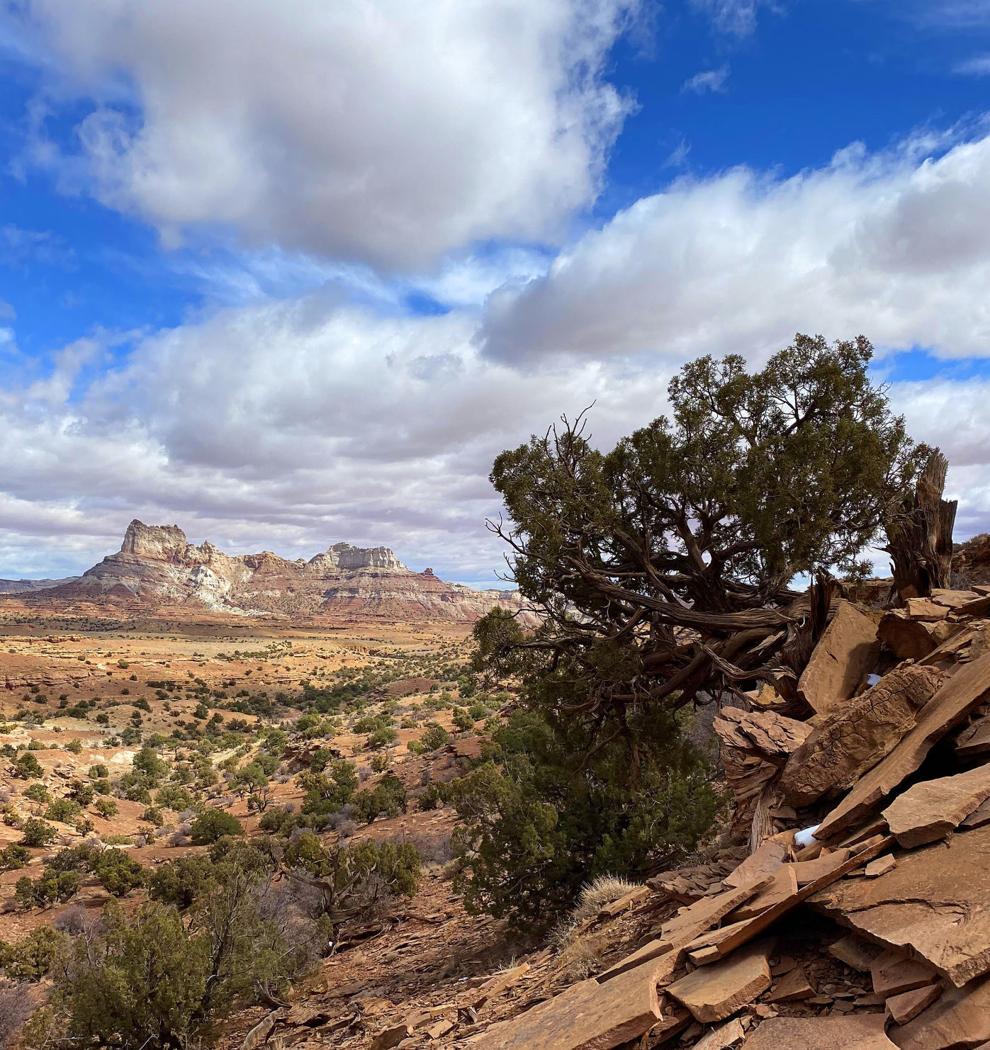 To get to Goblin Valley from Buckhorn Wash, we stuck to the bone-rattling back roads, crossing under Interstate 70 about 23 miles away and then continuing south 44 miles, passing the ethereal view of Temple Mountain from 6,200-foot Flat Top. There's off-site and BLM campgrounds along this route if the state park is filled. After descending from the San Rafael Reef, the road turns south to reach Goblin Valley State Park in about 10 miles. An alternative route is to take the interstate toward Green River, turning south on Highway 24 for 24 miles and then west on the access road to Temple Mountain Wash and the state park.

A few notes: Though the area looks empty of wildlife, kangaroo rats are happy to break into your food stash if it's left accessible, even during the day although they are usually nocturnal. This is a great place to see the sunset across the valley. Firewood is available for nightly atmosphere and warmth, but the wind can be fickle.
Next week, on to Horseshoe Canyon and its Great Gallery pictographs.