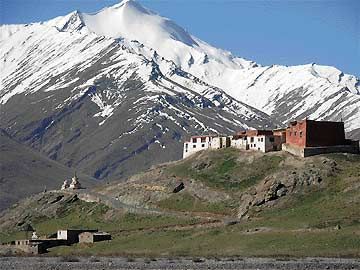 Doug Chadwick hasn't given many public talks over the past 30 years.
His work is unpredictable, an incongruous mix of hurrying to reach some distant place, then spending months getting to know the nuances of its animals, native people and the researchers studying them.
But when he does have time for a talk - with Boy Scouts, Rotary clubs and others - it's roughly the same one.
About the fragility of the natural world and how everything is connected and how man often mucks it up and rarely does something to fix it.
But he never tires of the talk, whose theme of connectivity and conservation and the wonder of wild things remains the same even as the subject matter varies - from bears to bugs, from wolves to wolverines - with each new writing assignment he takes on for National Geographic magazine.
At 59, the Whitefish resident - who started out as a wildlife researcher before becoming a globe-trotting writer - still feels lucky every time he picks up a notebook and pencil and plane ticket for one of the world's premier conservation organizations.
"I don't feel like I've earned it," he said. "I feel like I'm getting away with something. I'm just an old mountain goat researcher who gets paid to go around the world and learn about nature."
Last week, Chadwick's travels landed him at the Montana Natural History Center in Missoula, where about 75 people gathered to hear about snow leopards and right whales, his last two assignments for National Geographic. The articles are to appear in the magazine's June and July issues, respectively.
Right whales, whose ocean travels take them 1,000 feet below sea level, and snow leopards, which traverse 20,000-foot mountain peaks, have little in common, Chadwick told the history center audience, except that both are threatened by human beings.
Over the years, he's worked with several species of whales, which he called the "grandest, largest and perhaps most intelligent" beings in the animal kingdom.
He talked about how the giant cetaceans socialize, feed and travel the world's oceans, about the gentleness and curiosity he found while diving beside them.
About how their highly developed brains, behavioral patterns and survival instincts carried them safely through the eons, as they evolved from land to marine mammals about 50 million years ago.
That is, until prehistoric man took to the seas with harpoons and later with fishing nets, supertankers and oil drilling, all relatively modern blips on the timeline of history but a collective turning point in the survival of leviathans.
Right whales derived their name from being the "right" whales to hunt - they often swim on the surface, are slow and float when dead, characteristics that whalers exploited for meat, bones and especially blubber for oil lamps, candles and other products, Chadwick said.
In the 18th century, the populations of many species of whales suffered with the rise of industrial-scale whaling, which fueled the growth of New England coastal cities and the myth of whales as ruthless killers. Herman Melville's "Moby-Dick," with its great white demon, was published in 1851.
By the early 1900s, many species of whales had been decimated by hunting, fishing nets, shipping and habitat destruction.
That trend continued until the International Whaling Commission moratorium in 1986 stopped most commercial whaling, although some scientific, aboriginal and commercial whaling - legal and illegal - has continued by Japan, Norway, Russia and other nations.
In his latest research, Chadwick donned scuba gear to follow National Geographic-sponsored scientists studying two of the three types of right whales, which have been off-limits to hunters since 1935.
The northern Atlantic right whale's population had dropped to about a dozen before climbing to an estimated 400 today.
It migrates between coastal waters off Maine and Florida, a congested seaway where shipping traffic and fishing nets take a brutal toll on the whale, which can grow to 60 feet long and weigh 80 tons.
Chadwick also traveled to the Auckland Islands off Antarctica to report on southern right whales, whose population has climbed back to about 10,000.
The region's remoteness, polar ice and gale force winds have meant little interaction between the whales and people, making both species curious about each other, Chadwick said.
"It makes you think: 'Who's studying who?' " said Chadwick.
He dived with scientists as they studied the whales - which can live to be 200 years old - and used darts to take DNA skin samples from them.
It's not all doom and gloom for northern Atlantic right whales, Chadwick said.
A consortium of conservation groups, scientists and volunteers has persuaded Canada to make changes in shipping speeds and lanes when whales are migrating in Canadian waters. The United States has encouraged, but not mandated, similar changes for shipping and fishing in U.S. waters.
In Central Asia, he joined a National Geographic expedition studying snow leopards in the Himalayas. About 3,500 of the big cats have survived after centuries of hunting by fur traders and native people who take retribution on leopards that attack their goat and sheep herds.
Like grizzly bears in the United States, snow leopards are an umbrella species of their native land, icons whose health heralds the state of an entire ecosystem and all the creatures within it, Chadwick said.
He joined researchers as they tracked the reclusive leopards through snowy mountains and high deserts in India and Mongolia.
They searched for paw prints, scat and other signs. They hid in rocky perches above ibex, a type of wild mountain goat the leopards prey on. Eventually, the photographers' motion-sensitive cameras captured images of the cats, with their lustrous coats and long tails swishing in the night.
The International Snow Leopard Trust and the Snow Leopard Conservancy, two U.S. conservation groups, have created programs that offer financial incentives to Central Asia's nomadic herding families not to kill leopards that prey on their goats and sheep.
The programs have helped native people sell homemade handicrafts, open mountainside cafes, take in trekkers and better protect their herds at night from being killed by leopards.
Chadwick has spent as long as three years reporting stories for National Geographic. He visits locales for varying lengths of time, depending on the subject matter and the animals' migrations, breeding season and other factors.
He traveled to Mongolia and India last summer, where he spent two months reporting on the snow leopards.
For his whale story, he spent time off Maine, Florida, Georgia and the Auckland Islands between the summers of 2006 and 2007.
Sometimes he finds what he's looking for. Sometimes he doesn't.
"It's the inconsistencies of the natural world," he said. "Sometimes you just say, 'Well, another year of field work.' "
His next story for National Geographic will be about tigers and one-horned rhinos in India, when he'll again take up his backpack, bound notebook and pencils. He leaves the sophisticated gear to the photographers.
Although he's approaching an age when many people retire, Chadwick said he's in good health and has no plans to stop writing.
He once turned down an offer to be environment editor for National Geographic magazine because it would have required moving his family to Washington, D.C.
He plans to stay in the Big Sky state, where he received his master's degree from the University of Montana and is a board member of Vital Ground, a Missoula-based conservation group.
He said his message is one of hope, despite the gloomy state of much of the planet.
"It's no longer news that an animal or ecosystem is in peril," he said. "People want to know what works and what they can do to help."