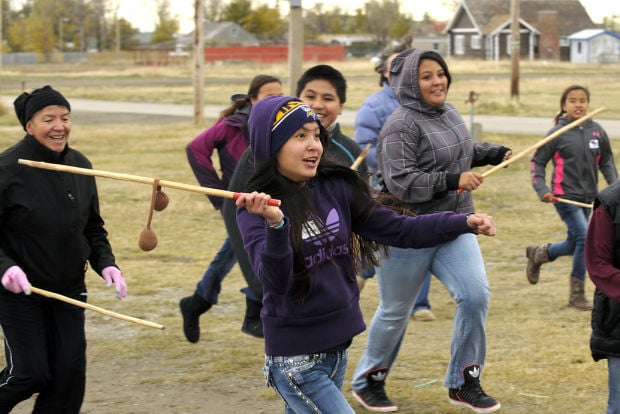 BROWNING – For Native American toys and games that have been handed down through hundreds, and often thousands, of years, 17-year-old Larissa Scott is an important link in the local chain.
Her father was among the first to begin recovering the rules, constructing the gear and playing the games of his ancestors back in 1990, when he was a student at Browning Middle School.
Now Larissa is the first child of that first batch to formally continue the effort.
Over three cold and windy days at the Browning powwow grounds earlier this month, Scott was busy with several activities. One was fashioning a shinney ball out of buffalo hair, sand, suede and sinew, part of the process in being certified at the introductory teaching level by the International Traditional Games Society, located nearby in East Glacier.
"I like having the knowledge of what my dad went through," says Scott, a student at the Blackfeet Academy in Browning. "He passed it on to us. Sometimes we wouldn't have toys. Dad would tell us the stories he learned, and we'd go out and make toys ourselves."
If she continues through all three levels of certification at future clinics, Scott will be fully vested in the skills necessary to pass the knowledge of traditional games on to others.
That's important to more than just the survival of the games themselves, according to International Traditional Games Society executive director Craig Falcon.
It's also a key to the survival of native languages, he says.
"Language cannot survive without cultural knowledge," Falcon says, "and culture cannot survive without the language. If you only teach language, and not the culture, you end up with what I call 'Rosetta Stone natives.' "
There's a faded picture in the metal building where about 25 people are taking part in the clinic. It shows Mitchell Stripped Squirrel, Thomas Little Plume, Joe Carlson and Wyle Wells (Larissa Scott's father) playing a game of hoop and long arrow as kids.
That was shortly after the beginning, back in 1990, according to Falcon.
"This started in a classroom at the middle school in Browning," Falcon says. "The kids asked their teacher, 'What kind of games did we play?' " Falcon says. "The teacher sent the students to tribal elders to gather the knowledge."
Traditional games were on the verge of being lost, he says, the victim of the reservation and boarding school era when the federal government's goal was to wipe out Indian cultures that had been thousands of years in the making.
There was a protocol to the students' research, Falcon says, to show respect for the person passing on the knowledge, and respect for the information being given.
"The kids brought tobacco and gifts, and it was done in a sweat lodge ceremony," he says.
The research eventually spread to some of Montana's tribal colleges, and by 1997, the society was formed to promote the heritage of traditional games.
"The games were used to prepare for hunting, fishing, and practicing war," Falcon says.
He grabs a piece of wood less than a foot long and shaped like two cones glued together at their bases.
"Stick pull" is the name of the game, and Falcon says two Eskimos would grease the wood, each grab an end by the hand, and then try to wrestle it away from their opponent. The more Eskimos mastered the game, Falcon says, the better they were at holding onto slippery fish.
Even a child's game as simple as "run and scream" – where youngsters run as fast and as far as they can yell without taking a breath – had its purpose.
"It was used to train young people to bluff, rather than kill or get killed," Falcon says. "It was also stamina-building, and increased the vocals for buffalo runs."
DeeAnna Leader, director of development for the International Traditional Games Society, goes far beyond the rules and regulations when she teaches at the clinics.
"The concept of team games came from the Americas," Leader says. "It's difficult to find a team game in Europe that wasn't brought there. The games played in the Coliseum were primarily individual versus individual, things like chariot racing and wrestling."
But traditional Native games were the forerunners to all sorts of team games played today, Leader says, from lacrosse to basketball.
James Naismith may have invented the modern version of the latter, but Leader says Mayans played team games on courts that involved putting a round object through hoops long before Naismith nailed peach baskets to posts.
A little Internet research will reveal the round object may at one time have been the decapitated skulls of conquered opponents, and that losers sometimes paid with more than their pride. The leader of a losing team was sometimes killed as a sacrifice to the gods.
"There were deadly consequences for not winning," Leader says. "Village would go up against village for extra hunting territory, or to decide who would put on a feast. They'd play just for power."
Despite the human sacrifice, team games were a key to the survival of the human race, Leader believes.
"We're the last hominids standing," she says, "because we went past the family unit. You can't build an airplane by yourself. We're here because we work together, because there is cooperation."
Leader even presents a unit on the neuroscience of games, contrasting brain development between children who play traditional games with those who sit glued to computer games.
Modern society, she says, "tells 3-year-olds to sit in chairs so we can give them a head start. It's all about technology – but if you take their gadgets away, they don't know what to do. We're evolving so fast, we don't know where we're going."
The goal of the International Traditional Games Society is that people not forget where they've been.
Outside on the powwow grounds, Jeremy Red Eagle of Helena introduces some of the level 1 participants to shinney and double ball, which he describes as "another way of fighting without fighting."
The smallest fields were the length of three football fields, he tells the younger people getting ready to play, and the longest could go three miles.
That was the distance between the goals, often tree branches, that competitors would travel while using sticks to try to hurl or catch a ball or balls over or under the goals or, in the case of double ball, wrap around the branch.
In reality, however, the fields had no boundaries. There are stories, Red Eagle says, of teams with 100 players apiece, and while they are physical games, there were rules, he adds: "Men can't get rough with women, and women can't get rough with kids."
"You played for the creator," Red Eagle says. "It's about challenging ourselves."
For Salish Indians, shinney was a game for women, according to Arleen Adams of Arlee.
"My grandma would tell us how they would take all summer to gather a set of shinney sticks," Adams says. "She would say everything speaks to you, and the spirit would call to you to take a certain stick."
You left something in return, Adams says, be it a prayer or something tangible.
These are the things – things that go beyond a traditional game's rules, beyond the knowledge of how to make the equipment – that must be passed down as well, Adams says.
"Our colleges will teach people how to play the game, but they need to be connected with the spirit of the game," she says.
Homemade equipment for dozens of traditional games are on display at the Browning clinic: ring the stick, stick long arrows, snow snake, four hoops, bark ball, shinney ball, double ball, run and scream sticks, guessing stones, slingball, spear the whale, caribou toe game and more.
Level 2 participants are each crafting an atlatl used to heave spear-length arrows long distances.
At one table, 12-year-old Joesiah Longfox of the Fort Belknap Reservation is done with his atlatl – and has already given it a test run outside. Now he's painting designs on the equipment for his favorite game, snow snake.
The equipment is a piece of wood that looks like a cross-country ski, minus a binding, for a stick-person. It's quite narrow.
"Last year we had to carve them from wooden blocks," Longfox says. "I still have the one I made – I got one coat of paint on it before we were done."
This year, he and 13-year-old Terrell Johnson are painting fancier designs on already-made snow snakes. The game is simple – rest the ski-like tip end on the snow, hold the back end with one hand, shove it and send it gliding.
"You want to see how far it will go without flipping," Longfox explains. "Like any game, it takes practice."
"I think maybe there was wagering," Johnson says. "The person who went the farthest would get arrows or a buffalo robe for winning."
Wagering on many of the games was common, but Leader says "There was always a value or purpose taught."
Even guessing games or dice games honed the senses, intuition and the ability to read body language, according to Leader.
"Games were developed as a way of observing and relating to the world," she says.
Falcon, the society's executive director, says the society stands ready to send its certified teachers most anyplace to share their knowledge.
"We go into public schools and any program that works with people – alcohol treatment, stay-in-school programs, tobacco-prevention programs," he says. "We also want to start doing horse game clinics – games that are way more advanced, because you're going full-speed on a horse."
Those include rescue races, where several riders try to get to a lone person 100 yards away first, lift them to the back of the horse, and return to the starting before the others can. Other variations, Falcon says, include night shirt race (picking up regalia and returning to the finish line) and chiefs race (riding horses to war bonnets lined up in the distance, putting them on, and racing back).
Bringing traditional games back, Falcon says, is one way to battle health issues that plague Indian reservations in the U.S., and Indian reserves in Canada.
"You've got diabetes, cancer, drug and alcohol abuse, car wrecks," he says. "A long time ago you'd hear the phrase, 'He had a good death.' You don't hear that no more. Too many people die violent, tragic deaths."
Traditional games can pull Native peoples back into healthier lifestyles and enhance their cultural identity, Falcon says.
"It gets us back to what we were before the reservation and boarding school period," Falcon says. "Those things wanted to strip us of our culture. What we're doing here sets in pride and self-esteem."
Falcon says it began with a question asked by middle school students in Browning.
Now the child of one of those students helps carry on the legacy.