LOLO – To James Lee Burke, the appropriate response to many questions arrives in the form of a story.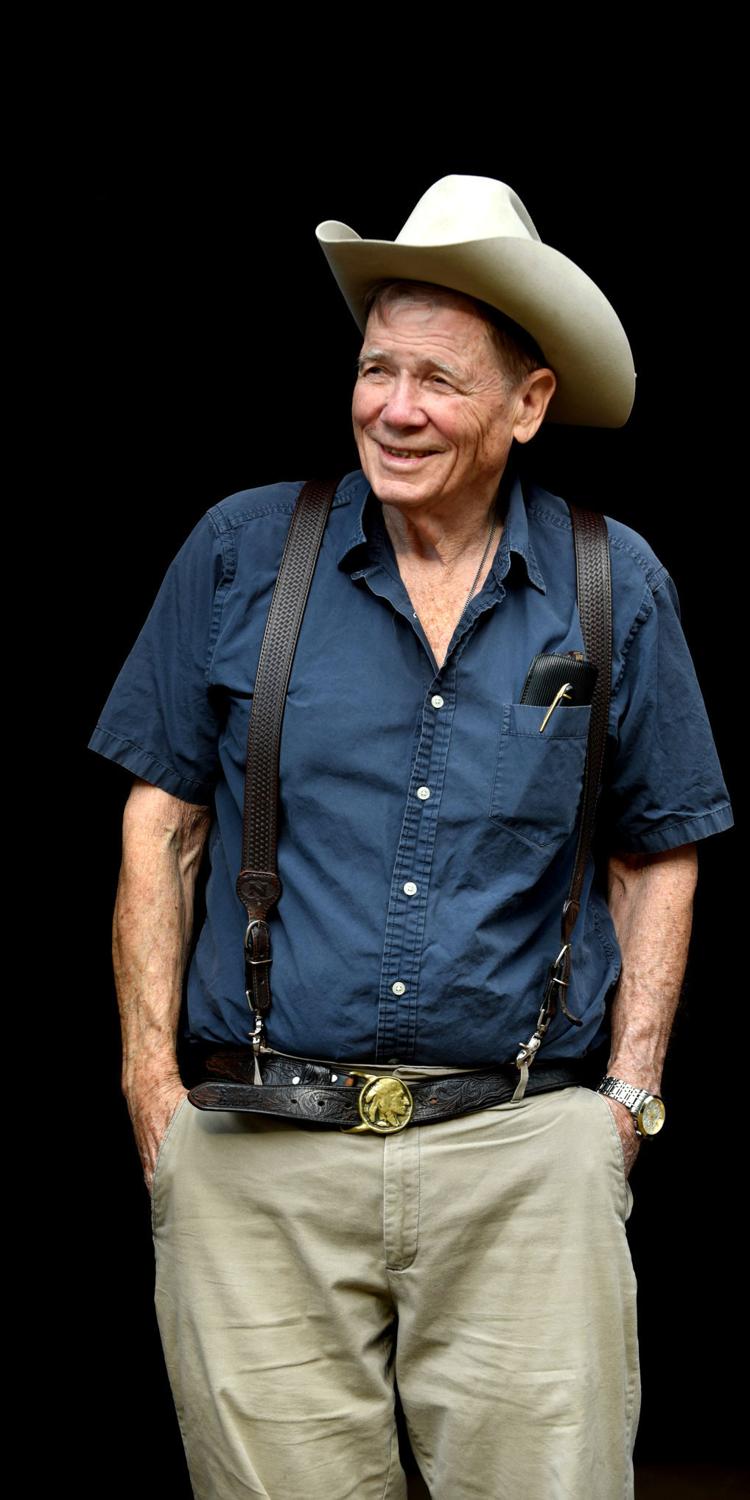 The author, who will turn 80 in December, said that in Louisiana, where he spent his youth along with Texas, stories are everywhere. He could walk up to a tree and find remnants of shots fired in the Civil War.
Like many of Burke's observations, he's not so much telling you a widely held philosophy, but hinting at his own in a roundabout way. Stories are seemingly everywhere to him, and the gregarious writer can pull anecdotes from thin air, an ability that's allowed him to produce a new book every year.
"The only gift that age brings you is that if you've had a sufficient amount of experience on the Earth, then you're endowed with the gift of selectivity," he said. There are friends and family, but no big answers.
"You don't figure out the great mysteries," he said. "That's the big cheat. Because we always feel, 'I'm going to get down the road and figure out why the good suffer, figure out the nature of creation.' Good heavens. And then you realize I know no more now than I did when I was 21.
"That's not bad. I think if there's any wisdom it's just maybe accepting our limitations. Finally you start counting your friends, counting up your family, and say, 'Boy, it's a pretty good ride.' "
There's work, too, which comes with that selectivity and focus. Often called the best mystery writer in America, he's written 20 books about Dave Robicheaux, a former alcoholic Louisiana cop, four about Texas attorney Billy Bob Holland, a saga about his family, the Hollands, and a number of standalone books and short stories.
This month, he released "The Jealous Kind," the end-cap to the Holland trilogy set in the 1950s, an era he says has been rendered with nostalgia in popular culture, aside from exceptions he admires like "Rebel Without A Cause" and the novel "The Amboy Dukes."
His teenage protagonist falls in love with a girl, and inadvertently runs into trouble with the Mob and the clash of different classes in Houston.
The early '50s, when Burke was coming of age, were a time of widespread juvenile delinquency, he said, fraught with dangerous characters who packed switchblades and youths who put present-day cursing to shame.
"I can defend everything in it," he said. "Either I saw it, I knew about it, I could say it on authority of experience of people I knew well."
He says the same of all of his books, which have often detailed incidents of violence and racism in the South that he says pale in comparison to real-life stories.
"This is the way it was, it's just that simple," he said.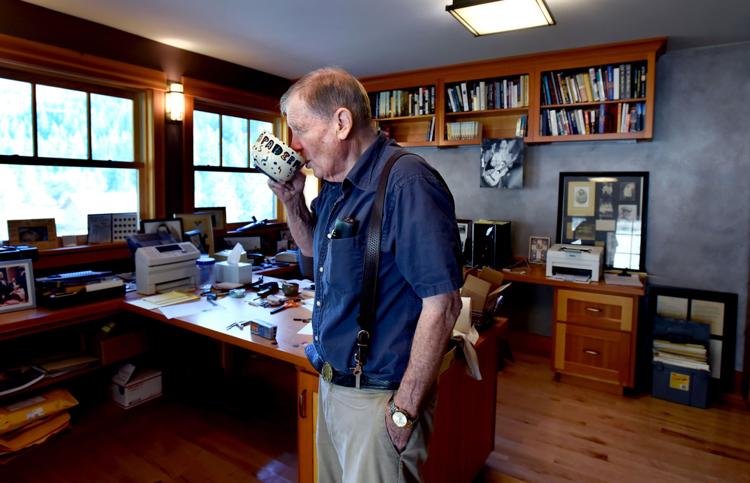 Burke has written about one book a year since 1986, for a current total of 37 including short-story collections. Most are available in mass-market paperback. If you tally them up in that format, his oeuvre totals just more than 16,000 pages, a remarkable volume of work by a writer who's praised for his prose style, a subject that rarely comes up when discussing similarly productive authors like Stephen King.
That's easily attributed to his work routine.
"There's no days off. I work year-round like that," he said.
He keeps a pen and pad by his bed, and will often wake up at 4 a.m. and write for a while before returning to sleep. He writes after he wakes up, seven days a week. He works out in the afternoon, does some chores and then returns to work.
"I always say neurosis is invaluable. It's free, it goes with you everywhere. It never lets you alone. It has no limits," he said.
Dennis Lehane, the Boston novelist of "Mystic River" fame, said the combination of Burke's talent and output is "baffling."
"To come anywhere within the yard stick of him takes me two or three years a book, and he's putting this out a book a year," he said in a phone interview.
"I just want to keep watching him," Lehane said. "It's like watching LeBron, you know? It's why you watch Brando. You're just seeing something that's just an ungodly level of both talent and work ethic and commitment to what he does. I can't look at a James Lee Burke book and go, 'Oh, it's OK for me to phone one in.' "
The seeming ease with which Burke produces his novels makes sense the moment you hear him speak.
In a soft, knowledgeable voice, the former creative writing professor can quote Milton, Shakespeare and Hemingway and follow it with a Louisiana anecdote that he punctuates with a huge laugh.
Burke is a cut-up, himself included. He often laughs with a single staccato "hah!" that ascends in pitch. You almost expect it to cue the horn section of a funk band, but typically it pulls others into laughing along with him.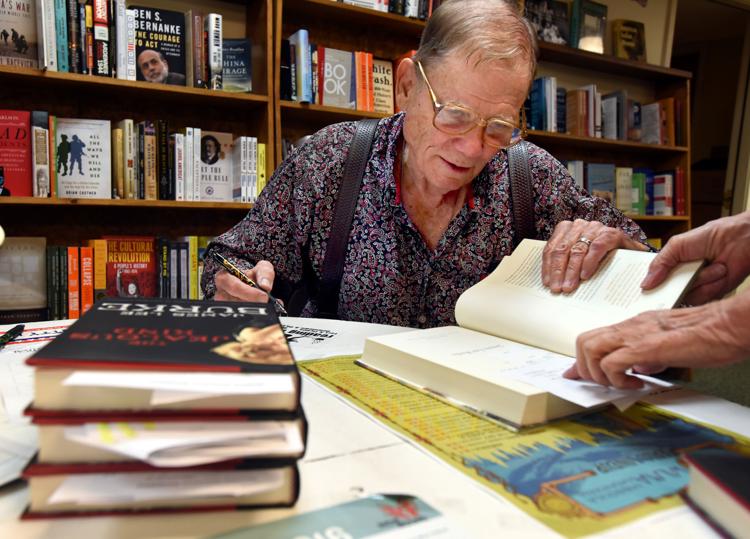 Burke's had yearly signings at Fact and Fiction Bookstore in downtown Missoula since 1987, the year he published his first Robicheaux novel, "Neon Rain." He spends the days ahead signing hundreds of books, which are annual events that draw fans from as far as Calgary and Salt Lake City, courtesy of his storytelling style.
"It's so much fun to hear him read his work and then take questions from the audience and then hear him laugh," said Barbara Theroux, the founder and current manager of the bookstore.
Burke first came to Missoula in 1966 for a teaching job at the University of Montana.
"You get to Montana, you just say, 'This is it.' I told Pearl the first day we were here, I said I'm going to kick the bucket here," he said.
"You can't explain it to other people, either. They don't know what you're talking about," he said.
The rivers and landscape are free and open to anyone.
"There's no way to get bored here, you can't use it up. There's always something to do."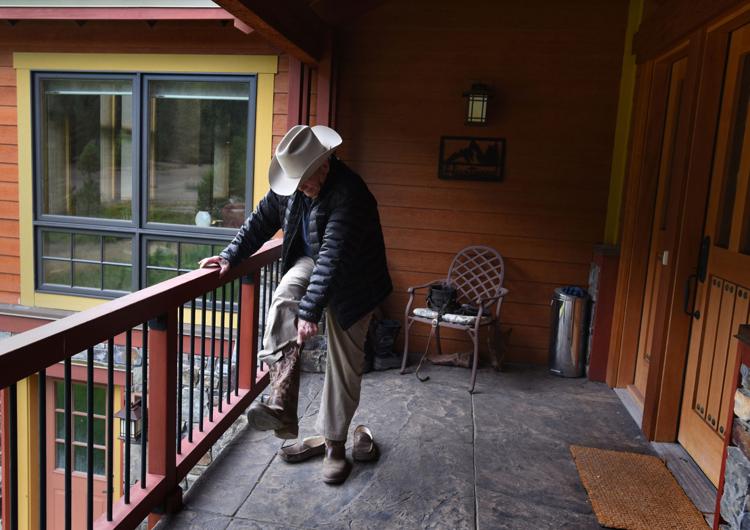 The Burkes now live on a 120-acre ranch outside Lolo, where they have pastures and keep horses, some from an animal rescue program: Missy's Playboy, Gloria "as in Glorious," and Love That Santa Fe.
You have free articles remaining.
"They're pranksters," he said.
He loves Montana, but acknowledges that it's a rough place to make a living. He and Pearl didn't buy a house here until 1989, thanks to "Black Cherry Blues." They used to spend the winters at another house in Louisiana until recently.
He has an office where he does the bulk of his writing, decorated with artifacts. Lined up on a window sill are his two Edgar Awards, given out by the Mystery Writers of America, plus its Grand Master prize.
Burke's a guitar player, and picks are scattered about his desk. He's a music fan, which figures heavily in his books and his entertainment. He went down to the River City Roots Festival to see fellow Louisianan Rodney Crowell last weekend. He's hung a photograph of his "secular patron saint" Woody Guthrie with his guitar, which was lettered with the phrase, "This Machine Kills Fascists."
Some of the artifacts are more light-hearted. He has a doorknob given to him by a friend who lives in Brooklyn.
"He was a plumber and he worked on Boss Tweed's house and he stole this out of Boss Tweed's bathroom door and gave it to me as a paperweight. Boss Tweed's unwashed DNA is still on this milk glass. A horrible thought," he said with a laugh.
Burke had what he calls a "peculiar" career arc. His first novels were published in his 20s, even gaining a review in the New York Times.
A seemingly cursed manuscript followed: "The Lost Get-Back Boogie," a tale about a troubled blues singer set in both Louisiana and the Bitterroot, was rejected 111 times as the legend goes. In that nine-year dry spell, none of his other work was accepted either.
Burke's fond of saying that not much anything, particularly rejection, can stop a real writer.
"He's invested with a kind of arrogance about a gift. When people tell him he's no good he shrugs his shoulder," he said.
His wife, Pearl, encouraged him to send "Boogie" to the Louisiana State University Press, which published it; it was nominated for a Pulitzer Prize, a turnaround he delights in recounting at the readings, where the audience applauds.
Another breakthrough happened: As the story is told, he was on a fishing trip with his friend and fellow writer Rick DeMarinis, who encouraged Burke to try his hand at a mystery novel.
Burke, a recently recovered alcoholic, wrote a few pages in long-hand about Robicheaux, a Vietnam veteran, homicide cop, Catholic and struggling drinker.
"It was my attempt at Milton's 'Paradise Lost' and 'Paradise Regained.' It's about a man who descends into the abyss. He's lost his wife, who's been murdered, he's drunk. He's living in despair, what psychiatrists would call clinical depression," he said.
The book, "Neon Rain," set Burke on a path to success.
"It allowed me to write full-time finally, which I'd always wanted to do. It's hard to reach that point, 'cause if it doesn't work out, you're in trouble," he said.
By trying his hand at genre novels he elevated them in ways that he can't have foreseen on that fishing trip with DeMarinis.
Fiction with literary ambitions that dealt in crime and mystery wasn't always as reputable as it is today, when crime writers' work is fashioned into award-winning and popular television shows and movies like "The Wire" and "The Night Of."
Lehane, author of best-sellers like "Mystic River" and "Shutter Island," first read Burke in the mid-1980s when he picked up "Black Cherry Blues."
Along with James Ellroy and James Crumley, Burke was a strong influence on Lehane.
"As a prose stylist, he was several notches above and beyond almost anybody," he said in a phone interview. "It's hard to imagine him having a peer at that level."
He also believes that quality forced questions about why Burke's novels were considered genre works, a step below literary fiction.
"I think he was the first one to really rattle that cage. I think once those of us who were coming up behind him said, 'If you're going to pigeonhole James Lee Burke as just a genre writer, or you're going to pigeonhole the L.A. Quartet as just a crime opera, then there's something wrong. There's a lifeblood in here, there's a commentary, there's a level of prose, there's a level of depth that is as good if not better than anything you'll find in so-called literary fiction."
Lehane said there's a discipline to it as well.
"There's so much craft and artistry in what Burke does, but there's also a nuts-and-bolts mechanics," he said.
"He sits down and follows one sentence with another one.''
Burke recently completed a short story, "The Wild Side of Life," named after a country song. He based it on experiences working for an oil company when he was 20. He was fatherless, supporting himself with some help from his mother, and the men at the oil company took him in, including a geologist who served as a tank commander in World War II.
Burke remembers reading about an oil company satchel-bombing a village in South America after the indigenous people had fired arrows at a derrick.
The geologist Burke so admired told him, "Well, Jim they asked for it." The chilling response shocked him, and he never forgot it. It points to an underlying theme of his books: neocolonialism.
"It's my view that we're walking in the footprints, the same sand as the British and the French, and will come to the same end. We'll get tired of it one day and let go of it," he said.
Regarding his next novel, he says he's "fooling with it a bit."
He's fond of Hemingway's advice about writing: Start one sentence and follow it with another.
"I don't know where it's going. I never know where it's going, I never see more than two scenes ahead, but eventually it gets there," he said.