These are troubling times in our democracy — and have been since the start. One hundred years ago we were embroiled in a terrifying war in Europe. Fifty years ago it was a mystifying and equally terrible war in Southeast Asia.
You can count your tragedies or you can count your blessings. Thanksgiving is a time that bids — nay, demands  — we do the latter.
Missoulian reporters went over the river, through the woods and down the street to find stories of those we could find who are in a thankful mood.
If you have your own story of thanks, and can tell it in 100 words or fewer, we invite you to send it to us for possible inclusion in our Thanksgiving Day paper. Post it on the Missoulian Facebook or send it to newsdesk@missoulian.com by 5 p.m. Tuesday.
Braylee Crawford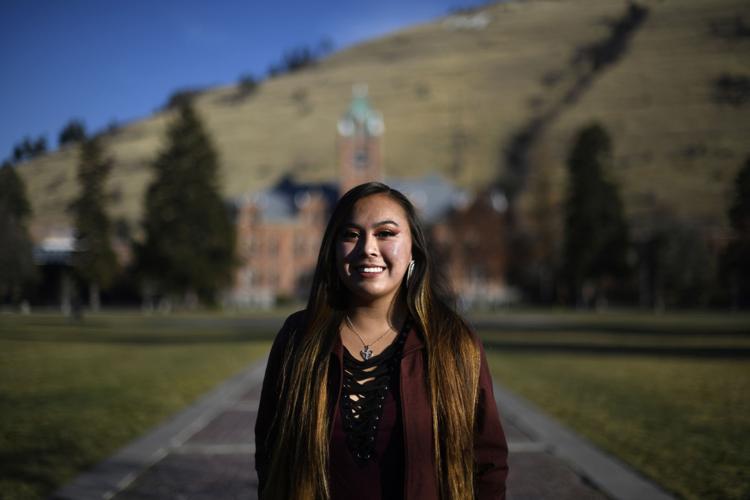 Braylee Crawford looked forward to Upward Bound every summer before she enrolled at the University of Montana. 
"When I heard that the program was basically on the chopping block, it really devastated me," Crawford said. 
This year, the U.S. Department of Education initially denied $1.7 million in grant funds for the Upward Bound program at UM based on a clerical error, according to the program director. UM had failed to double-space one of the application's 65 pages, as had some other campuses.
U.S. Sens. Jon Tester, a Democrat, and Steve Daines, a Republican, were among the elected leaders who successfully advocated for Secretary of Education Betsy DeVos to reconsider applications based on the merits.
When Crawford — a freshman from Browning majoring in human biology for premed — learned the program would be funded after all, she said she was thrilled, not only for herself, a college student, but for high school students who will also have the chance to participate in Upward Bound and learn they have an opportunity to attend a university.
"I was so, so happy," she said, "because not only would I get to continue to enjoy the benefits of TRiO, but I know students from not only my community but around the state would be able to enjoy the benefits of Upward Bound."
Jane Van Fossen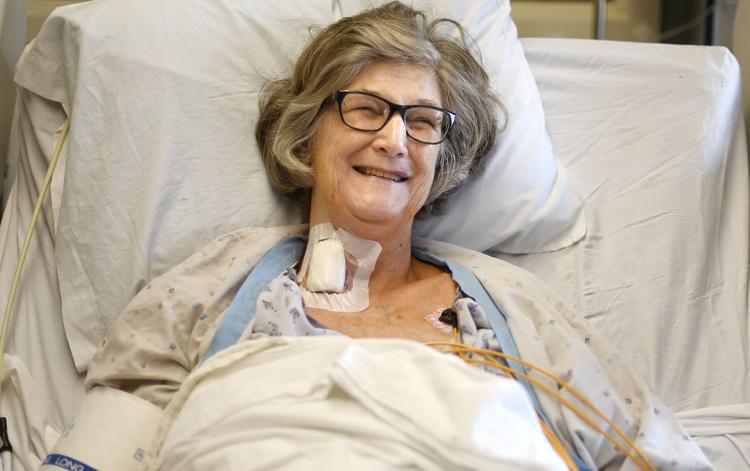 From her hospital bed, Jane Van Fossen declared without hesitation that she's "the most thankful person in Missoula."
"I have a new lease on life," she said. "I prayed, and it was God's providence."
She's joyful because physicians at the International Heart Institute at St. Patrick Hospital in Missoula recently saved her life with a new, state-of-the-art heart procedure called transcatheter mitral valve replacement. In layman's terms, doctors use sort of a wire mechanism to insert the valve inside the heart (although it's much more complicated and planned out) rather than going with the much more invasive open-heart surgery.
It was the first time the procedure has ever been performed in Montana, and it was the first time that the team at St. Pat's had performed this type of procedure on a patient.
"She has a pioneering spirit," said Dr. Michael Reed, an interventional cardiologist at the IHI. Reed added: "The bravery she showed to put this faith in this hospital staff is incredible."
"The team was absolutely scrupulous," said Van Fossen, 71. "They had every 'i' dotted and 't' crossed. I am so thankful for all these people with technical skills and passion for the job. I prayed, and they exceeded every prayer. It was spectacular."
Aaron Brock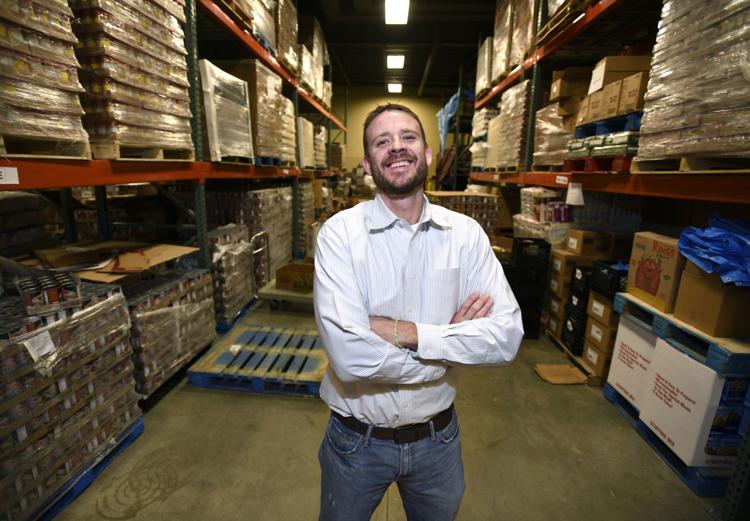 The Missoula Food Bank enters its first holiday season in its new $6.6 million dollar headquarters, and executive director Aaron Brock said none of it would have been possible without the generous support of donors.
"It really is about serving the people who need us in a better way that's more dignified," Brock said. "I've heard a lot of folks reflect on being uplifted when they come into the store."
Brock said he is also thankful for the volunteers — over 400 each week — who keep the food bank running.
"I think it's hard to do this kind of work and not feel profound gratitude," he said.
This month, the Missoula Food Bank received the largest donation in the history of the Can the Cats food drive competition with Bozeman, with the Missoula Federal Credit Union sending in 50,000 pounds of potatoes and onions.
In December, the food bank will start its annual holiday drive, with a goal of bringing in $225,000 and 55,000 pounds of food over the course of the month.
Brock said the increased ask over previous years comes from the rising need the food bank has seen since moving into its new building.
"Every year, donors rise to the task and help us reach our goal," Brock said. "It's the season of generosity."
Fay Sweeney
You have free articles remaining.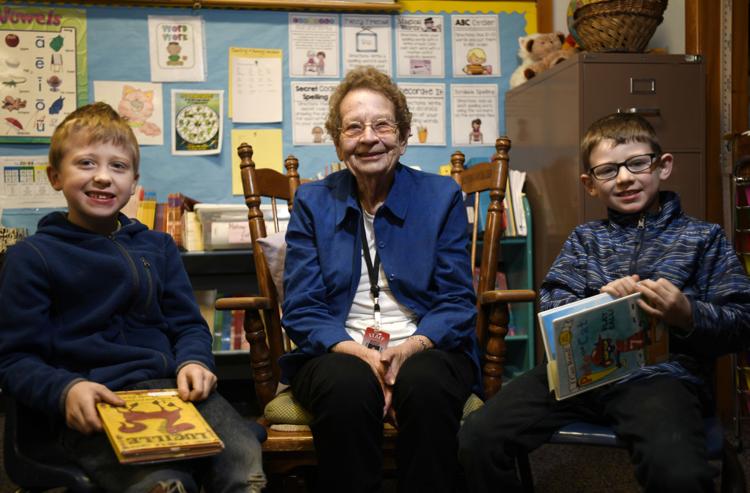 When Fay Sweeney's husband passed away, "there was nothing to do."
Her granddaughter suggested she visit Missoula Aging Services, where Sweeney learned about the foster grandparent program that places elderly people in area schools as volunteers. They provide mentorship and learning help to students, often becoming hallway icons.
Sweeney, 79, has volunteered at Hawthorne Elementary for 11 years, spending five hours every weekday morning at the school.
"I love it," she said. "It takes up my time. I just love being here."
On Thursday, the bell rang and students were just beginning to settle into chairs in Carol Campbell's second-grade classroom. Riley Morrison, 7, and Evan Brimeyer, 8, took a moment before the morning announcements to talk about Sweeney.
"She helps kids. She gives us stuff we want," Morrison said. "Like pencils."
Brimeyer added, "She helps us do our reading. She helps us with spelling words."
Nearby, Sweeney hugged a staff member who was delivering breakfast to the class. Anyone who speaks with her is liable to receive a tender squeeze.
"Just to be able to help kids if they need help, love them and hug them," she said, wrapping her arms around herself in an imitation hug. "I like to give them smiles. It just makes me feel good, too."
Reese Phillips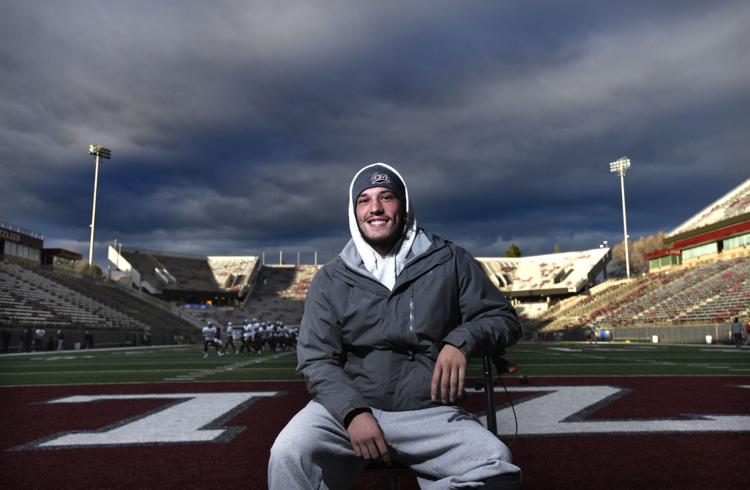 Montana quarterback Reese Phillips came to Missoula two years ago in hopes of a fresh start.
A ruptured Achilles tendon ravaged his playing career at the University of Kentucky, and he transferred to Montana at the recommendation of Kentucky's former offensive coordinator Shannon Dawson.
Phillips' new beginning as a Griz was cut short just as he and Montana's offense began clicking. 
In one fell swoop, Phillips shattered his fibula, dislocated his foot and ruptured nearly every ligament in said foot after stepping up into the pocket to run the ball against Savannah State.
Despite that, Phillips is thankful. 
"I'm thankful for this place. I'm thankful for my teammates, my coaches. I'm really just thankful to be here, to be alive," Phillips said. "I'm really, really thankful for my coaches, because the risk that they took on me coming from Kentucky being hurt, not really playing that much, is something I'll never forget."
Since that fateful September afternoon, Montana has implemented a flag bearing his number into its pregame routine and made Phillips a student coach.
"It means everything," Phillips said of his team's support. "... It's been amazing. It's hard to put into words, really, but it's awesome."
Mike Steinberg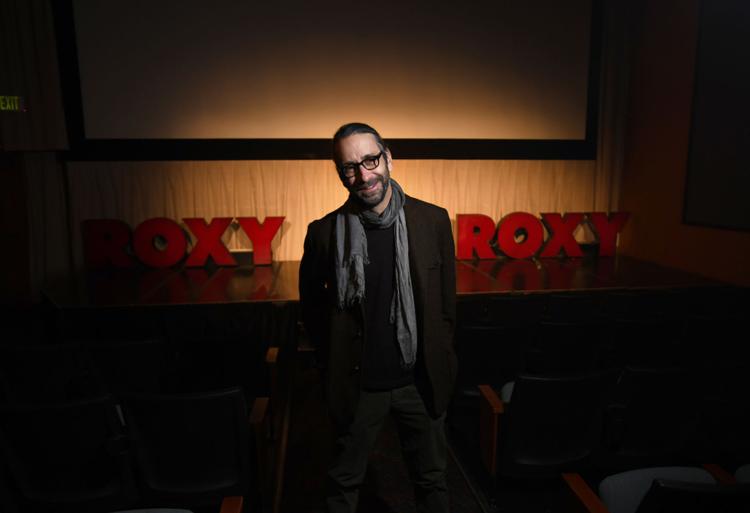 Putting in the Roxy Theater's new marquee wasn't just a nostalgia trip.
Executive Director Mike Steinberg said he feels a responsibility for the building, to steward its restoration and growth 80 years after it first opened, in September 1937.
"There's an adage in the theater industry that the show starts at the street," Steinberg said last week, standing underneath the new neon marquee that lights up South Higgins Avenue every night.
"So many great historic buildings … are no longer here," he continued. "In reality, this is the historic Roxy Theater."
Over the past year, the theater's nonprofit staff and board of directors started a capital campaign to raise around $200,000, for the new sign, ticket window and other improvements.
The public fundraising started over the summer, with their Give 37 campaign, encouraging lovers of film and local art to give at least $37 apiece, with an end goal of raising $37,000.
They made their goal, installed the sign and ticket window and are still offering the usual 20 or so monthly screenings, of classics and new-run independent films, along with plays, stand-up comedy, music and special events like KBGA's End-of-thon and the International Wildlife Film Festival.
That's a lot to be thankful for. But Steinberg said the money was a little obvious.
"The first thing that came to my mind, is that I'm very thankful to be part of a community that cares about what I care about the most," he said. "Missoula is there for Missoula."