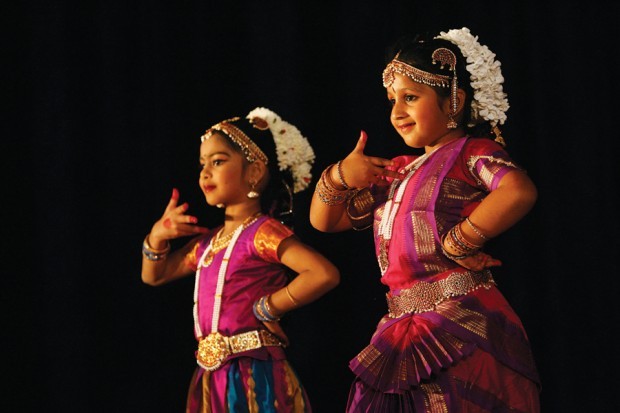 SALT LAKE CITY - Divya Narayanan thinks you can - and should - dance.
The petite woman who was born and raised in Delhi, India, landed in Utah along with her husband and daughter in 2007. As a child, she was heralded throughout her homeland's newspapers as a prodigy in classical Indian dance. Now, she's sharing that with her fellow Utahns.
"Whether you have a talent in dance or not, it's a very exquisite dance form," she said. "It's a good way to learn our culture."
Narayanan now performs at various cultural events and teaches workshops for Brigham Young University and Ballet West. But she started teaching to help her daughter Manya, now 9, meet friends in a state where she knew no one.
At first, she volunteered dance lessons. In 2009, after demand grew, she officially registered as a small business and opened her own dance studio in her home's basement, complete with wood floors and a mirrored wall.
She teaches three forms of classical dance - Bharathanatyam, Mohiniyattom and Kathakali - to students ranging in age from 5 to 40. She is open to teaching anyone who wants to learn, though her current roster of about 40 students is filled almost exclusively with students of Indian descent. Some are children of people who have seen Narayanan perform, and others are the parents themselves.
"Some people never had the opportunity to learn this when they were a child, so they are doing so now," she said.
The dancing is detailed, and the same hand gesture held at different heights of the body can symbolize a different words or emotions, Narayanan said.
"There's a reason it takes nearly seven years to become a professional classical dancer," she said.
Makeup for the dances can take several hours to complete, and the intricate costumes - based on saris of regal purple to electric pink to golden saffron - have to be custom tailored in Chennai, India, and shipped to Utah. The costumes, which feature skirts with pleats and intricate gold thread designs, cost about $80 each, but they are critical to the art form, Narayanan said.
Narayanan studied classical dance forms for years under some of the most prestigious teachers in India, and she received several national, competitive scholarships to continue her studies. Now that she is in the United States, she wants to pass along her knowledge and skills to others.
One of the many things she enjoys about teaching the dances is that students learn about Indian history and culture. The dances are often retellings of the great epic poems that serve as canons of Hindu scripture. Dancers portray various characters, usually Hindu gods, and interpret the story through movement.
For Parvathi Radhakrishnan, one of Narayanan's first students, learning about her culture and religion is important.
"I really like that I can keep a connection with my culture," the 18-year-old said. "I learn a lot of myths and stories in Hinduism through dance that I normally wouldn't have any other opportunity to learn."
Radhakrishnan, a biology major at the University of Utah who plans to go into medicine, won't pursue dance professionally. She took lessons for a year when she was a child living in the United Arab Emirates, but she didn't find a dance teacher in the United States until she met Narayanan. She's been taking lessons for more than three years and enjoys sharing her culture.
"I think it's really important to share the stories through our dance," she said. "After each performance, we have an opportunity to teach about our culture and our religion. I think it's great we can do that."