LINCOLN — A stick lying on the forest floor can be as much or as little as your imagination will allow: a toy, a tool, fuel, or mere debris. 
If you pick up one, you can draw with it in the dirt, as humans have done for thousands of years. Two can make a cross or a marker. Gather many cords more and you can construct a hut or fort.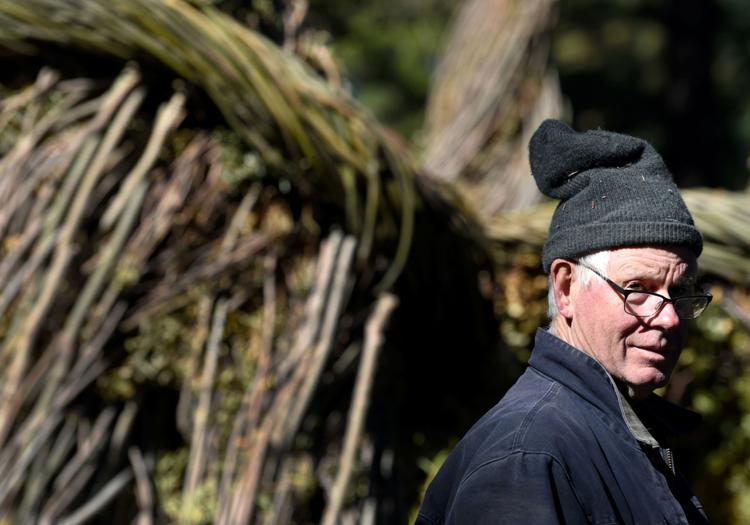 Patrick Dougherty, an artist from North Carolina, has learned that if you gather an acre's worth, you can build a sculpture that's much like a fairy tale illustration, with waving lines and organic forms that seem to predate masonry. He hopes it will appear as though it "made itself" or was molded by wind or water.
When you see "Tree Circus," tucked into a stand of trees just off a path in Lincoln's art park, it might appear as though it did make itself. If not, then perhaps it was built by some forgotten culture prone to whimsy in its architecture: a circular structure with windows and doors topped by charming, curling spires, all built from sticks.
In Dougherty's unusual method of building art, he and a team of volunteers spent three weeks weaving his latest work, one of 10 he'll make this year. The artist, now in his early 70s, has constructed more than 300 around the world, and is the most recent international artist to contribute to Blackfoot Pathways: Sculpture in the Wild, the four-year-old art park in Lincoln.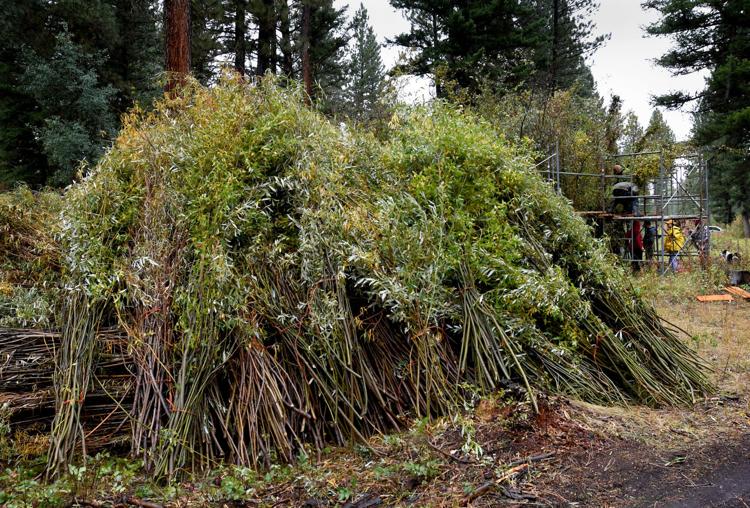 His more recent project began in the second week of September, as he and local residents gathered truckloads of alder and willow. Between trips to gather more, they guess it required about 10 tons.
He has an improvisational streak compared to many artists, and dreamed up his design after arriving at the site to see how it could play with the space. The towers, some rising 18 feet high, would generate visual interest, as the sculpture is surrounded by much taller trees. The windows and doors would create a sense of openness, and the interior will serve as a courtyard.
"You'll see the piece differently when you're in there in an intimate setting," he said. His pieces are made for people to wander in and around. He joked that visitors could camp inside it.
He sketches designs and proceeds from there, relying on experience and instinct, and on-the-fly adjustments as they go. "The final product is always vague," he said. "What you're trying to do is maximize what you see and how to improve it," he said.
Dougherty's three-week timelines mean working through the weather. Initially, they dealt with the wildfire smoke saturating the area. A steep drop in temperature created a different challenge. The park director, Kevin O'Dwyer, said they rushed to make sure the scaffolding was in place in time. While the rain knocked down much of the fire smoke, the moisture and temperatures in the 40s made the work arduous.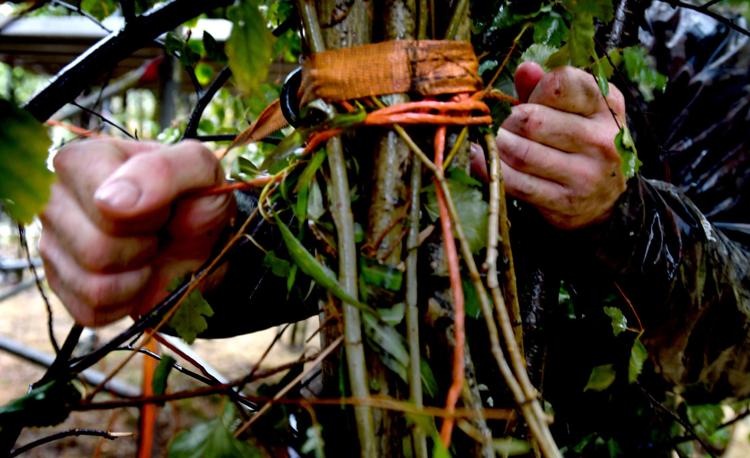 First they "planted" trees in the ground in two concentric circles as the structural supports. The sculpture would be entirely held together by sticks. Early in his career, Dougherty worked at a more human scale, using architecture and trees, and then proceeded into freestanding pieces.
"It became apparent that I could 'build' a forest and then 'pull it around,' and work in it. They don't have any roots in them, but you can get some structural integrity out of them," he said.
In its most germinal form, the sculpture begins with the scaffolding in and around the rows of trees, a "forest" just as he described it. In chilling rain, volunteers banded branches together with twine and belts to create gaps for the doors and windows. After they've added layers of woven sticks, the twine and belts will come off. Between the two rows, they leave enough space for people to walk through, just like a hallway. Volunteers worked atop ladders inside the towers to add structural support. The weaving itself is the most time-consuming part, and the reason he needs help.
Earlier in his career, Dougherty used volunteers from the organizations that commissioned him. But work like gathering material wasn't very satisfying for them, he said, so he began recruiting them to make the art itself. Working with sticks is intuitive, he said. The stick is an "imaginative object," and it doesn't take long for people to figure out how to work with sticks, just as they did when they were children.
"We had a good-hearted crew," Dougherty said. They eat lunch together and get drinks after work, meeting people from the town who will come to the park to see what their neighbors are up to.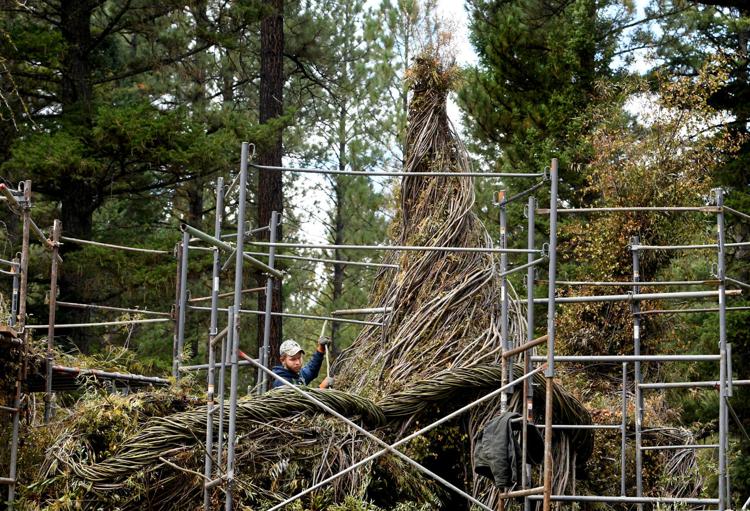 At least five volunteers were on site at any given time to help him and his son, Sam Dougherty. Some had ties to Montana and the art world, like Whitefish resident John Rawlings, the retired art director of the Flathead Valley Community College. Kate Hunt, a sculptor based in Creston, donated several weeks' time. She said it was an energizing break from studio work. Next year, she'll build a sculpture of her own at the park.
Despite the weather transferring through "14 different seasons," Rawlings said it's "the happiest three weeks' work" he's had in a long time.
"Patrick doesn't just make things," he said. "He produces this community as he does it. They're not capable of producing something like this on their own. His ability to encourage people to work for him, to encourage the community to support him, that's a major part of his work."
Any volunteer you asked would note that the work is hard. Making art like this is quite literally manual labor with few tools, with a workday running from 8 to 5 regardless of the elements. Rawlings, a night owl, didn't have any late nights on this excursion.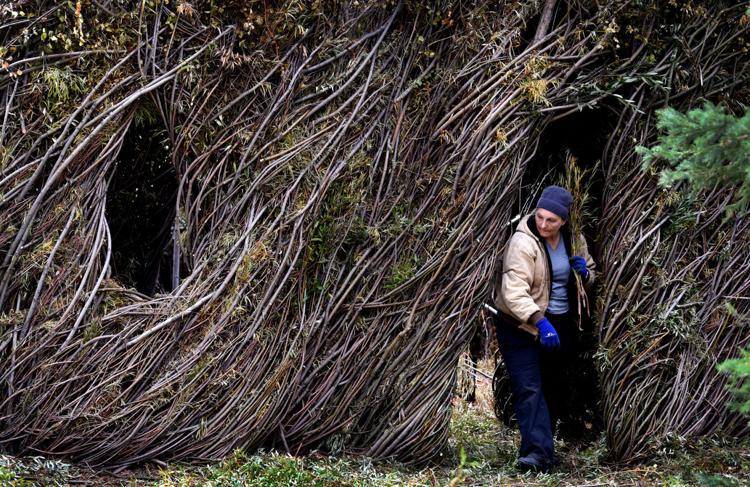 Lola Hunter, who grew up in Montana but now lives in Florida, came here to visit family and work on the sculpture. She jokingly calls herself a "groupie" — this is the third Dougherty sculpture she's volunteered on.
"Every time I work with him, I find a different appreciation for what he does," she said. "It was like a line drawing, and I'd never really thought of it that way."
Rawlings, who used to teach drawing, said Dougherty would nudge them gently in the right direction, and talk about the sticks like an art instructor, with talk of cross-hatching, dominant lines and volume.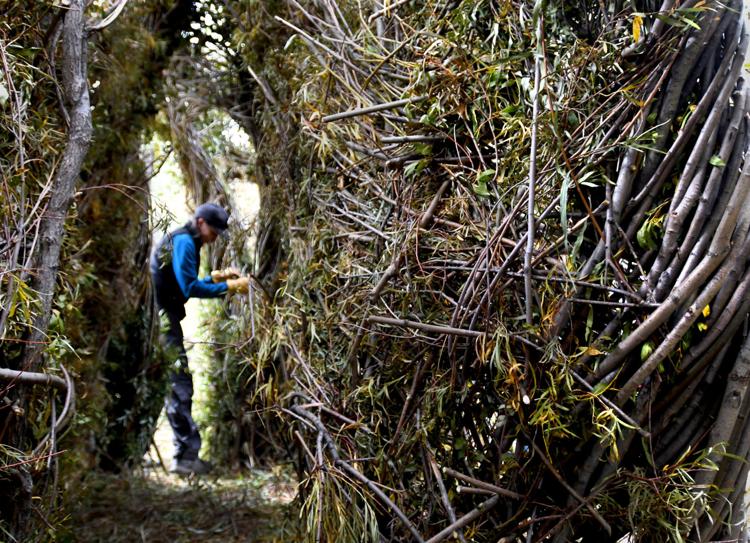 Dougherty says that "everything you can do with a pencil, you have to do with a stick or can do with a stick." He likes to create a sense of implied motion through layers of tapered sticks.
He first had an epiphany about using them when he was in his early 30s. He'd quit his job in hospital administration and decided to become an artist. On a drive home in the North Carolina woods, he noticed the saplings lining the road. He saw a cheap, abundant material that spoke to his upbringing, when he'd lie in the woods and think about how the crisscrossing thickets resembled pencil marks.
"Tree Circus" is his second work in Montana. About two years ago, he was commissioned for a piece at the the Tippet Rise Art Center in south-central Montana, south of Columbus between Bozeman and Billings. For "Daydreams," he built a replica of a historic one-room schoolhouse. Both the interior and exterior overflow with tornado cones of sticks — he said he imagined them as symbols of the eagerness children in class would have to get outside.
In Lincoln, Dougherty was recruited by O'Dwyer, an artist who helped start the 26-acre park four years ago.
In his native Ireland, O'Dwyer spearheaded a similar park called Sculpture in the Parklands. His family had owned land in the area, and he had witnessed the rise and decline of the peat farming. Once extracted for use as a fuel, peat takes thousands of years to regenerate, leaving behind scarred land and a flagging industry.
As a way to generate interest in the area's history and working heritage, artists would create sculptures that celebrated it. Since the art reflected the community, the community felt tied to it in a way they don't when contemporary sculpture is "parachuted" in by outsiders. After O'Dwyer visited Montana, he made connections with the Lincoln community and they dreamed up Blackfoot Pathways, which would follow that model.
The park opened in 2014 with an international "symposium" of artists who built pieces that fit into the landscape and reference the history of the logging industry in the area. The artists spend time researching and meeting people in the town, with the aim of creating something meaningful to the residents.
The outdoor park is designed to be as welcoming as possible. People are invited to touch the sculptures and take pictures.
Another way that the park gets the town involved is through educational programs. Artists typically spend three weeks on site. During the second and third weeks, hundreds of students from area schools pay a visit. For Dougherty's project, they learned about weaving and sculpture. After touring the park, they helped construct their own Dougherty piece out of willow.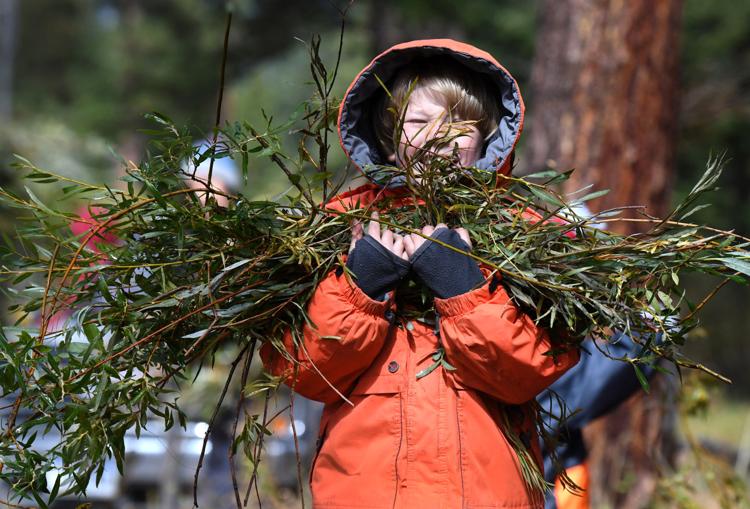 Annette Gardner, a teacher from Lincoln School, said that the local kids love the park. The proof was nearby, as youngsters circulated in and around their sculpture like a weather system.
After they worked on their piece for awhile, Dougherty gives them a brief talk about "Tree Circus." He's an engaging speaker, resembling the actor Ed Begley Jr. with a Southern lilt. He tells them to come back with their parents to see it. He's quick with jokes and advises them to go home and build a fort.
"I hope y'all make things," he told them. "I've had a good life making things."
A volunteer said that some seventh-graders were eyeing patches of willow on the way home from their visit. The brush is now their version of a block of uncarved granite. A dad on site said he's considering paying the kids in candy to build him a deer blind.
While sturdy, Dougherty's works are not made to last.
In Denmark, he built a reclining figure that gazed down at its own reflection in pooling water. It fell over two years later. In Michigan, he constructed a set of jug-like shapes with faces, a shared tradition in folk art around the world. They accumulated several feet of snow and collapsed, their expressions of awe suddenly rendered as shock or surprise.
In Scotland, he imitated the forms of the ancient standing stones. After the piece began to fray, hundreds of people turned out to watch it ceremonially burned to the ground. In South Carolina, he built a piece based on the proportions of the Tempietto tomb in Rome. They planted living trees inside the walls. In five to seven years' time, the trees overgrew his sculpture, existing as a "memory point" for people who recalled his work, he said.
In contrast with a builder who has longevity in mind, he tells stories of his art's demise with amusement during his lectures.
Most of his pieces will last about two years before elements, meteorological or structural, turn against them. Often, the site owners who commissioned a piece will have it removed. His work is often on college campuses, botanical gardens or parks. They understandably don't want a "disheveled" wooden sculpture in sight of the public, Dougherty said.
Knowing that the whimsy of his stick sculptures is fleeting has its own effect, too. He's fond of the philosophical implications of temporary art, that it has a "feeling of longing built into it."
"It's going to pass away. You have to use it while it's there, and there's a way that it seems a bit more essential," he said.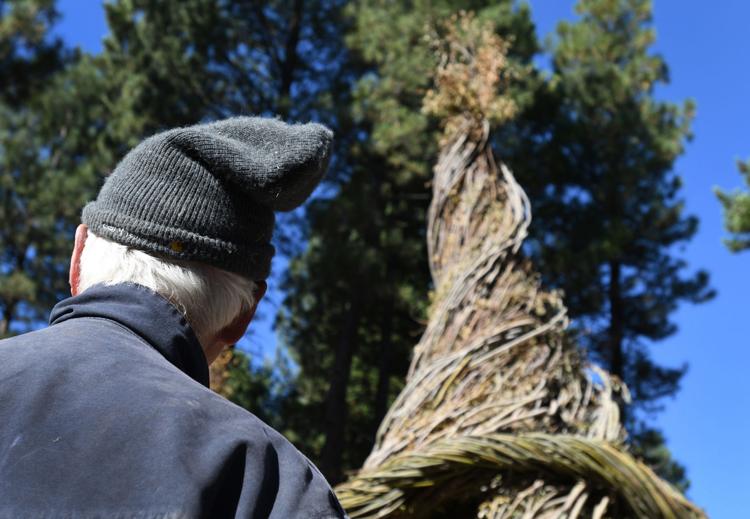 They have no monetary value, there's nothing to buy or sell or accrue. It's only worth is in the experience of it, he said, that a viewer might find it compelling or interesting.
In three weeks' time, "Tree Circus" transformed from a cacophony of sticks and twine into its elegant, final form. Sam twisted branches into a "crown" that weaves its way through towers, like the piping on a quilt, as Dougherty described it. In his version of drawing, there's color, too: The crown was a green highlight against the brown towers, which had lightly swaying forms and spiral accent lines.
On the Friday afternoon of the unveiling, Dougherty declared the sculpture finished.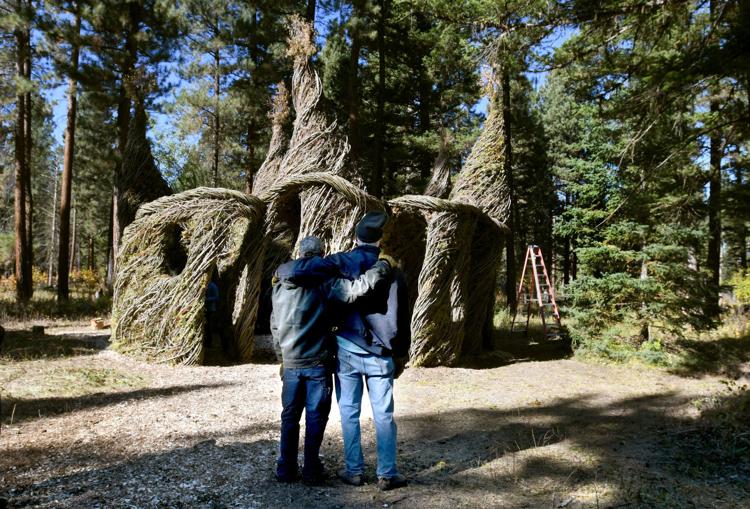 He and his son took a moment to enjoy the piece before another group of students arrived. While people send them pictures from around the world, they don't usually have more than a few hours to admire the work in person — they were scheduled to fly out the following afternoon. They were off to North Carolina for another build in Chapel Hill. Then in November, Miami. They usually take December off from building, but the elder Dougherty goes on site visits. After all, they start again in January.
Before the kids arrived, Dougherty wrapped his arm around Sam's shoulder. "We did it," Sam said.
"Are you happy with it?" Patrick asked. "I'm happy with it, yeah," Sam said.
They walked around the interior together for a final pass, hollering compliments to volunteers as they went.
He might never see this piece again except in pictures. He doesn't frequently revisit his sculptures, nor does he have the time for the endless, minute adjustment that some artists do. He doesn't think it would help him very much anyway. Once it's complete, he moves on.
"Even if I had all the time in the world, I wouldn't make much of an adjustment," he said.
Be the first to know
Get local news delivered to your inbox!