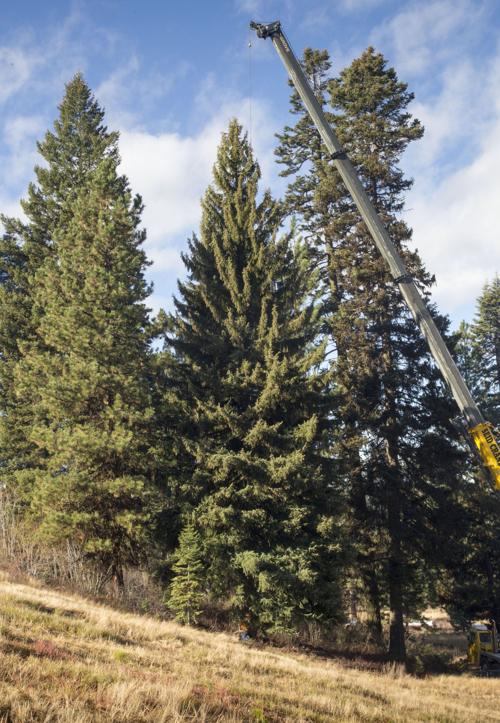 MCCALL, Idaho (AP) – An 80-foot Englemann spruce has been cut down in western Idaho and is heading for Washington, D.C., to be decorated as the Capitol Christmas Tree.
Workers used a traditional crosscut saw on Wednesday to bring down the tree on the Payette National Forest's Little Ski Hill near the town of McCall.
The Little Ski Hill ski area was built in 1937 as a diversion for for local forest workers.
"The Little Ski Hill is an important part of the McCall community, and now the 2016 U.S. Capitol Christmas tree will be part of the Little Ski Hill's legacy," said Keith Lannom, Payette National Forest supervisor.
This tree and 3 others were identified as final candidates for the Christmas tree in July of this year, according to a press release from the U.S. Forest Service. The requirements for the Christmas tree are that it must be 65 to 85 feet tall, have full branches around the entire tree, be of a rich green color and be cylindrical in shape – generally, it must look like a fantastic Christmas tree. Engelmann spruce is a native tree species the Payette National Forest.
The Forest Service said that over 18,000 handmade ornaments representing the state symbols of Idaho were made by Idahoans to appear on the tree in addition to 70 companion trees in offices throughout Washington, D.C.
Two Payette employees, Jared Schuster and Chris Niccoli, cut the tree using a crosscut saw to honor the traditional skills used in wilderness areas.
Cranes prevented the tree from falling, and then positioned it on a semitrailer.
The tree's national tour started Saturday in McCall; it will make several stops in Idaho and other states as it travels east.
It will be placed on the west lawn of the U.S. Capitol for a lighting ceremony set for Dec. 6.