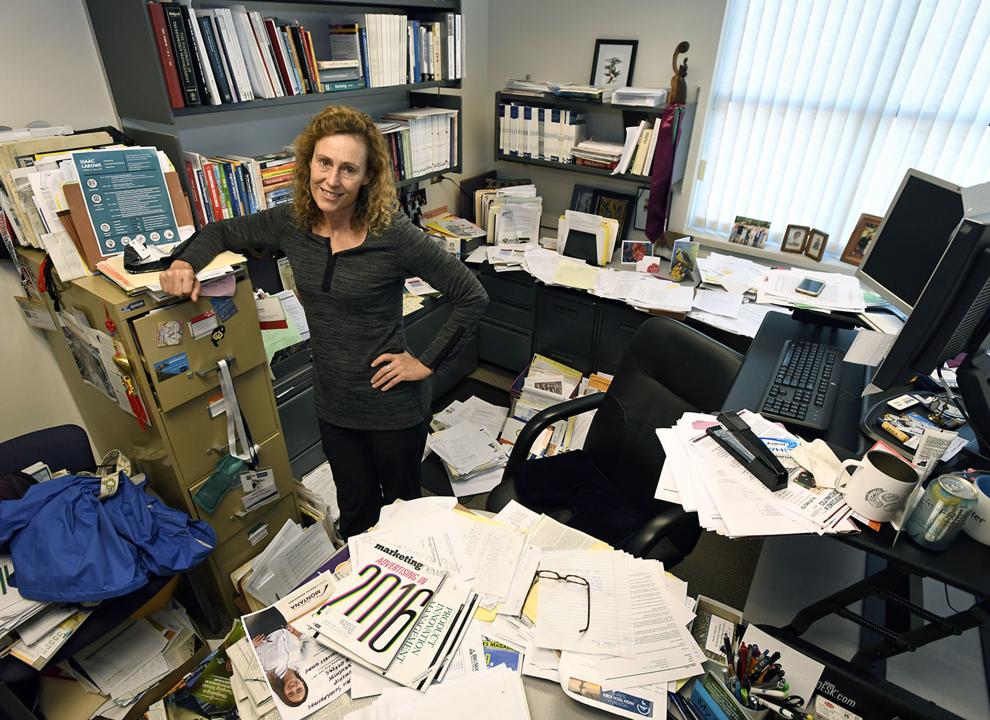 Jakki Mohr really does have a method to her madness — the madness being the mountain range of paper piles that sprawl across the regents professor's office at the University of Montana.
And Brent Ruby really does have a stuffed marmot and a high wheel bicycle in his work space.
David Moore? At last report, the professor teaching American, Native American and Montana literature hadn't been buried in an avalanche of books, but the danger appeared high, with more than 1,000 volumes stuffed, stacked, and crammed in a little room in the Liberal Arts Building.
In the College of Forestry, Mark Hebblewhite works amidst antlers and skulls, and it appears he does so with the energy of all the world's ungulates combined.
In her office adjacent to the ceramics studio, Julia Galloway stands among pots and cups and other creations in a world she's been part of since she was a high schooler who saved up babysitting money to buy a wheel and then hauled it home on the subway.
UM professors get high marks in national assessments for their contributions to academia. Here are a few places where the magic happens, messy as it may be.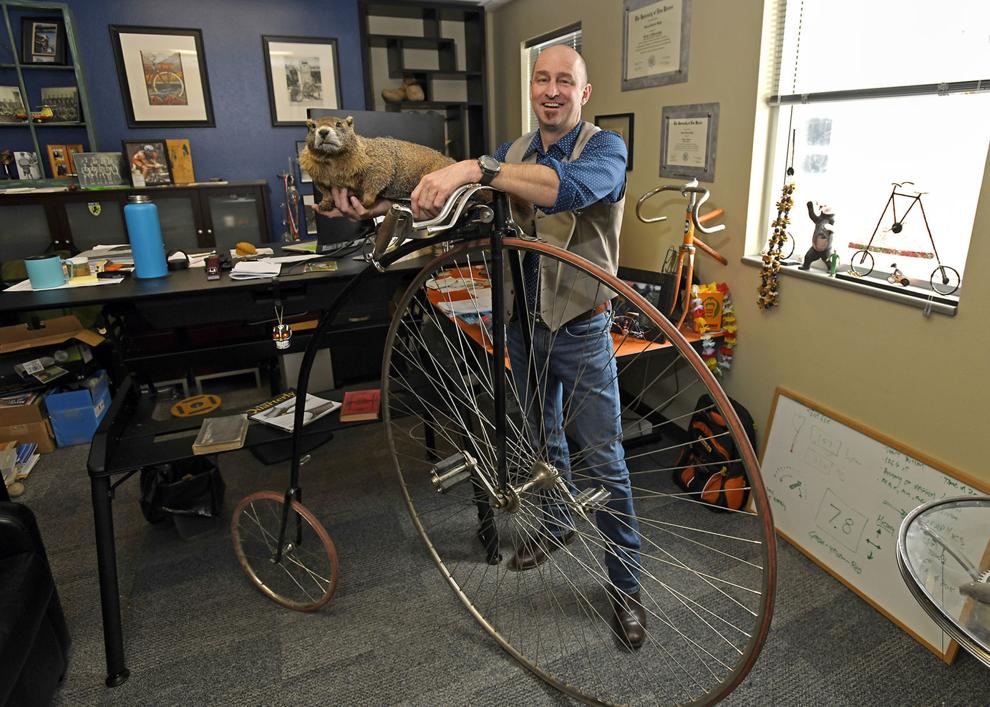 A stuffed marmot — call it Evan — might be the weirdest thing Ruby keeps in his office in McGill Hall. He's not a marmot scientist. Rather, he's in a line of research best described as applied human physiology.
"We shot him on a high-altitude study in Colorado," Ruby said of the marmot.
In 2013, he and his fellow researchers got permits after talking to a ranger about the large marmot population, and then called Ruby's dad to round up rifles: "It's not like when we're on a research trip, that we're carrying rifles."
His dad hooked them up with five or six .22s, and the largest marmot returned from Mount Evans to get stuffed and hang out at the flagship. The items the "hipster professor" keeps in his office exude a joie de vivre, but the work he does to test human capabilities is serious.
"We're really interested in what the human can do on the high end, and also how the human interacts with the environment," said Ruby, at UM since 1994.
Elsewhere, scientists study applied human physiology in laboratory conditions, but Ruby and the team at the UM Montana Center for Work Physiology and Exercise Metabolism get out in the real world.
"Well, fires don't happen in laboratory conditions," Ruby said.
He's worked with firefighting teams some 20 years, and the research he does helps make their jobs safer and provides valuable information for soldiers too.
"The firefighter is like the special ops team of the forest," Ruby said. "And the cool thing about Montana and our position within the world of fire and research is that little Montana can make a huge impact on the safety of the war fighter by studying the firefighter."
He's monitored diet, hydration demand and heat stress, and he's taken muscle and urine samples to learn what affects the human body or, more importantly, how much the environment plays a role. He himself has competed in Iron Man events and has taken his own muscle samples afterward.
"One thing I've appreciated is the university has been patient with my creative thought. And the research that I've been able to do, I don't think I'd have been able to do at any other university," Ruby said.
He used to race bikes, and bicycle parts and a high wheel sit in his office, too: "I've ridden it in the homecoming parade."
About a year ago, he had some bright red trucker hats made that resemble a cap that was hard to miss this political season. One of the red hats sits in his office, but the white font carries a different message: "Make Research Great Again."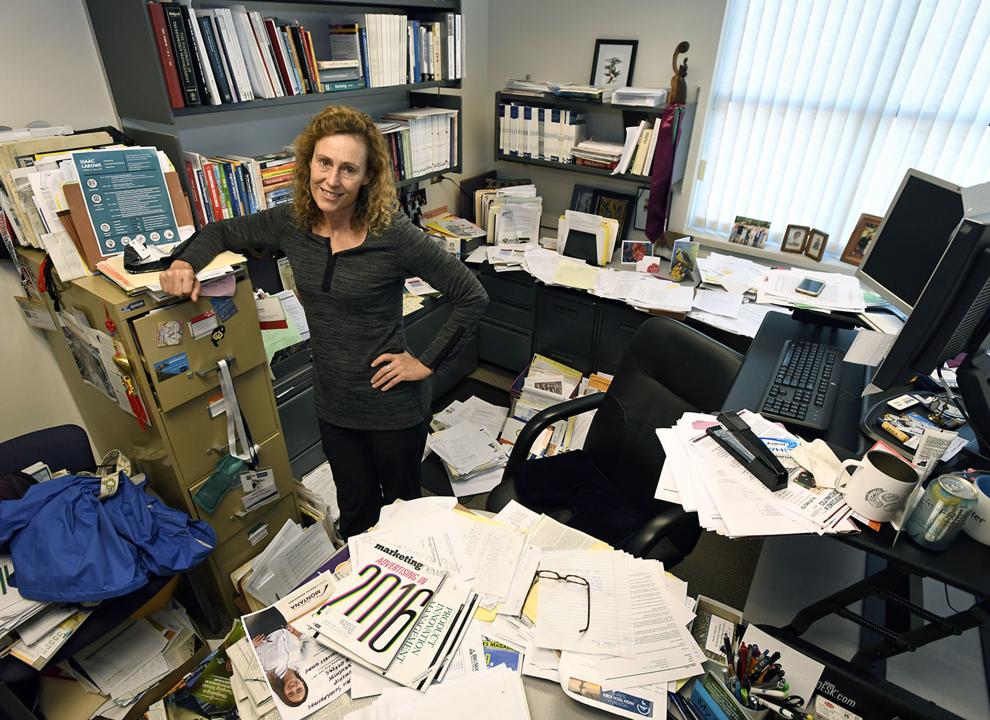 "I hate to confess this, but I moved out of my old office because I had to excavate," Mohr said.
Paper piles cover her desk and the floor, and largely, it's because Mohr has other priorities, like staying up on the fields of marketing and management and helping students. And the professor in the College of Business can identify all the piles, anyway.
"This is my 'to grade' stack for class tomorrow, for example," she said, pointing. "And this is what I graded over the weekend. And these are the books that I'm reading."
One pile is a research project, and another is made up of material for a spring class she's teaching.
"Every pile has its own rhythm, and it works for me. That's all I can say, even though it's horrendous to look at," Mohr said.
Of course, it's not all horrendous. Some of it is fuel, such as the Starbucks Italian roast VIA packets, chocolate and other forms of caffeine. Some is art, like a watercolor by Kendahl Jan Jubb.
Some are textbooks, including one by Mohr printed in different languages. She's the internationally acclaimed author of "Marketing of High-Technology Products and Innovations," and she brings innovations to her teaching and pushes her students to stay ahead of the game, too. After a difficult summer, she started one class over from scratch.
"If you're going to be on the cutting edge, sometimes you have to start fresh," said Mohr, recipient of the 2008 Outstanding Marketing Teacher Award presented by the Academy of Marketing Science.
This semester, some of her students are doing work that's going to help businesses in the real world. They're identifying root causes of a problem, like low sales, for instance. They're delivering three unique solutions that address the root cause, and they're analyzing those fixes to determine which is the most viable.
Since the students are working with real people, and the people are running real businesses, Mohr needs to give the students real feedback on their work. That's probably a pile somewhere in her office too.
The Gallagher Distinguished Faculty Fellow is both a tough and compassionate professor. One day, Mohr teased a student who sat in her class with a fuzzy blanket over his legs, and she later apologized for the ribbing. The next day, Mohr said the students who sat around him brought fuzzy blankets too, and she was pleased to see their solidarity.
"You work really hard to create this spirit of camaraderie when you're in it together."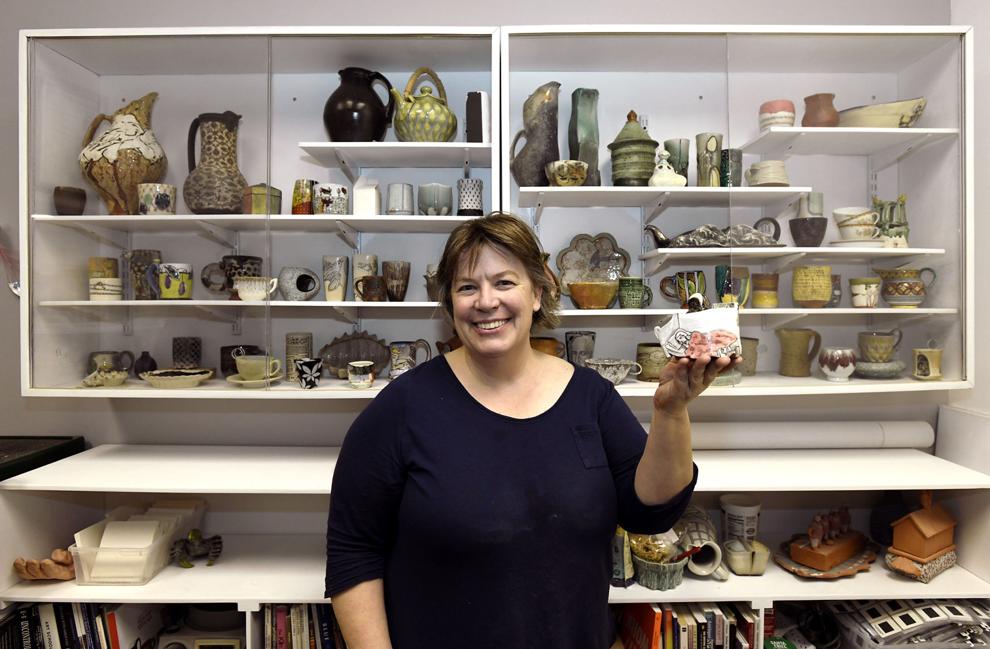 Galloway holds a small plate painted with a horse.
Most people would paint a tiny horse in the middle of the plate, said Galloway, at UM since 2009. This artist, Sue Tirrell of Red Lodge, uses every inch of the surface for decorating, and she makes a bold statement in doing so.
"This is such a fearless, fearless decoration," Galloway said.
When ceramics students study under Galloway, they get to see and hold real work by real artists, and the small plate is one of many pieces she keeps in her office right off the studio. The "study collection" is a selection of work by contemporary ceramicists established and influential in the field, and the display represents regional, national and international artists.
Maybe once a year, Galloway changes out the collection, and she often lets students take pieces home for the weekend if they're investigating a particular technique.
"For me, what's most important is learning by looking and touching and feeling these so that they can have a full experience," she said. "Because they're making objects to be touched."
In academia, students and faculty spend a lot of time looking at screens, but learning is different in the ceramics studio. There, the way to knowledge is through direct, hands-on experience.
"The act of making is as important as the act of reading. Making is physical research," said Galloway, in the School of Art.
Along the way, pots break, but the professor who has traveled around the world lecturing on pottery said the shattering is simply a reality in ceramics.
"The truth is, pottery is very affordable, and even though it's a heartbreaker, we always remember it, and we have a little bit of a ceremony," Galloway said.
She herself came to love the craft in high school. Her school had a wonderful pottery studio, and as a teenager, she saved up her babysitting money to buy her own wheel, too big for her to lift over the subway turnstile on the way home.
"I had to ask them to open up the gate," she said.
These days, Galloway lifts up the work of other artists to her students. Among the study collection is a "technically amazing" pot from Tokanami, Japan, to inspire young artists with a penchant for detail work.
"You always have some students that want to get it perfect," she said.
A sugar bowl by Donna Flanery has an irregular shape compared to a common bowl a student might be more familiar with. The sugar bowl is painted with a bedtime scene "for sweet dreams," and the bed headboard is three-dimensional. The artist cut out a window from the bowl, too.
"It's a great example of how you can change what a pot looks like," Galloway said.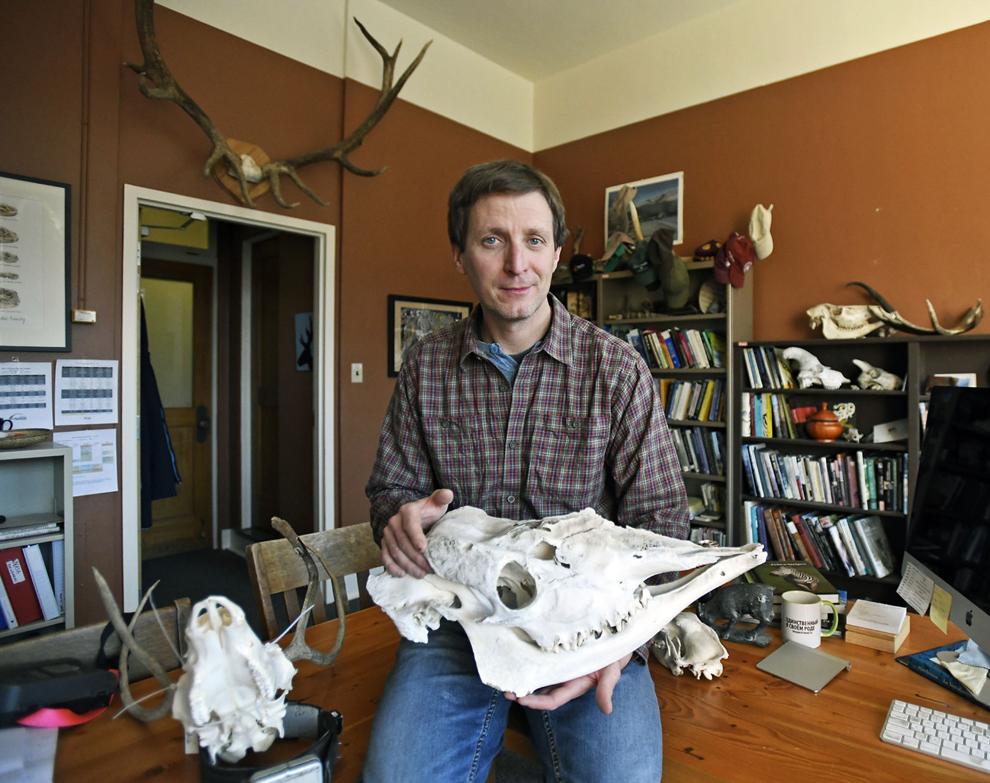 Skulls and antlers decorate the office of Hebblewhite, a professor in the W.A. Franke College of Forestry and Conservation.
"I collect skulls of animals I collared," he said.
The professor studies large animals, and he started off researching wolves. At 22, he radio-collared one of his first wolves, and eventually he finds the animals he collars dead. He studied the first wolf for some seven years before she got killed on the highway, and like many wild animals, she died at the hands of humans, he said. Her skull is part of his collection.
"She lived a long, glorious life and gave birth to many pups," Hebblewhite said.
The researcher talks a mile a minute, bouncing from the radio collars he himself helped design to the sandalwood bowls he's received as presents to the lack of paper in his office.
"It's an amazing office. I decluttered it."
The physical journals are gone but he keeps books: "Of course, books are nice, but the main function of books is for me to give them to other people."
He tells a true joke about studying wildlife: "One way to study wildlife is you collar the animal. The other way is to collar the tree." He flips through pictures captured from a tree camera.
About the wildlife biology program at UM? "Our program is one of the best wildlife programs around." He's not blowing smoke.
About people at UM? "We're all part of the community. We all live here. We are your neighbors, and we do the same things you do." Wildlife watching. Hunting. Exercising.
A set of caribou antlers is mounted above his desk, and an elk rack hangs above his doorway. Above the third-floor window, he keeps a pair of bighorn sheep antlers.
Hebblewhite's work has taken him around the world. Bhutan. Borneo. Far eastern China. Russia. He keeps a cast of an amur tiger pawprint in his office, too, a souvenir from the month he spent at a park in Russia, at Sikhote Alin Zapovednik. That's a "500-pound kitty cat." 
"The third most common thing they eat in the summer are grizzly bears," Hebblewhite said.
Art on the walls tells stories about the natural world, including a mosaic of a tiger from Rome. People don't think of tigers when they think of Rome, he said, but ancient Romans captured them and used them in gladiator games.
"It reminds me that the current distribution of animals on the planet is influenced by ancient civilization," Hebblewhite said.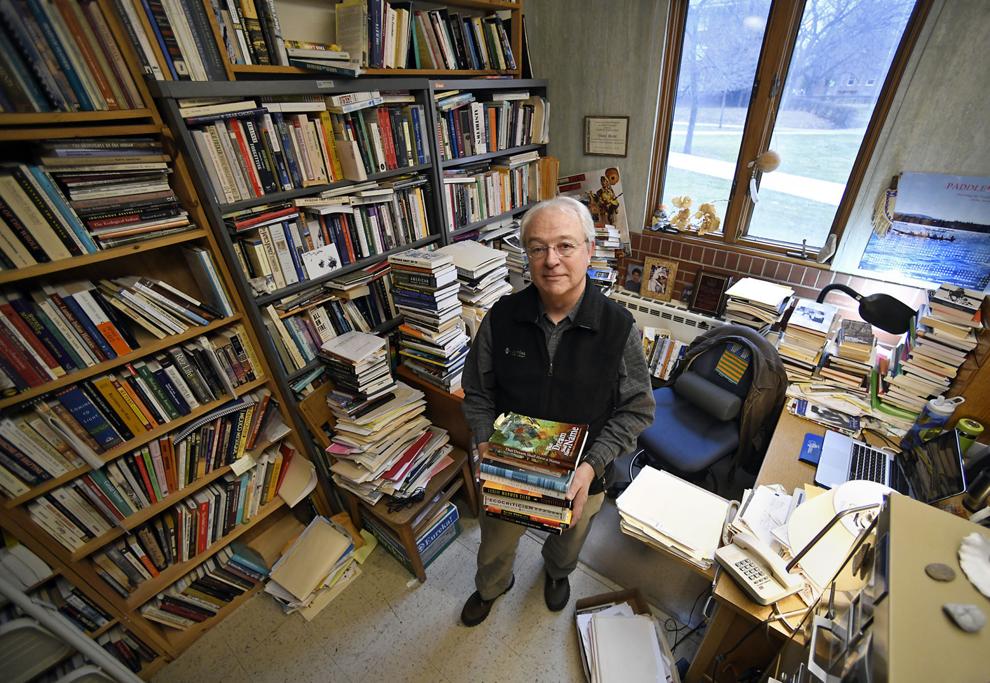 The books piled high, low and precariously in Moore's work space — it might be a stretch to call it an office — are one reason students are pleased to enter the room in the Liberal Arts Building.
They love to read, and the room is chock full of books, cramped as it is.
"I welcome students to my storage closet," Moore said.
The English professor in the College of Humanities and Sciences has organized his library by areas of study and expertise, a couple of columns of Native American literature here; then behind one pile, a column of American literature, and a floor-to-ceiling stack of literary theory, and some books about ecocriticism and ones about literature and the environment. Also, some philosophy. 
"Everything else is mishmash or just clutter," Moore said.
Honors, too, though. On one wall hangs an award from 1999 from the American Indian Program at Cornell University to Moore "for outstanding service and contribution to our program's students, committees and activities."
Some of the books have his name on them, and the handful of items that aren't books carry stories about places he's been and wants to remember. He kept an oyster shell from the Salish Sea, or Puget Sound, from Hood Canal.
"It's in a really wonderful spot in the world," Moore said.
Like many faculty members, some objects show a connection to faraway places. A magnet stuck to a filing cabinet shows the Eiffel Tower because Moore loves Paris, and a Vietnamese mask is displayed over his desk, a gift from a colleague who is from Vietnam.
Among the books in his office are ones by Leslie Marmon Silko, an influential poet and novelist, along with a book by Moore about three of her major novels, "Ceremony," "Almanac of the Dead," and "Gardens in the Dunes." Marmon Silko is of mixed Laguna Pueblo, Mexican, and Anglo-American heritage.
Moore became interested in Native American literature after having lived in South Dakota and Montana most of his adult life. In South Dakota, he grew connected to Baha'i communities on the Standing Rock Indian Reservation and Pine Ridge Indian Reservation.
He chose to attend the University of South Dakota partly because he could study the Lakota language there, and later, he taught at Salish Kootenai College.
"That really triggered a lot of questions about how Native stories change history, basically," Moore said.
So he returned to school for a doctorate in Native literature.
Moore first taught at UM in 1981 as an English instructor for the TriO program, which helps under-served and first-generation college students, and he's been back since 1999. This school year, he plans to retire after 44 years of grading papers.
"I have lots of projects with music and poetry and some more academic publishing to do and just plan to focus on those," Moore said.
He's contemplating what he'll do with all of his books.