Sometimes you need an extra hand or two to get things done, so it's time to call in the big guns. From getting gussied up at the best salon, to getting sweaty at the best health club, these Missoula businesses know just how to help you out.
ALTERNATIVE HEALTH
If you prefer going off the beaten path for your health care, these alternative healers have got you covered.
1. Matz Family Chiropractic
2. Krieg Chiropractic
3. Missoula Bone and Joint Physical Therapy
---
ASSISTED/INDEPENDENT LIVING PROVIDER
For that time of life when a loved one requires more assistance getting through each day, these providers are Missoula's favorites for taking care of those in need.
1. The Springs at Missoula
2. Grizzly Peak
3. The Village
---
ATTORNEY/LAWYER
Need a legal eagle to help sort out your woes? Don't skimp when the law is on the line, go for one of the best attorneys and lawyers in town.
1. Paul Ryan
2. John Velk
3. Judnich Law Office
---
AUTO BODY REPAIR
From fender-benders to hot-rod renovations, these local auto shops know how to get your car in prime condition.
1. Blue Ribbon Auto
2. Rick's Auto Body
3. Russ's Body and Paint
---
BAIL BONDSMAN
If getting rowdy has gotten out of hand, you might find yourself in need of the assistance of these guys. Missoula's most trusted bondsman are available for most any compromising situation.
1. Devil Dog Bail Bonds
2. Grizzly Bail Bonds
3. The Bond Squad
---
BEST PLACE TO GET PIERCED
"Painless" may be more moniker than reality, but it's the name of the current favorite for the best place to have holes professionally poked through your body.
1. Painless Steel Tattoo & Body Piercing
2. Blaque Owl Tattoo
3. Altered Skin Tattoo & Body Piercing
---
CAR WASH
Can't cut that grime on your own? After splashing through Missoula's slushy snow, treat your transportation to a nice scrub-down at one of these local washers of cars.
1. Happy Days Car Wash
2. Dazzlers Car Wash
3. Splash Car Wash
---
CATERER
For special events, or even routine work meetings, quality food from a reliable caterer makes everything more deliciously memorable.
1. Burns Street Bistro
2. Market on Front / Silk Road Catering (tie)
3. Bravo! Catering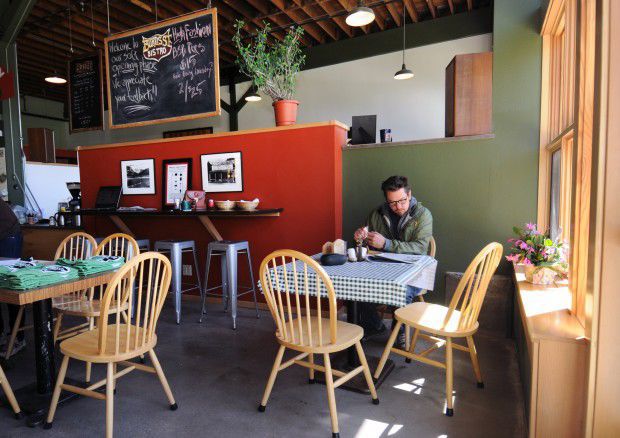 ---
CELLPHONE PROVIDER
If you can't hear it by now, you might need a new cellphone provider. These three are the top picks for Missoula's mobile services.
1. Verizon Wireless
2. AT&T
3. T Mobile
---
COMPUTER REPAIR
When your computer kicks the bucket, these favorite repair shops will get you back on track to raid that boss, own the newbs or simply prepare those TPS reports.
1. Geek Squad
2. Computer Guys
3. First Call Computer Solutions
---
CONTRACTOR
Not everyone with a hammer has what it takes to build a house, or make a house into a home. Trust your building needs to these top contractors.
1. Edgell Building, Inc.
2. Jackson Contractor Group
3. Knife River
---
DAYCARE
Missoula voters say these are the best places to entrust with your little ones when childcare is needed.
1. YMCA Learning Center
2. Missoula Early Learning Center
3. Lil' Griz Cub House
---
DENTIST
Everyone needs help keeping those pearly whites glistening. Don't miss out on your best smile by missing an appointment with one of these best dentists.
1. Discovery Dental Group
2. Missoula Pediatric Dentistry
3. Children's Dentistry of the Rockies
---
DETAIL SHOP
With so much winter weather, on top of so many outdoor recreation options, it doesn't take long to grime up a car while getting around Missoula. Save yourself a backache and get things deep-cleaned by one of these top professional detailers.
1. Blue Ribbon Auto
2. Grizzly Detail
3. Rick's Auto Body
---
DOG WASH/GROOMER
When your dog is looking dingy, these folks know just how to get their fur fluffy again.
1. Showcase Pet Grooming & Supplies
2. Barking Sisters' Dog Spaw
3. Go Fetch!
---
DOCTOR OF CHIROPRACTIC
For professional relief from body pains, headaches and more, these chiropractors have got your back.
1. Dr. Scott Matz
2. Krieg Chiropractic
3. Jay Matz
---
DRYCLEANER
When that dreaded "dry-clean only" label appears, you can rely on these businesses to take the best care of your best garments.
1. Missoula Textile Services
2. The Green Hanger
3. Fresh Natural Cleaners
---
EYE DOCTOR / OPTOMETRIST
A picture may say a thousand words, but no amount of verbosity can quantify the value of the sense of sight. Keep your peepers primed with regular checkups from one of Missoula's top-voted eye doctors.
1. Rocky Mountain Eye Center
2. Dr. Jeff Lebsock
3. Family Vision
---
FINANCIAL INSTITUTION
Whether plentiful or paltry, when locals need a place to manage their money these banks are the trusted top picks.
1. Missoula Federal Credit Union
2. First Security Bank
3. First Interstate Bank
---
GREEN BUSINESS
Help save the planet, and support local business, by visiting any of these growing green businesses.
1. The Good Food Store
2. Home Resource
3. Missoula Federal Credit Union
---
HEALTH CARE PROVIDER
If you've busted your knee while trying to bust a move, or just need a preventative check-up, these health care providers are Missoula's picks for getting back on your feet.
1. Western Montana Clinic
2. Providence St. Patrick Hospital
3. Scott C. Wyman
---
HEALTH CLUB/GYM
It's never too late to start a resolution. Punch in, work out, shape up, get down and discover a healthier you.
1. Peak Health and Wellness Center
2. Fuel Fitness
3. The Source
---
HEARING SPECIALIST
Do you find yourself asking, "what?" a little too often? Do background noises make conversations difficult? It might be time to make an appointment with one of these hearing specialists to help make your world sing again.
1. Vibrant Hearing
2. Rocky Mountain Hearing Aid
3. Costco Hearing Aid Center
---
LAUNDROMAT
When your pants can stand up on their own, it's time to do some laundry. Consider one of these Missoula favorites on your next cleaning quest.
1. The Green Hanger
2. Missoula Textile Services
3. Sparkle Laundry
---
LODGING
When the folks come to visit from out of town, treat them to a crash pad that's leagues better than that old futon of disreputable origin. Missoulians vouch for these spots as the best lodging in town.
1. C'mon Inn Hotel & Suites
2. DoubleTree by Hilton Hotel Missoula - Edgewater
3. Hilton Garden Inn
---
MANI/PEDI
A little polish goes a long way when seeking that papered feeling. Treat yourself to some fine fingers from the folks at these nail salons.
1. Saigon Nails
2. Sorella's Salon & Day Spa
3. Reserve Nails & Spa
---
MASSAGE
When your aching body feels like it needs a vacation from your worried mind, there's nothing like a good massage to set your world right again. Missoulians love these top picks for best massage.
1. Sorella's Salon & Day Spa
2. Sophi Medlinger - Spa at the Peak
3. Massage Envy
---
MECHANIC
Get your motor runnin' before you head out on the highway.
1. Scott's EQ Auto Repair
2. Honesty Automotive LLC
3. Unique Automotive Services / Willy's Auto (tie)
---
MEDICAL MARIJUANA PROVIDER
Indica or Sativa? Maui Waui or Labrador? Find the right strain to ease what ails you with help from these professional providers.
1. Flower
2. Urban Farmer
3. Lionheart Caregiving
---
NEW BUSINESS (OPENED IN THE LAST YEAR)
Missoula gained several new businesses in the past year, but the locals' favorites boiled down to pizza, fitness and cider.
1. MOD Pizza
2. Orangetheory Fitness
3. Cash & Carry
---
PERSONAL TRAINER
It takes a lot of motivation to get yourself in shape, but when you're struggling these top trainers can help you find the initiative you need.
1. Carson Hochhalter
2. Kimberly Agnew
3. Taylor Selig - Ridge Fitness
---
PHYSICAL THERAPIST
Only time and treatment can get a broken body back to top shape again. Trust your recovery to one of Missoula's best physical therapists when you're on the mend.
1. Alpine Physical Therapy
2. Missoula Bone & Joint Physical Therapy
3. Great Divide Physical Therapy
---
PLACE TO WORSHIP
These churches are the choice for voters seeking a spiritual connection.
1. Zootown Church
2. River of Life Church
3. St. Francis Xavier Church
---
PROPERTY MGMT. COMPANY
Renters in Missoula have a several reputable property management companies to choose from when picking their next pad.
1. Garden City Property Management
2. Plum Property Management
3. ADEA Property Management
---
REAL ESTATE OFFICE
Ready to move on up and trade in that rental agreement for a home mortgage? Give one of these real estate offices a call and chase that dream home.
1. Windermere
2. ERA Lambros
3. Re/Max All Stars
---
REALTOR
The right Realtor brings a career of realty expertise to your door. They'll go the extra mile to help find the perfect home.
1. John Herring
2. Mark Fesler Keller Williams
3. Annelise Hedahl
---
RECYCLING
After you've reduced and reused all you can, help keep our valley clean by recycling at one of Missoula's top recycling centers.
1. Pacific Steel & Recycling
2. Republic Services
3. Axemen Recycling & Auto Salvage
---
SALON/STYLIST
Time for a new 'do? Or maybe a do-over? These salons and stylists have got your dome covered.
1. Burton's Classic Hair Co.
2. Boom Swagger Salon
3. Jamie Bush - Tres Chic Hair and Nail Salon
---
SPA
Everyone needs some pampering now and then. These top spas will get your body, and mind, in maximum relaxation mode.
1. Sorella's Salon & Day Spa
2. Spa at the Peak
3. Cedar Creek Salon & Day Spa
---
TANNING/SPRAY TAN
There's only an average of 159 sunny days per year in Missoula, so it's no wonder that locals seek out the warmer climates of these tanning salons.
1. Rayz of Lite
2. Brown Sugar Tan Spa
3. The Sunshine Factory
---
TATTOO PARLOR
When getting inked, there's no room for amateur error. For the best in skin illustrations, voters trust these top tattoo parlors.
1. Blaque Owl Tattoo
2. Painless Steel Tattoo & Body Piercing
3. Altered Skin Tattoo & Body Piercing
---
TIRE STORE
You don't want to skimp on things that keep you clear of the cold, hard ground. Beds, shoes, and of course tires, are well worth the investment.
1. Les Schwab
2. Tire Rama
3. Costco Tire Center
---
WALK-IN CLINIC
Are those sniffles just a cold, or an all out flu? Does that wound need a Band-Aid, or some stitches? Get a swift resolution to all your unplanned medical needs and Missoula's best walk-in clinics.
1. Western Montana Clinic-Now Care
2. Cost Care
3. Grant Creek Walk-In
---
WEDDING CAKE
In ancient Rome, the first wedding cakes were loaves of bread symbolizing fortune and fertility. In Missoula, wedding cakes are sometimes pies, cupcakes, or even cookies. Whatever baked good represents your union, call up one of these folks to sweeten up your special day.
1. Black Cat Bake Shop
2. Bernice's Bakery / Cakes in the Zoo (tie)
3. Rosauers Food and Drug
---
WEDDING DJ
For a truly hopping wedding party, you gotta get a DJ. Voters chose these disc jockeys as the best for weddings of all sizes, and sounds.
1. RMF Entertainment DJ Services
2. PrimeTime DJ - Jesse LaRocque
3. Hey Mr. DJ
---
WEDDING PHOTOGRAPHER
The big day is a big investment, and you don't want to miss a minute. Be certain that your memories are beautifully captured by the best professional photographers.
1. Paige Marie Photography
2. J. Willis Photography
3. Brian Powers
---
WEDDING VENUE
Montana couples like their weddings a bit on the rustic side, as illustrated by this list of top venues to get hitched.
1. The Barn on Mullan
2. White Raven Wedding & Event Center
3. Seven Mile Meadows
---
WINDSHIELD REPAIR
Whether you're busting through the backroads or cruising down I-90, windshield damage is eventually inevitable. Get your glass repaired by one of these experts and move on down the road with clear vision.
1. Safelite AutoGlass
2. J&D Glass
3. Rock Chip Squad
---
WORKOUT CLASSES
Let's get physical! No one's gonna move that body for you, so get in gear and get in shape at Missoula's favorite workout classes.
1. Peak Health and Wellness Center
2. Orangetheory Fitness
3. The Women's Club
---
YOGA
Getting your body all bendy can help unwind your mind. Find your happy place, physically and mentally, at one of these top yoga spots.
1. Women's Club
2. Peak Health and Wellness Center
3. Hot House Yoga