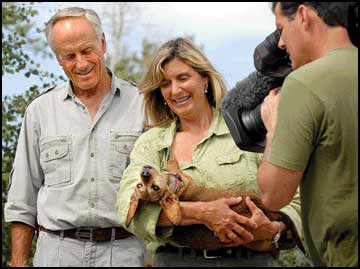 OVANDO - If Blind Moose cared that the man he moseyed up to on Wednesday consorts with elephant seals and David Letterman, he didn't give a lick.
Moose, the golden Lab, licked Jungle Jack Hanna smack on the side of his famous face.
Such was the Rolling Dog Ranch welcome accorded Hanna, the renowned wildlife expert, world traveler and television personality. Still, it was nothing compared to what the blind dog gave Suzi Hanna.
Jack's wife of 40 years and his co-host for the syndicated weekly TV show "Into the Wild," received a full facial wash from Moose's delighted tongue - with a generous tail wag behind.
The Hannas rolled into Steve Smith and Alayne Marker's animal sanctuary from their summer home in Bigfork in Jack's three-quarter-ton pickup. They were at the start of a 12-day shoot around Montana and Canada. Guy Nickerson, president of the Florida company that produces the show, jumped out, too.
The three of them were an hour ahead of the rest of the production crew, but Nickerson had his camera and he knew how to use it.
Smith and Marker, who started the unique sanctuary on Kleinschmidt Flats for blind, deaf and maimed animals in 2000, introduced the Hannas and, come this fall, TV viewers to Briggs and Charlie, the blind beagles from Georgia, and to Helen, the three-legged Rottweiler from Georgia.
They met Bailey, the miniature Dachshund with spinal damage who was rescued from a compulsive hoarder in Cascade County, and Callie, another Dachshund who's blind.
Callie found home in Suzi Hanna's arms, rolled over on her back and gazed at Jack - and Nickerson's camera - in pure contentment.
"She'll stay like that as long as you do," Marker said. "You could be standing here at 7 o'clock tonight and she'll be just like that."
"That's your salary right there, the love they show you," Jack Hanna remarked.
The summer shooting tour will reap seven half-hour segments for "Into the Wild," a weekly offering of animal and people stories from around the world. It airs in Missoula, Butte and Great Falls on Saturday mornings.
"We've got 22 people staying with us (in Bigfork) right now," Hanna said. "We've got Guy's family and all my grandkids from England and all over the place. So we just took off and said we're going filming for two weeks."
They were at the National Bison Range in Moiese in the morning. On Thursday they'll be at a horse refuge ranch near Polson. They'll do a show with state bear management officer Tim Manley on grizzly relocation in the Flathead, and another with Hanna's friend Larry Wilson, who started a no-kill animal shelter in Kalispell.
Then it's off to the Rocky Mountain Front on Saturday, where they take a helicopter ride over the Sun River country and learn about the Montana Land Alliance. The final shoots will be in Alberta, on rattlesnakes and bear dogs.
Nickerson said the shows will begin airing in October.
The Hannas usually spend June through September at the home they bought on Flathead Lake in the mid-1990s. Then Jack will head out on adventures.
"We start filming again in October, and we'll go to - where, Guy? - Borneo, Malaysia in October, back to South Africa in January, then to Mexico," he said. "I spend 240 days a year on the road."
This is probably the first time in 14 years of animal television shows that he's filmed in the summer, he said. "But I wanted to do a little bit in Montana."
As director of the Columbus Zoo in Ohio, Hanna hosted a television show called "Hanna's Ark" on a local CBS affiliate in the early 1980s. That led to appearances, usually accompanied by exotic animals, on "Good Morning America" and "Late Night With David Letterman." Hanna still drops in on Letterman from time to time, as well as Larry King, Maury Povich and talk show hosts.
In 2005, he appeared in friend Neal McCoy's music video "Billy's Got His Beer Goggles On" with a macaw, a sloth and an albino Burmese python. He's written a children's book called "Wackiest, Wildest, Weirdest Animals in the World," and just finished an autobiography.
For a dozen years he hosted "Jack Hanna's Animal Adventures," which Hanna said was syndicated to 98 percent of the country and about 40 foreign countries.
"But we did not own that show. We worked for some people," he said. "So about two years ago we decided we were going to do our own thing - 'Jack Hanna's Into the Wild.' "
The very first episode won a 2008 Daytime Emmy for Nickerson's company, Spectrum Productions. Hanna was nominated for outstanding host of a children's series.
The weekly program is sponsored by the Columbus Zoo, where Hanna still serves as director emeritus and near which the Hannas still live when they're not in Montana.
"It's the first time in the history of this country a zoo has sponsored a TV series," Jack said.
That a show called "Into the Wild" is spending time at animal sanctuaries in Montana isn't so strange, Hanna said.
"Our show is about animals, but the reason I think we have succeeded is the fact that we talk about people like these folks here (Marker and Smith), who dedicate their lives to animals - what drives them, what they do, why they do it and obviously their love of animals," he said.
Suzi Hanna came on board as co-host just recently. For the last several years of "Animal Adventures," the co-host was Kathaleen, the oldest of the Hannas' three daughters.
"Kathaleen flew with me all over the world for the old show. Then she got pregnant and screwed the whole thing up," Jack said, stealing a glance at his wife.
"He was desperate. That's all I can say," laughed Suzi, who infuses a special warmth and humor to the show.
The Hannas lived for 12 years in a home west of Red Lodge, near the boundary of the Absaroka-Beartooth Wilderness on a stream that teemed of bull trout.
Jack said he came up to this part of Montana in 1994 or '95 to cover the wildfires at Libby for ABC.
"As I was leaving there and coming back to southern Montana I drove by Flathead Lake," he recalled. "I called and said, 'Suzi, I can't believe this. It's unbelievable up here.' "
His TV series was just getting going, said Hanna.
"We couldn't afford one foot (of property) on that lake. But we made an offer, a stupid offer, for less than half of what their asking price was. We were just goofing around."
Hanna said he was in telephone contact with the Realtor friend who made the offer and was also keeping tabs on one of the Hanna girls back home, who was about to give birth.
"She calls an hour later and says congratulations," he related. "I go: 'Oh, a boy or a girl?' And she says, 'No, you just bought a piece of property.'
"I like to fall over backward on the floor of the hotel room. I mean, we don't even have the money to put a down payment on this. What are we going to do now? We'll have to back out and lose our $3,000."
They found a way, and they're happy with their Montana home on Flathead Lake these last 15 years or so.
"It was a pretty good investment," said Jack. "And then, of course, two years ago it kind of tanked."