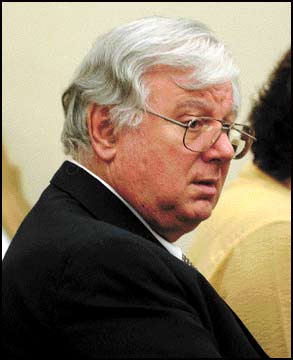 KALISPELL - A Kalispell community leader will serve two years in the Montana State Prison without chance of parole as part of a sentence handed down Monday for five felony sex crimes.
Richard Arnold Dasen Sr., 63, was convicted May 20 on a handful of prostitution-related charges, including sexual abuse of children and enticing women into prostitution.
Prosecutors charged that Dasen, a successful and respected businessman, used his loan offices to sink poor, young, often drug-addicted women into debt, later demanding sex as payment.
In addition, they said Dasen used vast sums of money to lure desperate women into motel-room beds, effectively making them prostitutes.
"These women are people who live moment to moment," prosecutor Dan Guzynski said Monday, "meal to meal, fix to fix. They have no hope" and live in "absolute desperation."
In contrast, he said, "Mr. Dasen had nothing but hope," yet opted to prey on his community's weakest.
Throughout, Dasen has insisted he broke no laws, that he was only "helping" the young women, that he had no idea they made any connection between the money and the sex, that he did not know the children were underage, and that he was unaware his millions were being used to fuel a methamphetamine epidemic in his community.
"It's absolutely incredible, some of the positions you've taken," a skeptical District Judge Stewart Stadler said Monday.
The "help" Dasen provided, Stadler said, was quite obviously "harmful to the community," to the women involved, to Dasen's business partners and to his family.
Stadler added that, "I don't believe you're so silly" as to believe the approximately
$3 million Dasen gave to young women was in no way connected to their sexual interest in him.
As to Dasen's claim that he thought the juveniles were actually adults, Stadler said, "I think you closed your eyes" when taking pornographic pictures of a girl who "looked like about a third-grader with braces."
The women may have been living on society's fringe, Stadler said, may have been drug-addicted, poor and desperate, "but they still are victims."
Which is exactly the sentiment prosecutors expressed over and over during Dasen's monthlong trial.
But in Dasen's defense, attorney George Best repeatedly referred to the women as "those people," "liars" and "druggies," in an apparent attempt to draw a sharp line between his respected client and the marginal lives of the accusers.
Dasen, in fact, continued in that vein even after his conviction, referring to the women as "dopers" during a presentencing interview. That, Stadler said, was worrisome, indicating that perhaps Dasen still thought of the victims as "disposable people."
Prior to handing down the sentence, Stadler listened to more than three hours of testimony from both prosecution and defense. A large crowd of former jurors, victims and curious trial watchers filled the seats behind prosecutors Guzynski and Lori Adams. Behind Dasen and Best sat Dasen's family, friends and supporters, including the pastor from his church.
David Castro, the Montana Department of Corrections officer who prepared a presentence report for the court, was first on the stand, detailing how his sentence recommendation was fashioned.
His office, Castro said, questioned Dasen at length, checked his criminal history, interviewed victims and reviewed his sex-offender evaluation. They looked at aggravating and mitigating circumstances, considered the impact on the victims and the community as a whole.
The work was complicated, he said, as sentence recommendations usually are based largely on a review of sentences others have received for similar crimes. But with Dasen, Stadler agreed, there were few comparisons.
"I would challenge anyone to find a similar defendant," the judge said.
Throughout the presentence interviews, Castro said, Dasen "continued to deny any accountability."
Dasen admitted to a moral lapse, Castro said, but denied it was criminal, "denied any guilt associated with these crimes."
"I would feel that aggravates the situation," Castro said, "his lack of empathy, his lack of remorse."
Balancing that against Dasen's long history of good deeds - the businessman was known to give away tremendous sums of money to those in need - Castro recommended Dasen be sentenced to 20 years, with 10 suspended.
Dasen, he said, could be parole-eligible in 2 1/2 years.
Already, Castro said, Dasen has served 117 days in county jail since his conviction, where he earned time against his ultimate sentence and "got a lot of reading done."
But Best challenged Castro's recommendation, pointing out that Dasen's entire criminal history consisted of three speeding tickets and one careless driving charge.
Best also pointed to comments by one of Dasen's juvenile victims, who told Castro's office Dasen "had problems," but is "ready to straighten up."
Best thought any sentence recommendation should take into account Dasen's age and health, which is generally good with the exception of a mild heart condition.
Dasen, Best said, wanted only to retire to his home in Arizona and continue treatment for supposed sexual addiction.
But that, said Kevin McCarvel, would be a travesty of justice. McCarvel was the Kalispell detective who spearheaded the Dasen case, an investigation that began during McCarvel's drug work.
Over and over, McCarvel told the court, Dasen's name came up in connection with meth busts. More than
$3 million in Dasen's personal and business checks were finally traced to women with whom he had sex, many of them meth addicts.
"That's an incredible, incredible contribution to an addiction," McCarvel said.
That Dasen didn't know the women were addicts, McCarvel said, was simply beyond belief.
After all, he said, many testified that Dasen specifically told them he didn't approve of drug use. Why do that, McCarvel wondered, unless Dasen knew or suspected they were users?
In fact, Dasen knew some of the women had been jailed for drug offenses, and had even bailed them out.
"It seems like everybody else knew but Mr. Dasen," McCarvel said.
McCarvel said the effects of that much money pouring into the Flathead's drug culture were "tremendous," adding that "you're never going to see the end of it."
Nor will the children Dasen enticed into bed, camera in hand, McCarvel said.
"I've seen the pictures," he said, "There's no question in my mind that these girls were children. When the pictures were taken, our children's best interests were not in mind."
In fact, McCarvel said, at one point Dasen learned one of his "girls" was a juvenile, and swore to be more careful.
"Well," McCarvel said, "it happened four more times after that. That's how careful he was."
Where Best suggested treatment, McCarvel called for prison.
Another detective, Roger Nasset, agreed, telling the court the Dasen case "affected more people than any case I've ever seen."
Echoing Nasset was Kalispell Police Chief Frank Garner, who advised that it is "surety, as much as severity, of punishment that ensures we won't have this kind of behavior again."
But Susan Dasen, the defendant's wife of 43 years and mother of his four children, insisted that there's been punishment enough to ensure there will be no repeat performance.
Amid sobs, she told the court how she's been alone since Dasen's conviction, the weight of life's business now on her shoulders.
"This has been awful," she said. After months on the rocks, she said, their marriage has emerged stronger than ever, and "now I just would really like the chance."
Daughter Cissie also wanted Dasen to be finished with treatment and back home, saying "he's very remorseful for what he did. He's very sorry. We would like the chance to heal."
When the family visits him in jail, she said, "we've got a glass between us when we talk, and for what he did, it is not right."
As far as Dasen's daughter was concerned, "all he's about is helping, and that's all he's been about."
Dasen's pastor, Darold Reiner, told the court of Dasen coming to him in the days after the initial arrest, "with tears in his eyes, confessing that he had sinned."
Dasen surely has, he said, "taken personal responsibility. He's very accountable. He knows what he did was wrong."
Dasen, Reiner said, "was led astray," and his place now is with his family, not in prison.
But under questioning by prosecutors, Reiner admitted Dasen had confessed to adultery, to sins against his god, but never to a crime - never to paying for sex, never to promoting prostitution, never to taking pornographic pictures of children, never to contributing to the meth epidemic.
"You still don't feel you did anything wrong," Judge Stadler told Dasen. "I can tell you, you're not in front of this court today because you committed adultery."
After listening to testimony from Dr. James Myers, the psychologist who conducted Dasen's sex-offender evaluation, Stadler added prison time to Myers' recommendation that Dasen complete treatment for sexual addiction.
The treatment recommendation stands, however, as does Myers' suggestion that Dasen be prohibited from unsupervised contact with young women. In addition, Stadler accepted Myers' recommendation that Dasen not be in a position to offer loans to anyone in the future.
Dasen's convictions came with a possible 125 years in prison, but even prosecutors agreed no good would come of such a punishment. Instead, they advised something in the range of the presentence report - a couple of years of prison time and the rest suspended, assuming Dasen keeps clear of future trouble.
Best countered that Dasen's crimes were nonviolent, that Dasen was a philanthropist, that he's led a law-abiding life - with the exception of the recent felonies. Dasen, Best said, presents no danger, is not likely to repeat his crimes.
Best, like Dasen himself, seemed to minimize the criminal aspect of Dasen's actions, saying his client is "guilty of felony bad judgment."
In fact, Dasen is guilty of one misdemeanor prostitution charge, three felony prostitution charges, felony promotion of prostitution and felony sexual abuse of children.
For those counts, Stadler handed Dasen two years with no parole for one conviction of felony prostitution. For the second such charge, Stadler gave Dasen three years, suspended. For the third, five years, also suspended. For the misdemeanor, six months in county jail, suspended.
Those punishments are to run concurrently with a 10-year sentence for sexual abuse of children, with all of that time suspended.
Consecutive to that 10-year sentence, Stadler gave Dasen another 10 years for promotion of prostitution, then suspended that time.
The end result: 20 years, with two to be served in Montana State Prison without parole and the remaining 18 to be suspended, assuming Dasen meets all treatment conditions.
That sentence, Stadler said, was the only way he could get any "certainty" that Dasen would serve some prison time, but not too much.
Dasen, his silver hair a bit longer than when he left 117 days ago for life in county lockup, remained impassive as Stadler handed down the sentence. The audience, likewise, seemed unemotional and unsurprised.
"Personally, I think that life behind bars would be justice," said Connie Guzman, whose young daughter died in a car wreck, high on a meth addiction paid for with Dasen's money. "I'll live with the decision, but I'm not happy, not considering the devastation he caused."
"You know," Guzman said, "he's worried about getting to spend time with his family. Well, I'll never see my daughter again. My grandchildren will never spend time with their mother. And I'm just one of many, many, many. There's no way this was justice. The sentence doesn't even touch what he did to this community.
"But we'll accept it. What else can we do?"
Be the first to know
Get local news delivered to your inbox!