Zinke leads Juneau in contest for Montana's only U.S. House seat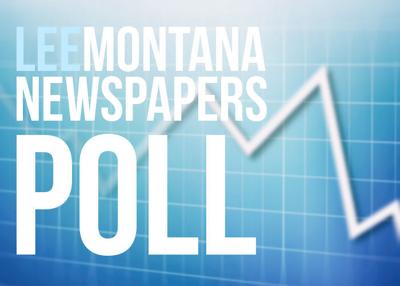 In the race for Montana's sole U.S. House seat, incumbent Republican Rep. Ryan Zinke leads his challenger, Democrat Denise Juneau, according to a statewide poll commissioned by Lee Newspapers.
Despite record fundraising and polling solid support among Democrats, Juneau, the current state Superintendent of Public Instruction, will need to make big moves in the final weeks of campaigning to close the gap with the freshman Republican, analysts said. Among registered and likely Montana voters polled, 40 percent said they'd cast their ballot for Juneau and 53 percent for Zinke. Only 6 percent reported being undecided in the race, and the poll has a margin of error of 3.2 percentage points.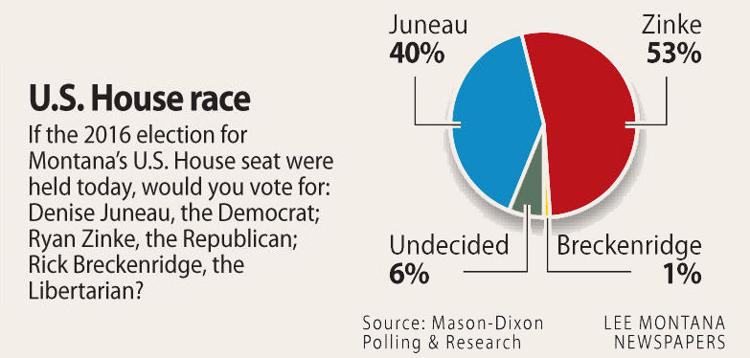 "It's hard to see a Juneau win from these numbers," University of Montana political scientist Christopher Muste said after reviewing the results of the Mason-Dixon poll conducted last week. "She would need a major surge in support and that probably includes some new negative information coming out about Zinke that changes voters' minds."
If Zinke's lead holds, it would deliver a blow to an ambitious national Democratic effort to gain control of the U.S. House by taking over dozens of seats from Republicans. Juneau's campaign had been highlighted by several Democratic groups and some independent analysts as a race to watch earlier this year.
Although incumbents typically have a strong advantage when running for reelection, freshman congressmen like Zinke are the easiest to unseat and some had wondered if his endorsement of Donald Trump – a candidate other Montana Republicans have distanced themselves from – could push independent voters to Juneau.
"She's getting killed among Independents," Montana State University political scientist David Parker said, pointing to Zinke's 54-37 lead. "No Democrat can overcome the fact 40 percent of the electorate (in Montana) is Independent."
The numbers on Independents parallel those in the presidential race, where Trump leads Hillary Clinton 50-28 among those voters. Another 13 percent said they would vote for Libertarian Gary Johnson.
In the House race, only 2 percent of Independents polled said they support Libertarian Rick Breckenridge, who joined the race earlier this month after Mike Fellows, a well-known party leader, died in a car wreck. Some analysts wonder if voters' unfamiliarity with Breckenridge, a surveyor from rural Proctor, has led them to support Zinke.
Analysts also pointed to the top issues named by voters as a possible reason for Zinke's lead. Among those polled, 26 percent named the economy and jobs as the most important issues, closely followed by national security and fighting terrorism at 25 percent.
Juneau has focused much of her campaign on attacking Zinke's votes on public lands and forest management bills, sometimes with misleading suggestions he had supported the sale or transfer of federal public lands. Zinke, a retired Navy SEAL, has been vocal in his first term about military decisions, anti-terrorism tactics and the vetting process for refugees.
"If people believe national security is a major issue, this poll suggest people feel safer with Zinke – even among women," Parker said, noting that 48 percent of female voters said they support the Republican. "Even though Juneau is woman."
Juneau's campaign manager, Lauren Caldwell, questioned the poll's accuracy, noting internal campaign polling has shown the race as much tighter. She dinged the polling company, Mason-Dixon, for incorrectly predicting the outcome in two tight statewide races in 2012.
The group has had a consistently good record of being close to the final results of Montana races since the 1990s. The sample size of the poll four years ago was about half as big as the one conducted last week, which also included a larger list of cell numbers.
"The polls have trended in her direction. The last poll we saw has Denise within the margin of error," Caldwell said of the campaign's internal polls. "The fact that Congressman Zinke has been running negative attack ads since the beginning of September shows that he's seeing the same numbers, and he's scared."
Zinke spokeswoman Heather Swift disagreed, saying the Lee Newspapers poll fit their own internal polling, which had recently shown him with an 11-point lead.
"We're definitely not taking this for granted," she said. "We're going to shore up support in other areas, like Butte-Helena where we're at 45 percent. You can count on us visiting folks there some more."
Lee Banville, a political researcher and journalism professor at the University of Montana, said it is normal to see candidates release conflicting poll results.
"Essentially every campaign will roll out in the last few weeks, especially as people are getting ready to vote, a poll that says they are behind but think they can close the distance. The other campaign will release a poll saying they're pulling away," he said. "I will say I was surprised at how big (the gap) is. I was expecting something in the 8 percent range."
He and other analysts cautioned that polls only provide a snapshot of a moment in a campaign and that as candidates release their strongest ads in the final weeks, numbers can shift. They all, however, agreed that the poll presented a dim outlook for Juneau.
"That 40 percent support is about what John Lewis got in 2014," Parker said. "John Lewis up to that point had raised more money than any other Democrat in the U.S. House race since 2000. Juneau has raised more money than John Lewis and even though I think she's run a more efficient campaign, that gap is going to be very hard to overcome."
If Democrats turn out in higher numbers than previous years or comparatively more so than Republicans, Banville said the race's results might be closer than the poll suggests, although he doubts a strong base turnout alone is enough for Juneau to win.
In a statement, the Juneau campaign argued the poll did not accurately reflect what they expect to be record turnout among American Indian voters, who traditionally have favored Democrats.
Juneau, an enrolled member of the Mandan and Hidatsa tribes who grew up on the Blackfeet Reservation, has spent significant time campaigning in Indian Country and has been involved in efforts to register more voters there. The state and counties also have, for the first year in most places, planned to open voting centers on the state's reservations for Election Day rather than forcing residents to drive to sometimes distant polling locations.
Banville said the way the poll is split into five large geographic areas makes it difficult to draw any conclusions about the reservation vote.
"If she really is down 13 points, that's too big (to overcome) in my opinion," Banville said. "That's not a question of undecided voters or turnout."