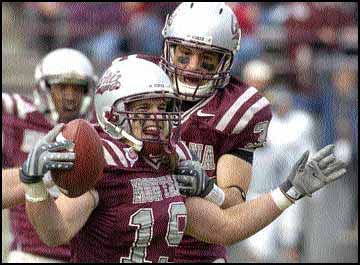 The Montana Grizzlies have taken over the second-place spot in the Big Sky Conference.
Chase Reynolds rushed for 157 yards and three touchdowns and Cole Bergquist passed for 186 yards and three more scores in Montana's 45-10 win over Northern Arizona Saturday afternoon.
Mike Ferriter had two touchdown catches and Marc Mariani one for the Griz.
The Grizzlies, ranked sixth in the Sports Network Poll, rushed for 223 yards against NAU, which had been allowing its opponents less than 19 yards rushing per game.
Montana took advantage of early turnovers to take a 28-0 lead just three minutes into the second quarter.
Deonte Williams rushed for 105 yards and a touchdown for 19th-ranked NAU, which lost its second straight league game.