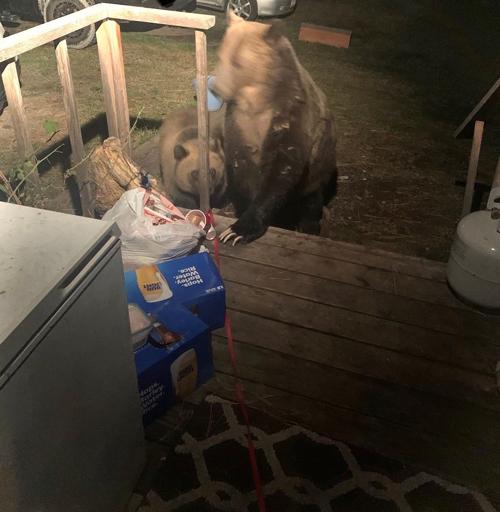 Grizzly bears have been getting in trouble or killed around the Kalispell area as food attractants draw them into human communities.
Montana Fish, Wildlife & Parks officials captured and relocated five grizzlies in the past month and recovered another killed in a car collision. FWP spokesman Dillon Tabish said the bears' pre-hibernation feeding makes them more active and intent on finding food sources.
"Most of the reports involve bears seeking food attractants, such as domestic fruit trees, garbage, and other food sources near residences," Tabish said in an email. FWP has set up a Facebook page called Flathead Fruit Gleaning for people with excess fruit to get help clearing it off their property. He recommended residents should stay at least 100 yards away from bears and other wildlife while trying to haze them off property with loud noises. Chickens and other livestock should be properly secured with electric fencing or inside a closed shed with a door. Recreationists are urged to "Be Bear Aware" and follow precautionary steps and tips to prevent conflicts, including carrying bear spray and knowing how to use it, and travel in groups while making noise.
Big-game hunters heading into the field at the start of rifle season this Saturday should also keep their camps and carcasses bear-resistant. That includes proper storage of carcasses inside secure structures or high enough that bears can't reach, carrying bear spray in the field and being familiar with its use.
On Wednesday, FWP bear specialists captured an adult female grizzly and a male cub of the year near Columbia Falls Stage Road after the bears were spotted tipping over garbage cans and eating fallen fruit in people's yards. The female had been captured in a previous research project and was 19 years old. Both bears were relocated to the Logan Creek area of Glacier National Park.
Earlier on October 13, bear specialists caught an adult male grizzly west of Pendroy along the Rocky Mountain Front after it fed on grain and garbage in a resident's open garage. It did not have a previous conflict record, and so was relocated in the Puzzle Creek drainage above Hungry Horse Reservoir. The resident is installing a door on the garage and working with FWP on other deterrence options.
Also on the 13th, Flathead-area bear managers caught a subadult grizzly male north of U.S. Highway 2 near the former Columbia Falls Aluminum Co. They were trying to catch a female with a cub that were raiding garbage in the area. None of the bears were observed acting aggressively. The captured bear was moved to the Dead Horse Creek area in the Flathead North Fork drainage.
On Sept. 26, a vehicle on Highway 40 east of Whitefish hit a female grizzly cub and killed it about 5:30 a.m. An adult female with another cub of the year was reported in the same area, but were not involved in the incident.
And on Sept. 11, a subadult male grizzly was captured after it killed a pig and fed on fruit trees off East Edgewood Drive east of whitefish. It was its first capture and did not appear aggressive, so it was relocated to the east side of Hungry Horse Reservoir.
Residents are encouraged to report bear activity as soon as possible. To report grizzly bear activity in the greater Flathead Valley, call FWP bear management specialists at (406) 250-1265. To report black bear and mountain lion activity in the greater Flathead Valley, call (406) 250-0062. To report bear activity in the Cabinet-Yaak area, call (406) 291-1320.
Be the first to know
Get local news delivered to your inbox!