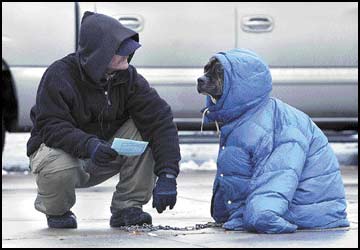 Collette "Little Bit" Lint.
They were fathers, sons, brothers, a daughter. Their average age was 57. They were all homeless.
In 2004, they died too early.
Late Tuesday, as the winter's first good snow fell, they were memorialized at Missoula's fourth annual ceremony for the homeless who have died.
"Let us fight as a community to help those who are less fortunate," said Henry Graciani of the Salvation Army.
Cat McKay met Jimmie Proffer at the Poverello Center, where she works and he stayed for a short time. He got clean clothes and hot food. He came in as a homeless man and McKay gave him love. She expected nothing in return. And yet he left her something.
On the morning of Oct. 20, she found him dead in his bed. The room was serenely peaceful.
"The peace that man left was for me," she said.
Larry DeGarmo, who has worked with the homeless for years, was Daniel DeGarmo's brother. Daniel, Larry said, was for a while a productive man, a truck driver.
Yet injuries drove him to misfortune. His life "spiraled down," his brother said, and finally ended. Still, Larry remembers his brother as a man who, even when impoverished, shared what little he had.
Pam Schlegel, a project manager at Partnership Health Center, knew Collette Lint well. She knew Lint as an alcoholic, but she also had a chance to see the woman behind the pain of addiction.
"She had a heart as big as the mountain and she was as sweet as anything," Schlegel said.
And that, Schlegel and Graciani said, is part of the travesty of homelessness. The homeless aren't just bums and misfits. They had lives that somehow slipped off track.
They aren't simply men living under the bridge. They're women and children. Sometimes they're even people with enough money for either food or shelter. They make the only choice they can.
Tuesday's ceremony at the Missoula County Courthouse fell on the winter solstice, the darkest day of the year. That, said Poverello director Joe Bischof, was fitting.
The homeless who died lived lives that were too short, he said. And yet the days, starting Wednesday, grow longer.
"The days will get longer, and hopefully so will the lives of the homeless," Bischof said.