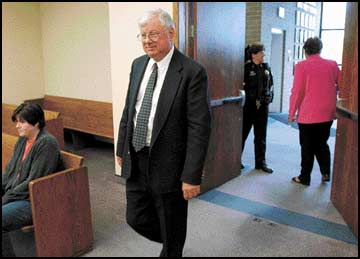 KALISPELL - Attorneys in the sex-crime case of a Kalispell businessman laid out a road map of sorts Wednesday, providing jurors a rough guide to what they can expect to hear over the coming weeks.
In opening statements, prosecutors portrayed Richard Arnold Dasen Sr., 62, as a predator, saying "this was someone who was in the business of keeping prostitutes."
Defense attorney George Best, however, painted Dasen as a successful and philanthropic businessman, with years of volunteerism in the community. "He was stupid and he was an adulterer," Best said. "But he did not commit a crime."
Dasen is, however, charged with crimes - 14 to be exact. He faces more than 350 years in prison if convicted on all counts. Charges include raping a juvenile girl, compelling juveniles into prostitution, sexually abusing children, encouraging women to become prostitutes, and entering into sex-for-money relationships.
He has been accused of using his loan offices, Christian Financial Services, to provide money to the girls, then expecting debt payment in the form of sex.
His trial is expected to last as many as six weeks, during which more than 1,000 pieces of evidence and some 130 witnesses could be introduced to jurors.
"The money and the sex are related," prosecutor Lori Adams told jurors during her opening statement Wednesday. That conclusion, she said, was reached after lengthy investigation and review of evidence, including statements Dasen made to police following his Feb. 7, 2004 arrest.
Adams listed a handful of children, ages 15 to 17, with whom Dasen is accused of having sexual relations.
Some he had sex with, she said, leading to the charge of rape, as juveniles are not, by law, capable of granting consent for sexual relations.
Some he photographed in sexual encounters, leading to the charge of sexual abuse.
And some he enticed, with cash, into performing sexual "shows" for his pleasure, which led to the charge of coercing children into prostitution.
Dasen, she said, should have known there was a "high probability" the girls were underaged. In fact, Adams said, one of the girls told Dasen she could not obtain financial assistance from a credit bureau "because of her age," yet she said Dasen later paid her $3,500 to have sex.
The remaining charges, Adams told jurors, are related to Dasen's alleged sex-for-money relationship with young adult women. Most, she said, were methamphetamine addicts, "desperately poor single women."
And while prosecutors are "making no excuses for them for what they did," Adams said, the women, "prior to meeting the defendant, were not prostitutes."
Prostitution, she said, "does not mean you have to be the hooker on the corner."
The women, she said, needed the money to feed themselves, to feed their children and to feed their addictions, and Dasen used his position of wealth and power to take advantage of those needs.
"He was aware," she told jurors, "of their dire financial situation."
Adams introduced charts and graphs, visual aids showing what she said were vast sums of money received by some of the women for sexual encounters with Dasen. For some of the women, it ran to more than $30,000 in a short six months, with payments in excess of $7,000 a week.
Most of us haven't been mired in debt and addiction, Adams said, and so don't know what we might do for that kind of cash.
"These women," Adams said, "found out what they would do."
The women, Adams said, were not given any financial advice through Dasen's Christian Financial Services. Rather, they were simply given cash.
Dasen does not deny having sex with the women, nor does he deny providing them cash. He has told police the loans and cash gifts were a way of "helping" the struggling girls and women.
"I think having sex with the girls is not helping them to get back on their feet," Adams told jurors.
Adams warned jurors about some of the "disturbing" evidence that will be introduced, including photographs allegedly taken by Dasen. "I warn you," Adams said, "that they are sexually explicit photographs."
The photographs, however, are but a tiny portion of the evidence to be presented. Prosecutors worked Wednesday to prepare jurors for not only the shocking nature of some evidence, but for "voluminous" stack of exhibits to come.
Adams urged jurors to stay on point and not lose interest in the details as the trial drags on.
Defense counsel Best, likewise, hopes jurors will not be overwhelmed by the amount of evidence to be introduced against his client. He told jurors to anticipate five to six weeks in the courtroom, asking them to "listen to everything. Don't come to a conclusion until all the evidence is in."
His concern seemed to be that prosecution evidence might swing jury opinion before the defense ever got a turn to make its case.
Best told jurors they'd hear about Dasen's good works, his charity that has helped the Flathead Valley's poor pay for housing, medication, food, utilities, day care, "generally every sort of charitable cause."
But, he said, "there's no fool like an old fool. Mr. Dasen was duped and acted foolishly."
Dasen, Best told jurors, "committed adultery, and he did it often."
That lapse, Best said, already has destroyed Dasen's personal life and self-esteem.
But, Best said, there was no crime. Dasen had "affections" for the women, Best said, and "truly felt for all the people with whom he was involved."
On his arrest, Dasen told police there were so many women, he could not remember how many he was involved with.
Best also questioned whether Dasen was manipulating the girls and women, or whether it was the other way around. "Before it's over," he predicted, "you'll wonder who had control."
The girls recruited one another to tap into Dasen's cash, he said, as "news of a free handout grew like wildfire."
Best hit several times on the fact that Dasen's personal life is in ruins, hinting, perhaps, that the defendant had already paid the price.
Dasen's philanthropic help, Best said, "has for 30 years always been without a string attached."
He "did not take advantage" of the girls, Best said, "did not hurt them. His goal was to help them." As for the money, Best said, "he presented it freely, without strings, hoping to better their lives."
He also urged jurors to look deeply into the motives of the women who will be called as witnesses, as "some of these people who will testify would say anything to anybody to get what they wanted."
Nearly all, he said, are "prone to lie," and jurors should "be very cautious when viewing the witnesses."
Prosecutors have acknowledged that Best's efforts to smear witnesses might succeed, to a degree, as many are, or were, drug addicts with histories of trouble with the law. But the defense position that Dasen was a man of high character might be harder to sell while at the same time admitting he had sex outside his marriage with dozens of young drug-addicted women.
As to whether Dasen could possibly have thought he was helping the women and girls, prosecutor Adams said, "ask yourself, are they better off today, away from Dick Dasen, or when they were with Dick Dasen?"
The answer, she hopes, will help guide jurors on their journey into a disturbing world of drugs, sex and money over the coming month.