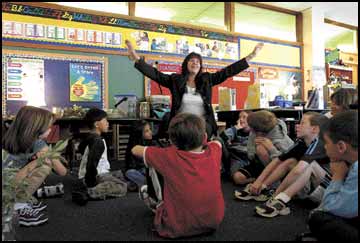 While state education leaders are still looking for a way to deliver Indian Education for All in Montana schools, they may find they're following in the footsteps of Lewis and Clark Elementary School teachers.
The Missoula K-5 school landed $10,000 in grant funding this summer to develop its own multicultural lessons and activities. The money is already at work.
On Tuesday, Margaret Petty's third-grade class spent the morning visiting with Salish-Kootenai College expert Julie Cajune about edible plants and Salish greetings.
Cajune's visit quickly became cross-cultural when Tristan Polk pointed out a different interpretation of "Aaah," her Salish word for hello.
"That's how you say 'yes' in Blackfeet," the boy said. Other children chimed in with greetings in German, Gaelic and Spanish. Cajune worked them through the unfamiliar diacritical marks, half-whispered sounds and loping rhythm of Salish speech.
Lewis and Clark teachers have already had one day of in-service training on ways to mix American Indian culture into their daily lessons. They've also taken a field trip of their own to the Flathead Indian Reservation to meet with cultural experts and develop more ideas for their classrooms.
"At first, we're learning for ourselves," Principal Karen Allen said. "We're looking for things that we'll work on for the classroom. We're piggybacking on what other people have already done, and then we will serve as a resource to other people."
Lewis and Clark School has a larger-than-average contingent of Indian students, Allen said. One of her personal ambitions is to make her urban, mostly white school more comfortable for Indian students and families. Another is to grow the awareness of those majority students to the depth of Native culture all around them.
University of Montana doctoral student and Lewis and Clark parent Phyllis Ngai helped write the grant applications to the American Association of University Women and Montana Committee for the Humanities that provided the funding.
In her research on Indian education over the past several years, she found a key element was building personal relationships with cultural experts.
"We're trying to create face-to-face, person-to-person connections," Ngai said. "There aren't lots of books available for Salish, Pend Oreille or Kootenai culture. You need to ask Indian elders and educators to go to the classrooms."
Teachers like Petty also are taking notes about which lessons work and which need different approaches to be successful. Cajune's presentation on native plants triggered an avalanche of children's opinions about the taste of chokecherry syrup, the intriguing smell of mint and the wild appeal of huckleberries.
"And all the plants we talked about today are outside in our garden," Perry said of the school's outdoor discovery garden. Student Kevin Ho was ready for that.
"Can we go outside and take a look?" he asked.