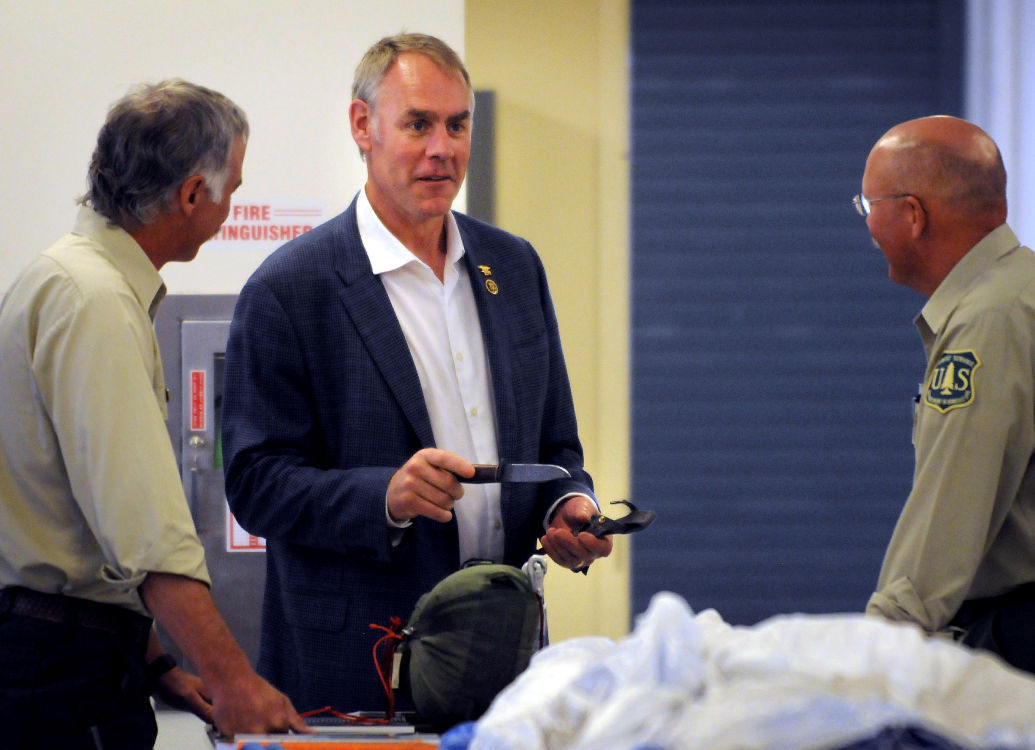 Proposals to speed up logging projects apparently killed chances for fixing the U.S. Forest Service's "fire borrowing" problem as Congress moved an omnibus budget bill toward passage Wednesday.
The 2,009-page bill does include re-authorization of the Land and Water Conservation Fund, which was a bipartisan goal of Montana Republican Sen. Steve Daines, Republican Rep. Ryan Zinke and Democratic Sen. Jon Tester. But the Montana delegation's push for categorical exemptions and expedited approvals of logging projects ran into opposition from both national environmental groups and Senate Republican leadership.
Both Senate Energy and Natural Resources Chairwoman Lisa Murkowski, R-Alaska, and ranking member Sen. Maria Cantwell, D-Wash., opposed including the Forest Wildfire Funding and Forest Management amendment that was backed by a large coalition of logging, recreation and conservation groups as well as members of Congress from both parties and the Agriculture Department.
The legislation would have allowed the Forest Service to pay for wildfire expenses each year without raiding its other operational budgets, using an accounting method similar to how other natural disasters like hurricanes and tornadoes are covered.
The fire-borrowing plan was linked to a forest management rider pushed by Zinke. The rider would have allowed the Forest Service to limit its analysis of logging projects to only the proposed version or no action (instead of looking at multiple options of varying sizes), and allow logging projects of 3,000 acres or less to skip some environmental review through "categorical analysis" if they're supported by collaborative groups.
"In the House, Rep. Zinke was able to build up Democratic support for his forest bill because it focuses on local collaboration and active management as well as targeting frivolous lawsuits," Zinke spokeswoman Heather Swift said in an email. "But there are some in the Senate who ignore the facts and don't believe active forest management will help Montana against wildfires."
Environmental groups including Defenders of Wildlife, Earthjustice, the League of Conservation Voters and the National Parks Conservation Association argued the fire-borrowing fix should have been a standalone measure. Murkowski's office objected that the forestry measure didn't do enough to speed up logging.
"Congress missed a big opportunity to give the Forest Service the tools it needs to properly manage the forest in the face of catastrophic wildfires," Tester said in an email Wednesday. "Firefighting is eating up more than half of the Forest Service budget, and that will only get worse over time. This is costing Montana jobs because it means the Forest Service is not managing timber better, increasing conservation, or providing more recreation opportunities."
Zinke's proposals to require bonding and binding arbitration from logging sale opponents was stripped out of the version that got attached to the fire borrowing legislation.
Tester, Daines and Zinke all hailed the inclusion of the Land and Water Conservation Fund reauthorization. That program collects royalties from federal offshore oil and gas leases, and grants the proceeds for public lands improvements. For example, last week's acquisition of a $21 million conservation easement on Whitefish's Haskill Basin included $7 million of previously approved LWCF grants.
The omnibus language increases fiscal 2016 LWCF funding to $450 million (from $306 million in 2015) and keeps the program running for three years. Tester called it a partial victory.
"While I'm relieved that LWCF may be revived, this temporary authorization and short-term funding misses the mark in what should have been an easy bull's-eye," Tester said in an email.
The spending bill provided an additional $117 million to the Bureau of Land Management's $1.2 billion budget, including $60 million for sage grouse steppe habitat restoration. The U.S. Fish and Wildlife Service received a $69 million increase to its $1.5 million budget. And the Forest Service got an additional $35 million to its $2.5 billion budget.
Oil exports would be allowed under the omnibus, ending a 40-year ban and encouraging domestic fossil fuel production. The package also includes tax incentives sought by wind and solar alternative energy producers.