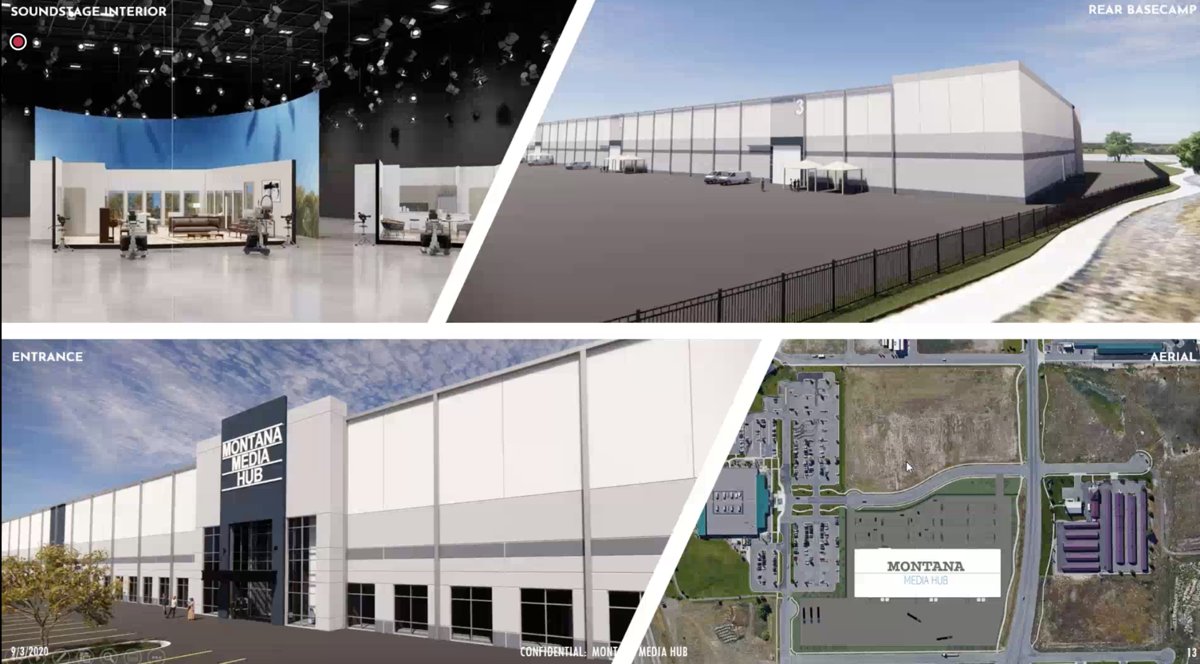 Missoula could soon be home to a television and film studio for large-scale productions, targeting producers and streaming platforms such as Netflix, Amazon, Apple, Paramount, Warner Bros., and Hallmark.
As planned, the proposed $19.1 million facility will comprise 120,000 square feet of production and operating space and six acres of backlot on about 17 acres of land in the Missoula Technology Park, about a mile north of the Missoula International Airport.
Adam Graham with Shadowcast Partners, a Georgia-based studio company with Missoula ties, and Montana Studios CEO Steve Grover presented preliminary plans to Missoula County Commissioners on Thursday for parcels of land they intend to purchase in the Missoula Technology Park, which is owned by the County. The county has already approved zoning for the project on the property, and the Missoula Development Authority is expected to recommend the offer on the property to commissioners next week.
"We really think Montana is poised to, with the right investment, really establish a strong and new industry and within the state due to the MEDIA Act, which was the tax incentive passed last year," Graham said. 
Graham said he and Josh Schroeder, a friend and business partner who resides in Missoula, selected the city primarily due to the 2019 MEDIA Act tax incentive, which includes transferable tax credits for expenditures made on production crews, actors, set construction and catering. According to Graham, the MEDIA Act places Montana among the top five highest incentive programs in the country.
Planners said states like Georgia and Utah, which passed similar tax incentives, have established robust industries and seen an economic impact multiplier of of 2.5 to 3.5 for every dollar of direct investment in film and TV productions.
The proximity of the facility to Los Angeles would also give it an advantage over other emerging production destinations in places like Georgia, Ohio and North Carolina by reducing costs to transport equipment, crew and talent, according to Graham.
Additionally, the studio's location near the airport, which welcomes daily flights to and from Los Angeles, and hotels, would make travel easy for out-of-state crew, Graham said. 
The studio would be the first of its kind in the state, and, according to planners, would generate significant economic activity for the community, including direct production expenditures, and indirect benefits such as job creation, the purchase of local goods and services, and hotel occupancy.
The facility would include three sound stages totaling 60,000 square feet, mill space where props could be built, office and flex space. Although the facility will be built to house multiple tenants at once, it is also possible for a single tenant to lease the entire space.
Graham said the "flex space" could be overflow for office, storage, or home to smaller tenants such as video game producers.
The six-acre backlot can also be utilized for future sound stage expansion, which would allow the studio to double its capacity once the demand is met.
Graham said they are working with a group of industry experts, and local companies such as Jackson Construction, which is one of two general contractors investors are speaking with. Graham said they are also working with a media management and consulting company called RoadTown Enterprises that has worked closely with groups like Netflix, Apple, Warner Brothers, Marvel, and manages other large studios of the same kind in various states.
A preliminary development schedule slates October for the final approval of a design for the facility, November to close on construction financing, and December for final approval by the County, with construction to follow for the remainder of the year. Graham said construction could take anywhere from 10 to 15 months.
Get local news delivered to your inbox!
Subscribe to our Daily Headlines newsletter.