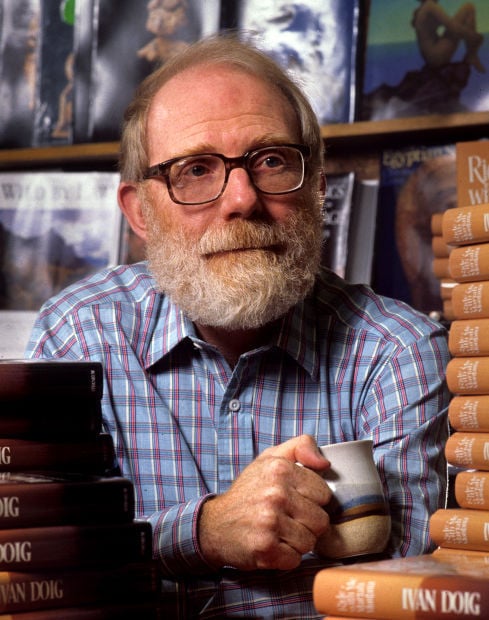 Friends, fellow writers and book lovers remembered award-winning author Ivan Doig as a gracious and kind person who loved both literature and diligent historical research.
Doig, referred to as "the dean of Western writers," died early Thursday morning, according to an email from his publisher.
The 75-year-old White Sulphur Springs native died at his home in Seattle. The cause was multiple myeloma, a cancer of the plasma cells, from which he'd suffered for eight years, Riverhead Books wrote in a statement.
Lois Welch, a longtime family friend, described Doig as "alive to language," a trait that drew him toward fiction from his original career as a journalist.
"He talks about words as though you could just put them in your hand and pet them," said Welch, a retired University of Montana English professor.
Doig was born in 1939 and raised on the Rocky Mountain Front.
He worked as a ranch hand before earning his bachelor's and master's degrees in journalism from Northwestern University and his doctorate in history from the University of Washington.
After working in journalism, he transitioned into memoir with "This House of Sky: Landscapes of the Western Mind."
His recollection of growing up along the Front was a finalist for a National Book Award in 1979.
Missoula-based writer William Kittredge recalled that when "This House of Sky" was released, the literary world "identified a major Montana writer coming right out of the box."
"It had a lot to do with really opening up ideas about what life was like out here and what it could be like here," he said.
The success of that book and Doig's subsequent novels was born of his diligent work ethic in addition to the quality of its prose.
When the book was first released, Kittredge said, Doig loaded up his car with boxes and boxes of copies of his memoir and drove around Montana to small bookstores for signings.
He kept it up over the years, too, building up a fan base that identified with him and his stories.
"People in those towns regarded him as a friend," Kittredge said. He'd frequently hear people say, "Ivan's going to be here soon," the rare instance of fans referring to a writer by their first name.
Nor was Doig limited to one part of the state in his writings – his novels traversed the western half to central Montana and the far eastern parts of Big Sky Country.
"He covered the state, and he covered it well," Kittredge said.
In 1984's "English Creek," Doig first ventured into Two Medicine country, a re-imagining of his childhood environs that served as the setting for many of his later novels. That book introduced the McCaskill family, and expanded to a trilogy with "Ride with Me, Mariah Montana" and "Dancing at the Rascal Fair."
"Work Song" and "Sweet Thunder" used Copper King-era Butte as his muse; and "Bartender's Tale" took inspiration from his childhood.
Those last three books were all written while he was ill, as was his final novel, "Last Bus to Wisdom," which will be published in August.
Welch met Doig and his wife Carol at a conference in 1979, shortly after the publication of "This House of Sky."
Welch, widow of the Montana literary icon James Welch, said the couples became fast friends.
Carol taught in Seattle, while Lois taught here in Missoula, and both were supporting their writer-husbands, a financial anomaly in American marriages at the time.
"At that point in American culture, about 7 percent of women were supporting their husbands," she said.
Welch remembers Doig as a jovial, natty dresser who loved Scotch and gardening, and always kept a notepad in his shirt pocket. The Doigs made frequent trips to Montana for his book research, a hallmark of his writing and his life.
"That's what he liked to do best in the world," she said. "You didn't find Ivan under a palm tree, you found him in the archives in Helena."
When he and Carol came to visit, the two were always conducting research for his books, often waking up early in the morning to head to archives or libraries.
Even when he was out with friends and heard an expression he liked, he'd write it down in one of those notepads, which he would file away at his home.
Carol, who survives him, had a true partnership with Ivan, said Barbara Theroux, a family friend who manages Fact and Fiction bookstore in downtown Missoula.
The two chose not to have children, Welch said, preferring to spend their lives as a pair pursuing their passions.
Doig continued drawing acclaim over his busy career.
In 2007, he was honored with the Wallace Stegner Award by the Center for the American West.
He won the Western Literature Association's Lifetime Distinguished Achievement Award, and the Pacific Northwest Booksellers Association gave him more accolades than any other author.
Here in Missoula, he drew a thousand people at the gala reading for the Festival of the Book at his last appearance several years ago.
"Montanans truly identified with Ivan and claimed him as their own," Theroux said.
Doig deeply loved his home state and its history, but lived in Seattle "for the anonymity it gave him as a writer," Welch said.
Not to say he wasn't well-known in his adopted city.
Mary Kay Sneeringer of Edmonds Bookshop in Seattle said her store was one of Doig's first stops on his book tours.
"He was wry, intelligent, observant, a little reserved but ready with a quick story and, boy, he was very patient," she said.
His signings drew Harry Potter-like lines, she said, and he loved making connections with other people through his stories, particularly others who'd grown up in small-town Montana.
Kittredge recalled a group signing years ago in Seattle, at which he and his fellow authors weren't selling many copies of their books.
Except Doig, who had his mitts wrapped in tape.
"He was complaining because he'd signed so many books he had blisters on his hands," Kittredge said.
Like many writers, though, the limits of the term "regional author" troubled Doig.
He addressed it in a note to readers on his website: