Figures in solitude or finding solace in nature or with animals tie together "Dog Days," a new exhibition that offers glimpses into several different styles of work that ceramic sculptor Adrian Arleo has honed over decades.
The work is largely new, created during the pandemic, which is subtly visible in some of the themes.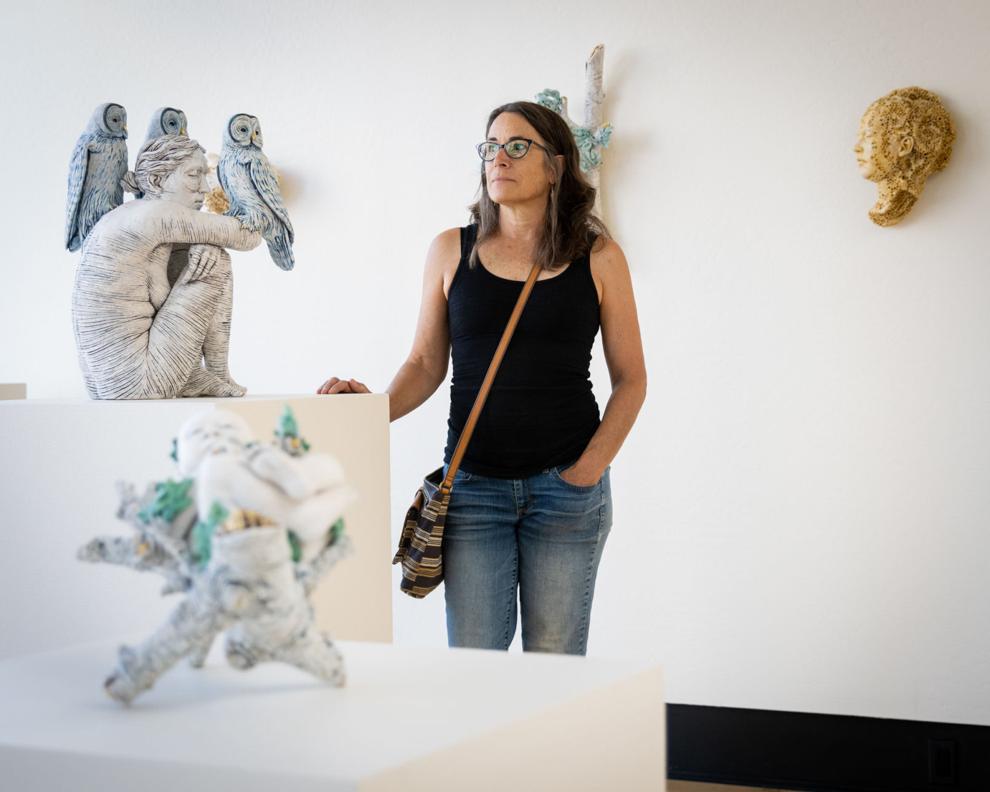 "I was really hunkered down," she said. "I didn't see anyone for a long period. I have a lot of animals — dogs and horses and chickens, so there's a lot to take care of."
She added they were good company — "the nice thing about being with all of them was they were not stressed out."
It's also a rare chance to see the Lolo creator's work in large quantities — "Dog Days" is her first exhibition in Missoula since 1996 at the Missoula Art Museum, although she's lived here since the early 1990s.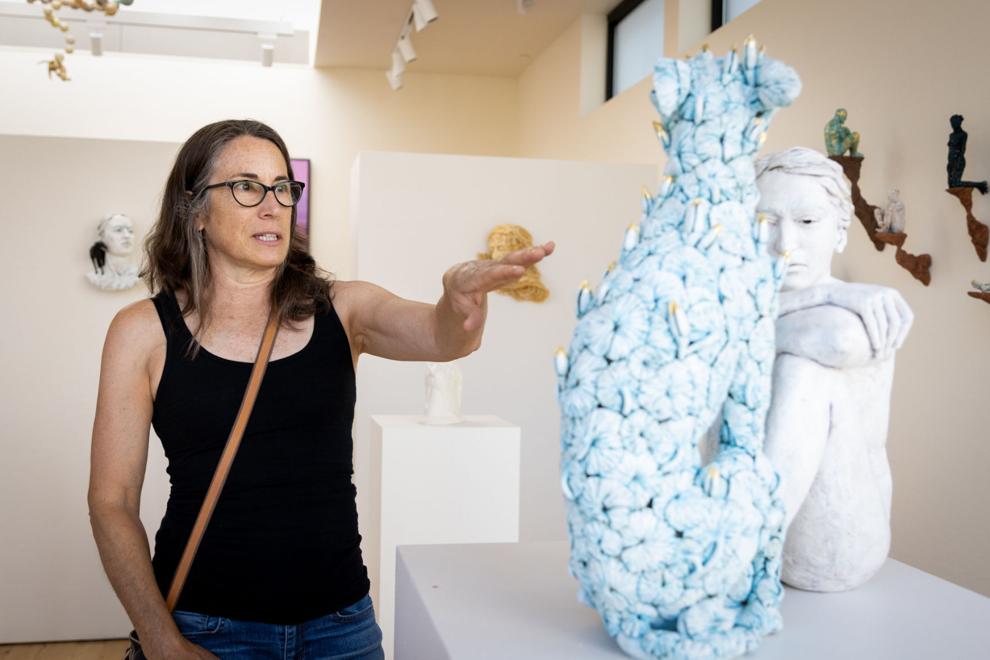 "Adrian's work has a lot of motifs that she's been using for years and years, and what's really exciting to me about the show is that there's several of them represented," said Jason Neal, Radius co-owner. Beehive textures, seemingly ancient figures carved with striated lines, children peacefully enwrapped in branches, functional cups with finely detailed sculptural surfaces.
She sometimes had difficulty undertaking large pieces. What started out as models became a series, "Outcropping Figure," in which mysterious persons lack identifying features that lend them a universal feeling. "Everybody's kind of stuck on their own perch," she said.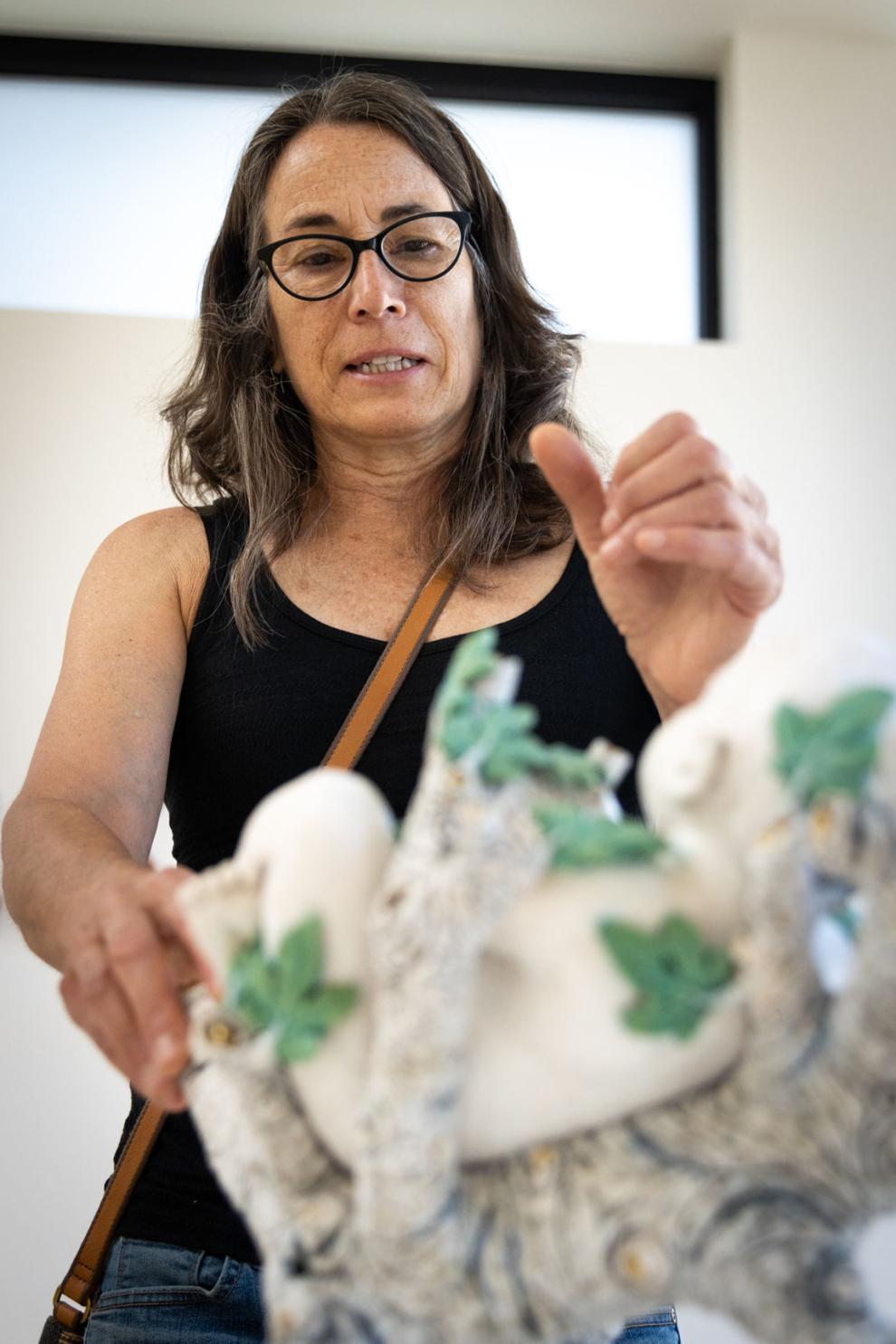 Each is positioned on a seemingly wooden trunk structure that curves in unexpected ways, often resembling animals, such as the thick neck and lower jaw of a deer.
While they feel mythical, they're not directly narrating a specific tale. Arleo loves ancient art, Italian mosaics, and ceilings that are blue with gold stars referencing the heavens, a motif seen in some of the figures. "It's like I have this residual vocabulary in my head of different kinds of references that comes into play," she said.
The largest piece in the show at 51 inches tall, is "Artemis/Diana," completed over three years, ending in 2017, comprising not one but three figures — the goddess of Greek and Roman mythology, her naked white body decorated in horizontal striations, and two dogs, in blue, each bearing rows of teats. She is the goddess of the hunt, accompanied by deer or stags, and associated with fertility or chastity. This particular piece references a story in which she is bathing and a figure spies on her — she transforms him into a stag as punishment and he is chased by his own hounds.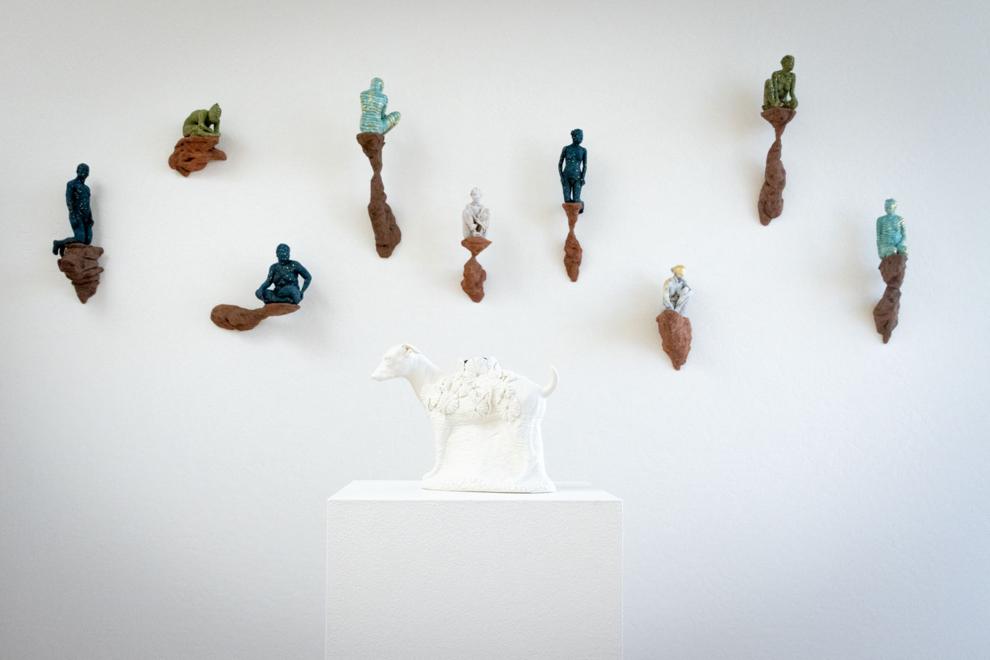 It's one of the many pieces where you'd likely assume it was a material other than clay. Assembling it was a feat of engineering, with internal supports, and it was broken down into smaller parts that had to be fired in an oval-shaped kiln.
Honeycomb
One of her surface styles causes the eye to linger especially long — figures that seem to be formed from honeycomb in a dream-like quality, like a folk-tale come to life, a texture she's been working for some 20 years.
In "Genesis II," a child appears peacefully adrift in space. Around its arms and torso, the solid white form gives way to golden honeycomb, as though the body was in process of construction by unseen forces — if you came back to see it a week later, it might be further complete. The results are laborious — she presses an Allen wrench key into the firm clay over and over to create the hexagonal voids, some of which are partially filled with wax encaustic to lend the impression of the honey (some include raw beeswax and other mixtures). Her techniques have been the subject of national ceramics articles and she's given many workshops.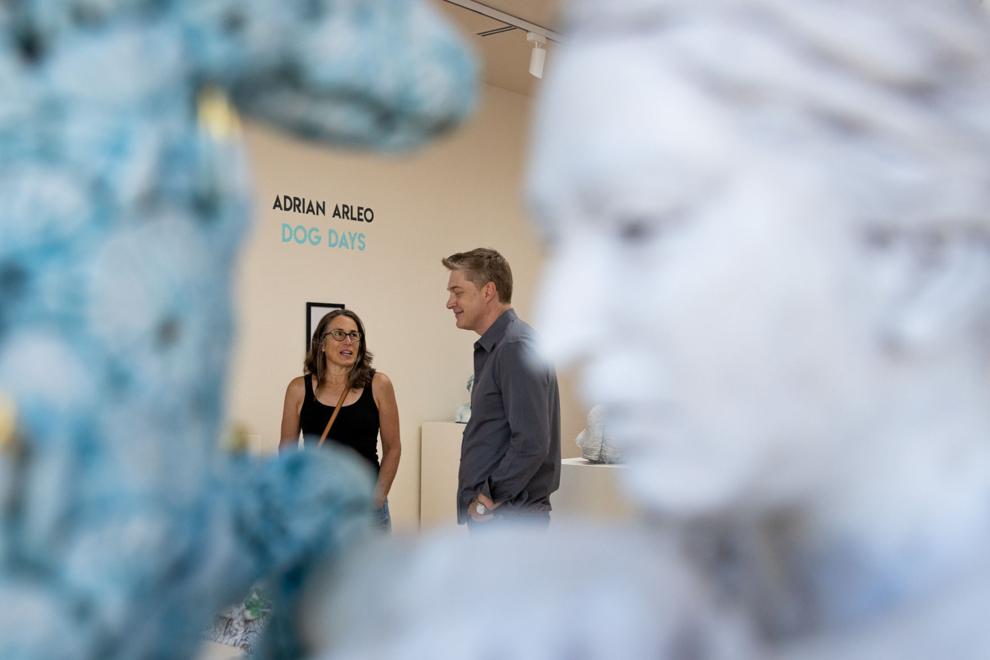 Like the rest of her work, the narratives implied in the figure are ambiguous, often rooted in specifics of her life that are abstracted. "Apiary Twins" is a double bust — two young women, back to back, their hair in elaborate buns. Each is gazing in a slightly different direction, lost in thought. It's not about her daughters, but the imagery came to her when they were in high school and one was preparing to go to college, two close siblings branching into individual paths.
"Internal" is another pandemic-era piece, although the time period is visible only in the notion of solitude. A bust of a woman with  sideways-cast eyes. Her hair flows backward in large swaths that form a spherical basket enclosing a sleeping blue infant speckled with gold that references "the heavens, or the vastness of the universe." She completed it within the past six months as she was contemplating the "vastness of one's own interior" that we spent so much time in during COVID-19.
Solace in animals and nature
A dog who seems to be made of watery blue lily pads and buds comforts a figure, crouched on the ground. Besides its mythical skin — a reference to images she made based on the Bodhisattva of compassion, the hound is larger than her — Arleo wanted to emphasize its unreal qualities. The figure is not looking at the dog, and the dog is not looking at her, yet it's clear the animal is comforting her, going back to the notion of compassion.
In "Great Greys," a figure is hunched, knees up, arms around ankles. Three owls are perched, two on her shoulders, on the crux of her right arm. The figure's eyes are cast downward. The owls' eyes are circled and circled, so are the striations around the woman's right eye. (She made it after a rare sighting of a pair of great gray owls during a hike on Blue Mountain.) Her partner ahead of her on the trail spotted them and made a "shh!" gesture to her. For some reason, the image flashed to mind of a sleeping baby in a tree. When she looked up, she saw the owls.
The images of children swaddled in growing branches and trees was born not of an old story, but her thoughts about the Lolo Peak fire in 2017. She was evacuated (their house wasn't affected), but she was struck by how fast the forest recovered. The sculptures draw on that "regenerative power," she said.
Again, its local origins aren't visible to the viewer and don't have to be, but Neal is proud that the gallery is showing the pieces here, as Arleo typically has solo exhibitions elsewhere around the country. When the gallery opened, the intention was to exhibit artists like her, who have national recognition but typically shipped their work out of sight of their neighbors.