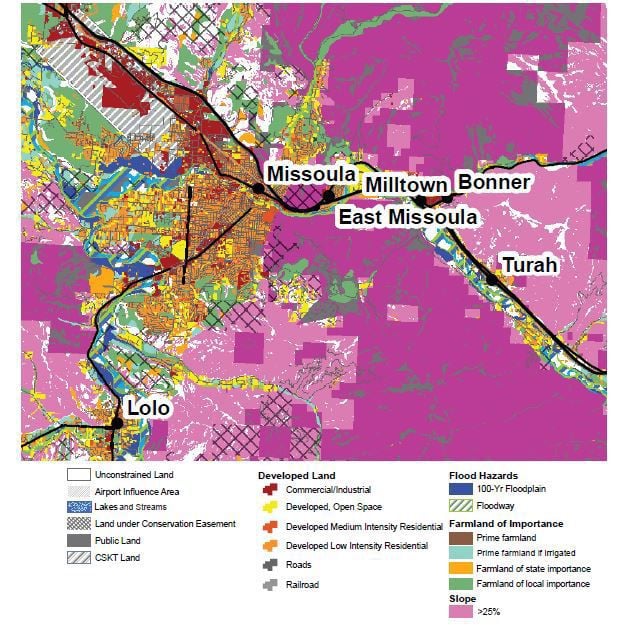 A significant portion of the workers in Missoula County, 26 percent, live outside the county and commute to work. Of those 15,034 people, the average commute time is 20 minutes, but nearly a third have longer commutes — as much as 90 minutes.
That means that the county loses the property tax revenue while spending more money on road maintenance and construction of new roads that eat up land.
Those commuters have to spend a large portion of their income on fuel and vehicle repairs while having to deal with traffic congestion, loss of time for their personal lives, unhealthy inactive periods and other factors that translate into lost productivity at work.
And that's in addition to all the pollution all those daily commutes cause in an area where winter inversions and summer wildfire smoke are already enemies of the lungs.
The commuting workforce is just one of the issues raised by a new report called "Balancing Agricultural Land Conservation and Residential Development in Missoula County" compiled by WGM Group and paid for by the Missoula Organization of Realtors and the Missoula Building Industry Association.
According to DJ Smith, the first vice president of the MOR, the goal of the study was to present a broad base of factual information so that the community can make informed land use decisions going forward. Missoula is experiencing an unprecedented affordable housing crisis, as the median household income of approximately $46,4550 in 2017 is well below what is needed to afford a median-priced home here, which rose to a record $268,250 in 2017.
The main reason cited by many housing experts for the climbing prices is a lack of inventory of houses, with not enough being built to keep up with population growth as the economy adds jobs. That means there is an economic incentive for builders to create more supply, but they all say that land with the right zoning requirements is tough to find, especially at a price that would keep the subsequent housing affordable.
The Missoula community has shown support for protecting the county's remaining agricultural lands, maintaining and creating open space and focusing on access to outdoor recreation, which is a crucial amenity that is driving economic growth.
However, those concerns have to be balanced with the fact that Missoula is geographically constrained by steep, unbuildable hillsides, and has regulations in place in many areas that prevent high-density housing, even though younger people are willing to live in high-rise apartment buildings rather than single-family homes with big lawns.
Smith said that the MOR and the MBIA wanted to compile as much information as they can so that voters and taxpayers can make educated decisions about growth.
"I think the important piece is that our densities do need to increase if infill is our goal as a community," Smith said. "When we're talking about 26 percent of our workforce is commuting from outside Missoula County, that means that the current status quo of infill is not doing the job. We need to increase the infill.
"It's a hard conversation to have, but that conversation needs to happen at the community level instead of at the developer level because it puts the builders as enemies of the neighborhood instead of as a community addressing this issue."
Nick Kaufman of WGM Group, a firm that specializes in land use planning and consulting and engineering, presented the report on Tuesday.
"In recent years, the conservation of agricultural land has factored into land development constraints," he said. "In Montana, 64.2 percent of the land is comprised of farms and ranches and is a $4.4 billion industry. Agriculture is a part of Montana's heritage. It also provides scenic landscapes, food, and wildlife habitat. However, agricultural land is also some of the most capable land for development."
You have free articles remaining.
Kaufman said Missoula County, because of physical and cultural constraints, has a limited amount of suitable land that is capable of meeting the variety of the community's demands for land for agriculture, housing, industry, or public institutions and buildings.
He said the goal of the study is to better understand how to balance ag land conservation and residential development while maintaining the high quality of life that gets Missoula consistently on lists like Outside Magazines "25 Best Towns of 2017."
But despite those lists, Missoula also tops many lists of the most unaffordable places to live in the country. From 2006 to 2015, the county grew by 9.4 percent, with most of that occurring within city limits. Missoula County was one of just 153 areas in the United States where housing prices increased by 40 percent or more between 2000 and 2016.
Overall, approximately 93 percent of the county has constraints that limit development due to the large Airport Influence Area, slopes greater than 25 percent, farmland of importance, public land, land under conservation easements and managed land like school facilities.
That doesn't even include developed land, because data were not available, Kaufman said. He found that 9 percent of the county, about 154,900 acres, is being used for agricultural production.
Agriculture is supported in Missoula County and Montana through various methods that promote, preserve, and incentivize agricultural industry to encourage new farmers and ranchers while maintaining existing operations, Kaufman said. But less than half of the 130,000 acres of Farmland of Importance in Missoula County is being used for agricultural purposes, he said.
Other states have implemented programs, in advance of development proposals, to conserve ag land and provide a predictable development process. For example, in Pennsylvania, the "Clean and Green Program" allows property to be taxed on its use rather than the market value of the land, which provides affordable property taxes for agricultural uses and an incentive for farming.
"In Missoula County, over 35,000 acres of farmland have already been protected through conservation easements and public lands," Kaufman noted.
The issue of whether to require developers to take steps to conserve ag lands has been contentious in Missoula.
In early 2016, the Missoula County Board of Commissioners went against the recommendations of their own Community and Planning Services staff and unanimously struck down proposed subdivision regulations that would have required certain ag land protections and mitigating strategies. The MOR and MBIA had lobbied against the proposal, while many members of the community were for it.
County Commissioner Jean Curtiss was a member of that board, and has been endorsed by the MOR in her re-election bid against challenger Josh Slotnick in the June 4 Democratic primary election. Slotnick is a farmer and advocate of urban agriculture.
Sam Sill, the public affairs director for the MOR, said the organization's endorsement was not based on any single-issue litmus test.
"We look at a broad range of factors," he said. "Jean is someone who we believe listens to all sides of an issue and I think she has a good understanding of what issues we are facing in Missoula County in terms of affordable housing, agriculture issues and economic growth. We believe she is best suited to address these issues."
No matter who wins the election, the county will still have a housing affordability crisis on its hands and not a lot of developable lots. There are about 124,800 acres of unconstrained land in the county, about 7 percent of the total land area, and that doesn't include developed land.
That means government leaders, community members and developers will have to work together to craft a path going forward that takes into account the pros and cons of every factor. Even changing zoning laws to allow higher density housing in places like people's backyards might not solve all the problems.
"Infill is expensive and is not going to be a solution," said developer Wade Hoyt of Hoyt Homes in Missoula. "You need to increase density. The biggest factors are land, product, subcontractors and financing. Sometimes financing controls the whole thing. When I came here 26 years ago it was all single-family homes. I came to Montana because I like open space and being able to hunt and fish close to town. Agriculture is an important part of our heritage in this county, so we need to be smart about it and conserve what we can and make the rest available."