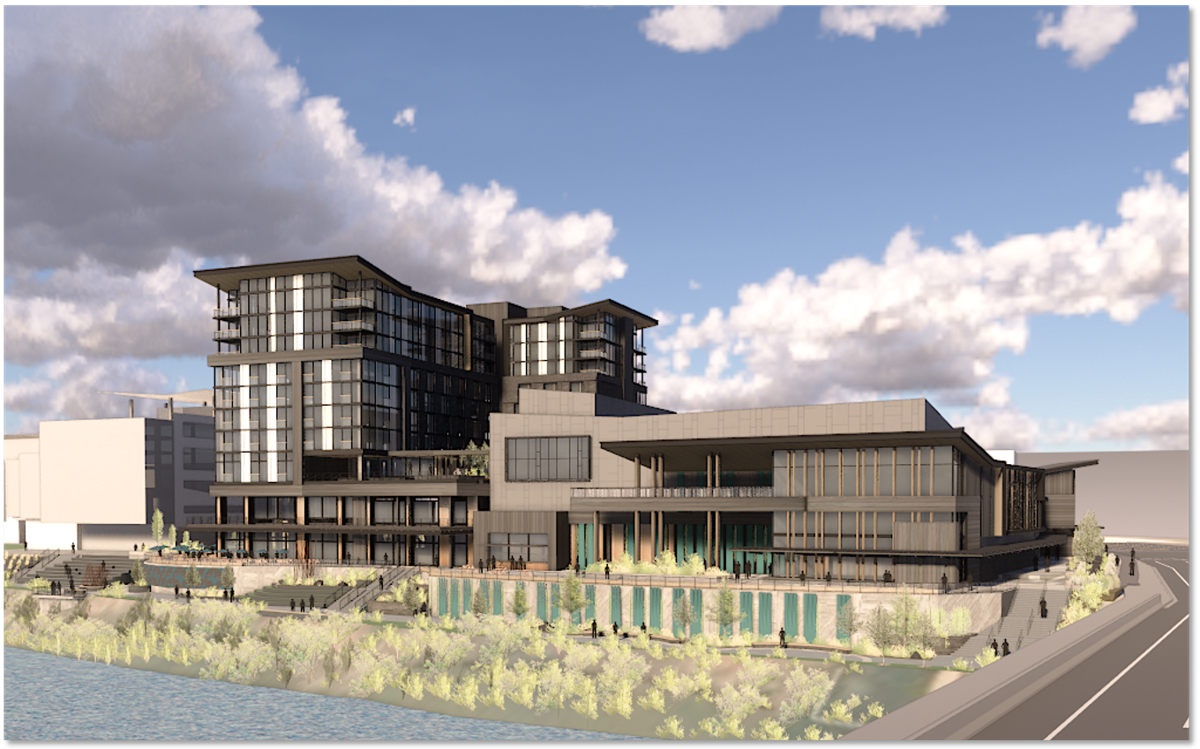 The Missoula Redevelopment Agency's staff and board of commissioners discussed the project at the May 21 meeting last week. They asked questions about the developer's ability to move forward but also expressed support for the entertainment complex.
"I'm just curious when, maybe even at next month's meeting, if we will get a Hotel Fox update," board member Mel Brock asked of the staff.
"I'm very curious how that's gonna unfold."
"That's a good question, and one I've been asked repeatedly by people," said board chair Karl Englund.
But the pandemic has not only caused a global economic recession, it has put the future of mass-gatherings like concerts in doubt.
"I'm not sure there's much … I don't know how anybody can answer the question right now," said MRA director Ellen Buchanan. "Certainly, Nick's interest in building the hotel was predicated on the performance venue, and I don't think there's anybody out there that can tell you what's going to happen in that world anytime soon."
Chris Behan, the MRA's assistant director, said work was supposed to start this November. Checota has signed a contract to develop the city-owned parcel, and Tax Increment Financing funds are slated to be used for public portions of the development, including the parking garage and the city-owned Drift that will be leased and operated by Logjam Presents, Checota's entertainment production company.
Checota told the board in January that the project would create hundreds of jobs, contribute millions in property taxes to the city and would juice the local economy by attracting tens of thousands of visitors and their spending.
"The next hard deadline is in November," Behan said. "We had a schedule that we'd set out that included some things that happened in June, July and August in terms of approvals. He needs to start work by November. Well, that's not gonna happen."
Checota did not reply to an email asking if there was additional information he wanted to add about the project on Tuesday.
Members of the MRA board and staff expressed support for Checota's project, however.
"We do have some time for him to figure out what he's going to do with his employees as they start reopening, what's going to happen to the music and entertainment business and hotel business in America, Montana and in Missoula and see if he's willing on any kind of a schedule to try to put everything back together again," Behan continued. "I don't think that's an unfair question, but we certainly can't push him right now because right now he's just, he's more open than he was a month ago, but he's still trying to figure out what life is going to be."
But there will be a time when he needs to make some decisions on whether the board should extend that November deadline, Behan said, and the city council would have to do that after an MRA board recommendation.
The city has an agreement in place to use $16.5 million in TIF funding, paid for by property taxes from the Front Street Urban Renewal District, to buy the civic events center once it's built. The funds would also purchase most of the roughly 360 parking spots using parking fee revenue.
But concerts and events across the country and the world have been cancelled or postponed, and hotels have seen a drastic drop in business as well. Tourism in Montana is projected to take a significant hit.
"This might be the most obvious question of the day, but I presume he's just put everything on hold?" Englund asked.
"That's our understanding," Buchanan said.
Brock said she still hopes the project can move forward eventually.
"Since this is recorded, I'm just saying our support is still there and we look forward to the update when the time is right," she said.
Board member Tasha Prinzing Jones agreed.
"I think our greatest avenue of support is to give that development group time for things to stabilize and be patient with them as they process through the ramifications of this and be optimistic and not too pushy," she said.
Meanwhile, things are on hold for the non-city-owned portions of the Riverfront Triangle development as well. Farran Realty Partners of Missoula had plans for roughly 210 apartment homes, a 52,000-square-foot commercial building for a company with 500 employees, open air pavilions and 13,000-square-feet of separate retail and commercial space. Jim McLeod told City Club Missoula in February that the project would eventually generate over half a million dollars a year in property taxes for the city.
But now, things are on hold, he said in a phone call with the Missoulian on Tuesday.
"Everything's on hold, and we'll see how it plays out over the next six months," he said.
McLeod and his business partners have purchased about five acres on the site and don't have any city-imposed deadlines for when to begin work, unlike Checota.
"We're kind of in a holding pattern right now," he said. "We're still enthusiastic about the site and think it's a great site for a mixed-use project."
They've taken a "wait and see" approach to the overall national economy, he noted.
"We're just neutral right now, and we're going to let things play out," McLeod said.